Macau telecom operator makes 1.1 billion patacas profit last year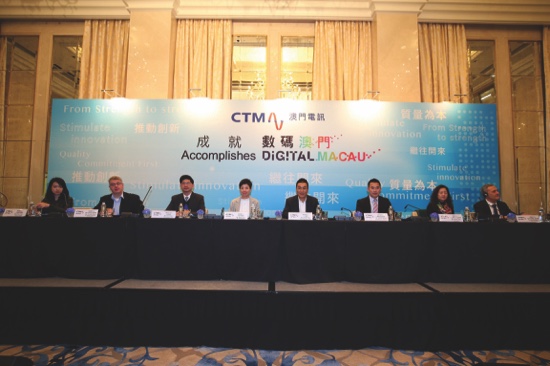 Local telecom operator CTM made 1.154 billion patacas in profit last year from its mobile, Internet and business solutions services, said the company's CEO Vandy Poon Fuk Hei .
Last year's profit was up 3.8 percent from the 1.112 billion patacas profit in 2014.
According to Poon, with the support of major shareholder CITIC Telecom International, CTM last year invested 693 million patacas in infrastructure projects and as a result, the company has built a dual network for different frequency bands, launched a 4G service, reached 100-percent fibre coverage of the city, expanded WiFi hotspots onto buses, built a data centre, and started an e-payment service last year.
Poon said the company would be launching a city-wide free WiFi service to help Macau become a global tourism centre.
The "City Free WiFi" project, which will increase CTM's WiFi hotspots to 2,400, will be launched in the second half of this year, Ebel Cham Pou I, the company's vice president for commercial affairs, said during a press briefing at the hotel after the lunch.
Also this year, the company will upgrade the speed of its fibre broadband from 1G to 10G, its 4G network from the current 100M to 300M, and its 2,400 Wi-Fi hotspots from 100M to 500M, according to Declan Leong Pui Hong, vice-president of network services.
Just last week, CTM and Hong Kong telecom CSL were among the first in Asia to jointly launch a cross-border "City Link" 4G mobile plan, at a monthly fee of 138 patacas for current subscribers, or 168 patacas for new subscribers, under which all mobile data, text messages and voice calls are shared between the two cities, removing all the roaming and IDD charges.
Cham said that the "City Link Plan" was one of the services that raise the company's competitiveness.
"This is really breaking down the barrier between Macau and Hong Kong," Poon added, "In the next phase when we can deal with cities in the mainland, then the mobile service will be barrier-free between the mainland, Hong Kong and Macau, and people will always be connected on the 4G network. This is a major improvement for the economy, tourism, and customer satisfaction."
CTM has 57,000 customers using its 4G service.
(Macaunews/macaupost)