Gaming firms launch 'Macau Loves Locals' discounts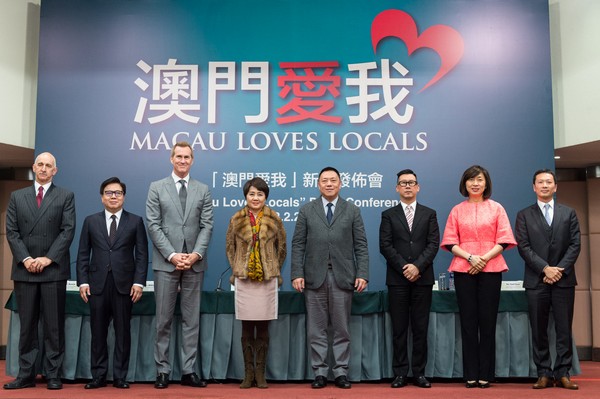 The city's six gaming operators started yesterday an over month-long discount promotion campaign titled "Macau Loves Locals" during which locals can enjoy various discounts on non-gaming offerings such as dining out, hotel rooms, shows and other kinds of entertainment.
The campaign expires at the end of next month.
Generally speaking, the discounts range from 20 to 50 percent.
Galaxy Entertainment Group, Melco Crown Entertainment, MGM China, Sands China, SJM and Wynn Macau have joined the campaign.
Senior executives of the six operators presided over a joint press conference at the Macau World Trade Centre to announce the "unprecedented special offers."
Secretary Economy and Finance Lionel Leong Vai Tac and Gaming Inspection and Co-ordination Bureau (DICJ) Director Paulo Martins Chan also attended the press conference.
According to a joint statement, "the city-wide promotion offers local residents the chance to enjoy non-gaming facilities at all hotels and resorts… the campaign is a corporate social responsibility initiative of the six operators, as a way to give back to the Macau community."
When asked by reporters whether the campaign was a one-off event or would be organised again, SJM Managing Director Angela Leong On Kei said that the six companies would evaluate the effect of the "unprecedented" campaign.
She stressed that the campaign was also meant to promote the gaming industry's non-gaming attractions.
Sands China President Wilfred Wong Ying Wai said that over the past few years the city's gaming operators had increased their entertainment and leisure facilities, insisting that the campaign was "not directly" related to the current changes affecting the local economy.
Wynn Macau Executive Director Linda Chen said that while the campaign was the first of its kind among the six operators, co-operation among the operators was nothing new, adding that communication among them remained close. Chen also said she hoped that locals are proud of the gaming industry and promote it.
Lionel Leong, whose policy portfolio includes supervision of the gaming industry, urged the six operators to work side by side with civil society in overcoming all the difficulties caused by the gaming industry's current adjustment period.
Talking to reporters before the press conference, Leong also said the government would continue to monitor whether the operators are keeping their promises. He urged them to strengthen their non-gaming attractions.
(macaunews/macaupost)