Macau's panda era starts with opening of panda pavillion in Coloane island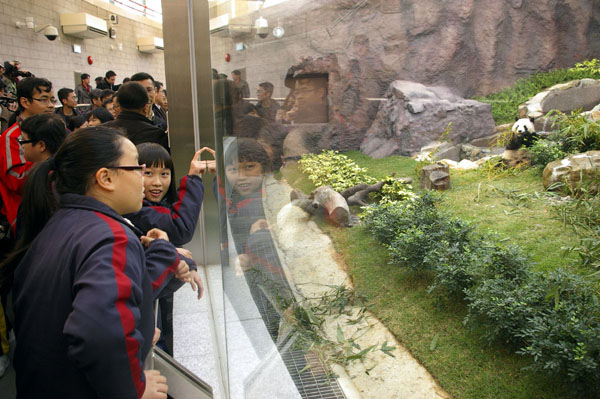 Macau, China, 19 Jan – Macau's state-of-the-art panda pavilion in Seac Pai Van Park in Coloane island open its doors Tuesday, but the general public will have to keep waiting for a little longer before they can get a glimpse of the panda pair Hoi Hoi and Sum Sum.
Sichuan-born panda male Hoi Hoi and panda female Sum Sum arrived in Macau on December 18, a year after President Hu Jintao announced, during his visit to Macau, that the central government was gifting two of the highly endangered "national treasures" to Macau.
Hoi Hoi and Sum Sum are the Cantonese names given to the pair through a naming contest by local citizens. However, the government has opted to use Putonghua spelling for the two names' romanisa-tion – Kai Kai and Xin Xin, despite the fact that Cantonese is the mother tongue of some 90 percent of the local population. The combination of the Chinese names means "happiness". Literally translated it means "open one's heart".
The 3,000-square-metre pavilion that cost the government 90 million patacas (US$ 11 million)to build undergoes an initial nine-day test-run until Thursday next week where only arranged visits are allowed in.
About a dozen keepers and veterinarians look after the well-being of Macau's two most precious animals.
The pavilion will then start a three-month trial operation period from Friday next week until April 27, when members of the general public will be able to gain admission.
According to the initial arrangement, the pavilion can only take up to 1,500 visitors a day. Visitors can choose six different time slots for the visit, which means that under this arrangement, each visitor will get just 10 minutes to see Hoi Hoi and Sum Sum.
According to The Macau Post Daily, Secretary for Justice and Administration Florinda Chan Lai Man told the media that the government was in talks with the Ministry of Forestry in Beijing to display other kinds of rare animals in Macau.
(MacauNews)