Macau Declaration stresses diversity in tourism co-op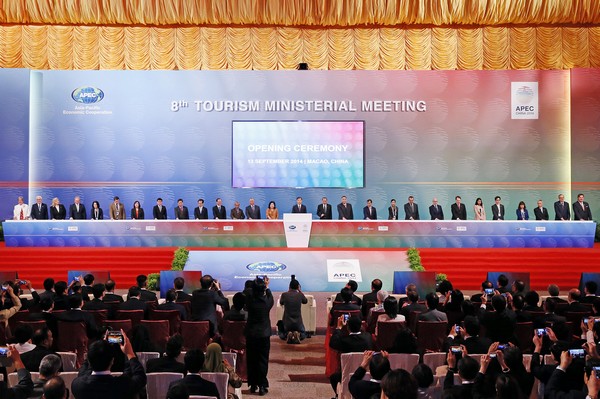 The 8th APEC Tourism Ministerial Meeting, which was held in Macau on Saturday, ended with the Macau Declaration which recognises "the significant differences among APEC member economies in economic development, culture and history."
The Macau Declaration on Building a New Future for Asia-Pacific Tourism Co-operation and Development also stressed "that diversity and flexibility should be maintained when conducting Asia-Pacific tourism co-operation so as to strike a balance among member economies' tourism interests."
The declaration also recognised "the important role of tourism in promoting economic co-operation, trade, and people-to-people and cultural exchanges among APEC member economies, and that it can make important contributions to the building of a new type of Asia-Pacific partnership."
The declaration pointed out that the Asia-Pacific region is the largest tourism market in the world.
Vice-Premier Wang Yang paid a two-day visit to Macau to attend the meeting. He said in a speech he was confident that "by removing barriers and improving the integration of the Asia-Pacific tourism market, APEC can meet its new target of 800 million tourists by 2025."
Wang also said that "through encouraging the flow of people and investment within the region, the development of the tourism sector helps contribute to an open market while boosting regional connectivity and economic growth."
A total of 152 representatives from 21 APEC member economies and international tourism organisations attended the meeting at the Macau Dome in Cotai.
The declaration also urged all member economies to take the APEC Growth Strategy 2010 for low-carbon development as a reference and, while implementing their respective tourism policies, to consider co-operating on low-carbon tourism development in the Asia-Pacific region.
Chief Executive Fernando Chui Sai On said in a speech that "the tourism industry serves not only as the driving force for economic growth but also as the platform that connects different people and destinations around the world."
Chui also said that "efforts are being made to build Macau into a world centre of tourism and leisure."
It was the first time that Macau hosted an APEC meeting, even though it is not – unlike the mainland, Taiwan and Hong Kong – a member of the organisation set up in 1989.
The Macau meeting was the first APEC Tourism Ministerial Meeting (TMM) hosted by China.
APEC in 1997 set up a moratorium on new members. While APEC leaders agreed in 2010 that they "will continue to review the question of APEC new membership going forward", the moratorium continues. Over a dozen countries and regions are understood to seek APEC membership, such as India and Guam. Government spokesman Alexis Tam Chon Weng told the media last week that Macau was interested in joining APEC. According to the Macau Basic Law, the central government handles Macau's foreign affairs.
The next APEC TMM will be held in 2016. (macaunews/macaupost)