Light Up Macao 2022 Dazzling Winter to shine over festive season
Light Up Macao 2022 Dazzling Winter to shine over festive season

Link copied
Teams from Shanghai, Portugal, Hengqin and Macao add to the excitement; organisers take precautions against undue environmental impact.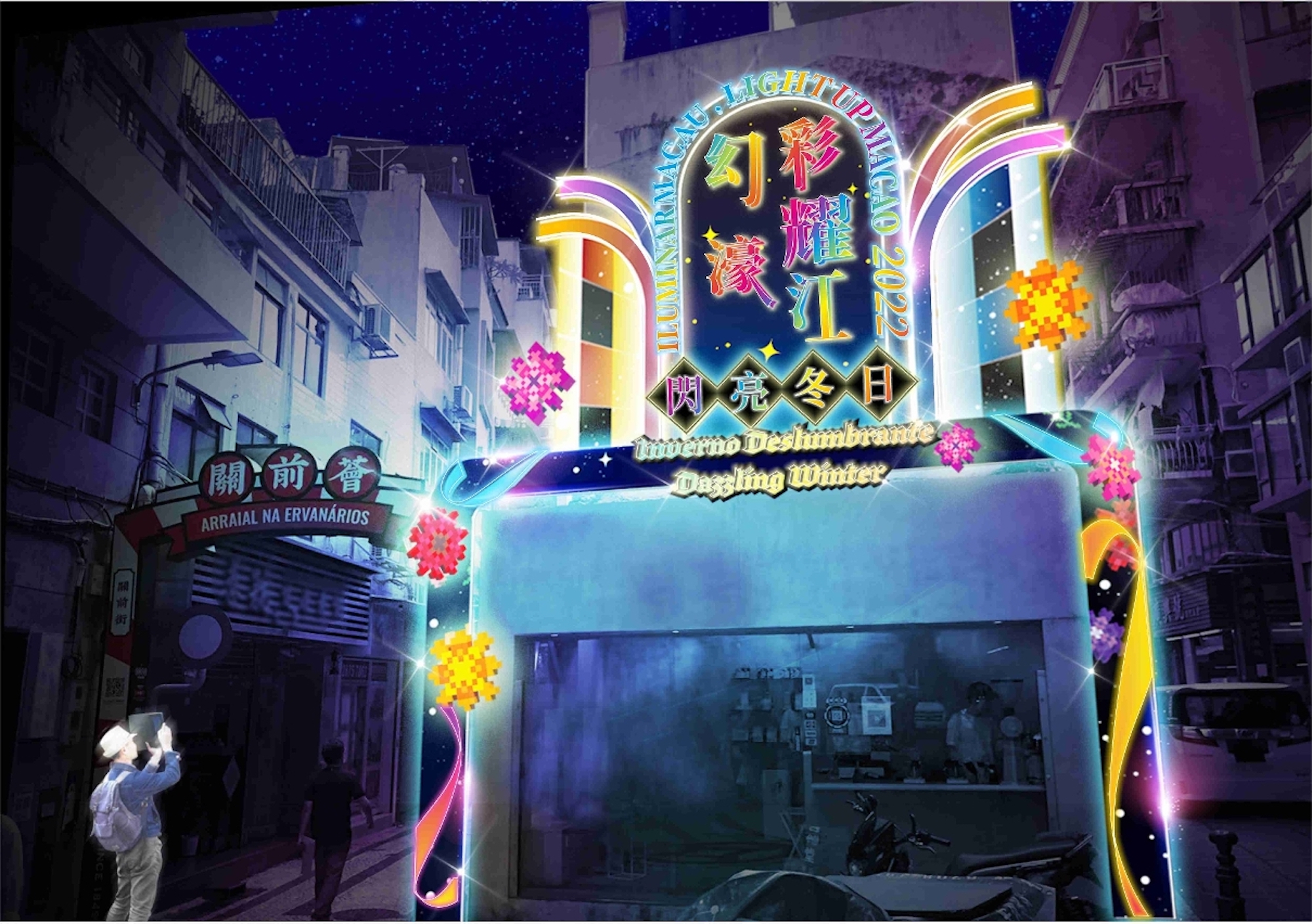 Light installations, interactive games, projection mapping shows and light decorations in the skies above Macao are set to celebrate the festive season with a theme of Dazzling Winter from 3 December to 1 January.
Macao Government Tourism Office (MGTO) Director Maria Helena de Senna Fernandes said that the event, which has been running for the past seven years, is being launched under its new name Light Up Macao 2022 this year.
She said it aims to enrich the offer of a "holistic travel experience", encourage visitors to extend their stay and expand the range of visitors, and overall promote Macao's "appropriate economic diversification". 
Senna Fernandes added that for the first time the city's six gaming operators have been invited to participate in this year's event to provide a further expansion of the venues, with local communities, as usual, being the "major backdrop" of the event.
Twenty-eight areas will be set up for the event in eight districts: northern district, the city centre, Praia do Manduco, Nam Van, Nape, Taipa, Coloane and Cotai, where several light installations will be set up at the six gaming operators' facilities.
Four different themed projection mapping shows by performance teams from Shanghai, Portugal, Hengqin and Macao will be presented from 7 pm to 10 pm every day, with the last show starting at 9:50 pm at the Macao Science Centre, Taipa, and the Chapel of St Francis Xavier in Coloane Village.
Senna Fernandes said that this year's light show will not be held at the St Paul's Ruins as many activities were already being held there by other government bodies, adding she hoped to attract more festival-goers to other areas.
Senna Fernandes also said that drone shows and firework shows will not be arranged during the light show in December as many other activities are being staged. However, she added, three pyrotechnic shows "were actively being scheduled" for Chinese New Year in January.
Concerning the impact of light installations on residential areas, such as the northern district, Senna Fernandes acknowledged that MGTO had considered the possible impact of light and sound on residential buildings in past preparations of the event, while listening to the suggestions, such as adjusting the brightness of lights in nearby residential buildings and reducing the sound of the mapping shows, provided by the Environmental Protection Bureau.
Meanwhile, due to the severe Covid-19 pandemic outbreaks in various areas in the mainland, travellers entering Macao from mainland China are currently required to undergo a nucleic acid test on the second day after their arrival. 
Senna Fernandes pointed out that the measures were aimed at ensuring that Macao remains safe and suitable for tourists to visit so that activities in boosting the local community's economic development can continue to be held. 
So far, according to Senna Fernandes, the measures have not seen any adverse effect on the desire of mainland Chinese tourists to travel to Macao, adding that the number of searches for booking Macao hotels and air tickets on online platforms has increased recently.
She added that the MGTO will extend discounts for the city's hotel room bookings to people from overseas who live in mainland China and wish to visit Macao, in order to expand the local tourism sector's customer base, The Macau Post Daily reported.