World Table Tennis director keen to make Macao regular event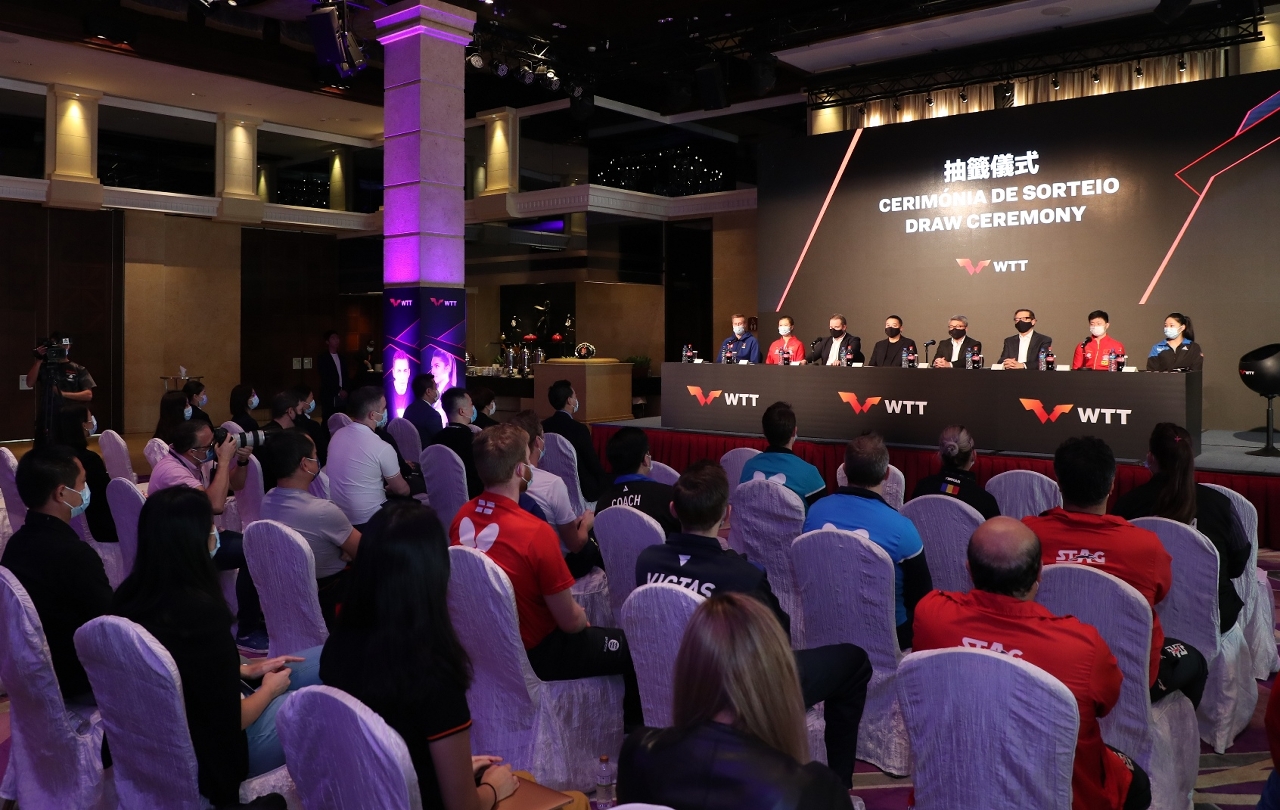 World Table Tennis (WTT) Director and International Table Tennis Federation (ITTF) CEO Steve Dainton said on Tuesday he "hoped" to make WTT Macao a regular event.
Dainton made the remarks during the WTT Macao 2020 Draw Ceremony at Galaxy Oasis Ballroom at Galaxy Macau in Cotai on Tuesday. It is the first time that Macao is hosting the global ping-pong contest.
WTT Macao 2020, co-organised by the Sports Bureau (ID), World Table Tennis and the Macau Table Tennis General Association, and presented by Galaxy Entertainment Group (GEG), will be held from today to Sunday at the Tap Seac Multisport Pavilion.
According to a Sports Bureau statement on Tuesday, WTT Macao 2020 gathers the world's top players to compete in the men's and women's singles. The statement noted that the top four seeds will each play two matches to determine the order of seeds for the quarterfinals. The statement pointed out that on Day One the top seeds face off, seed 1 against seed 4, seed 2 taking on seed 3, adding that on Day Two, the matches depend on the results on Day One.
According to the statement, the world's top players such as Ma Long and Ding Ning from mainland China, Mattias Falck from Sweden and Lily Zhang from the US will be competing today and tomorrow.
The statement noted that WTT Macao's staff and players have been in mainland China since October where they have undergone 14 days' quarantine. The statement also pointed out that before entering Macao, the players and staff tested negative for the novel coronavirus, adding that during the competition period they must also comply with the anti-pandemic guidelines and regulations set by the Macao Health Bureau (SSM).
The statement said that the organisers require the spectators to wear a facemask, have their temperature checked and present a valid Macao Health Code before entering the venue.
According to the statement, for those interested in watching the competition, tickets can be bought on-site at the Tap Seac Multisport Pavilion. The tickets are valid only for the designated date with free-seating. Local residents, pupils, students and seniors citizens (aged at least 65) are entitled to a discount when purchasing tickets at designated Circle K convenience stores and on-site ticketing counters. Their tickets cost just MOP 10 on weekdays and MOP 20 on the weekend.
Regular tickets for Saturday's semi-finals and Sunday's finals cost MOP 30. Regular tickets for today, tomorrow and Friday are priced at MOP 15.
(The Macau Post Daily/Macao News)
Photo by Government Information Bureau (GCS)