China's Rio Olympics athletes arrive for 4-day visit to Macau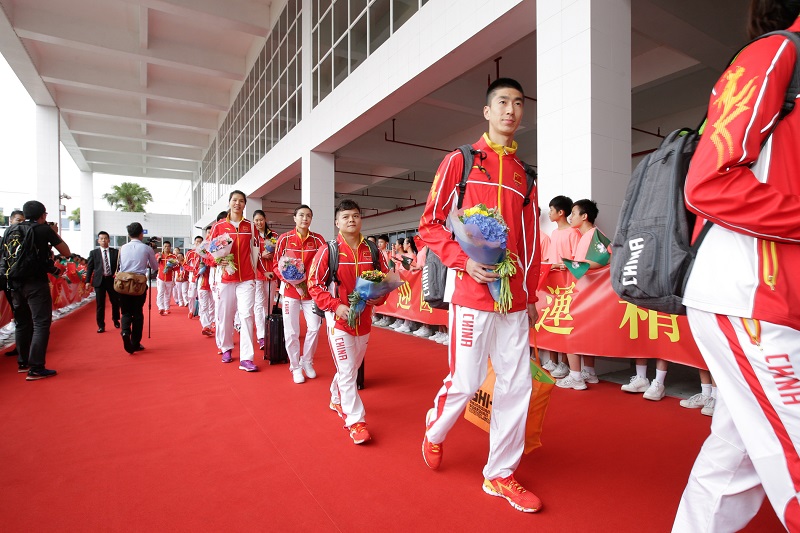 The nation's Rio Olympics athletes and their support team arrived in Macau on Monday afternoon for a 4-day visit, cheerily welcomed by hundreds of pupils outside the Outer Harbour Ferry Terminal.
The delegation of 64 arrived at the terminal and It includes 42 Rio Olympic gold medallists, coaches and badminton player Lin Dan, sprint athlete Su Bingtian and Fu Yuanhai, the refreshingly outspoken swimmer who has become an Internet sensation.
The Teach China members will join a string of interactive events during their stay in Macau.
The Government Information Bureau (GCS) said in a statement that 235 pupils were on hand to welcome the delegation, with 15 of them presenting bouquets of flowers.
Last night, the local government held a welcoming banquet for the delegation at Macau Dome in Cotai, where Chief Executive Fernando Chui Sai On presented a 14-million-pataca cheque to the delegation.
The government said last week that the prize money was collected among local residents and organisations, and that the government was only a "bridge" between the public and the Olympians and would be the one to hand over the money.
According to a GCS statement last night, the Henry Fok Foundation donated 5 million patacas. Fok was one of the founders of Macau's former casino monopoly STDM.
The Association of Chinese Enterprises in Macau donated 3 million patacas, while family members of late local community leader Ma Man Kei donated 2 million patacas. Legislator-cum-businessman Chan Meng Kam, businessman Lei Chi Keong, Tai Fung Bank and legislator-cum-developer Fong Chi Keong donated 1 million patacas each.
Volleyball player Zhu Ting and racing cyclist Gong Jinjie received the cheque on behalf of the delegation.
Chui said in a speech at the banquet that local youths can learn from the Olympians.
The delegation will meet young people this morning, before visiting the St Paul's Ruins and Fortress Hill. Tonight, the athletes will attend a gala – called "Our Pride" – at Macau Dome. The gala is open to residents who obtained free tickets last week. Some of the tickets are reportedly on sale on the Internet for up to 500 patacas each.
On Wednesday, the delegation will visit several community organisations and their service facilities for the elderly, mentally disabled and nurseries. They will also attend an interactive sports activity with local youngsters.
The delegation, which is headed by Liu Peng, the minister-level head of the General Administration of Sport of China, will leave Macau on Thursday morning.
Secretary for Social Affairs and Culture Alexis Tam Chon Weng, Sports Bureau (ID) President Pun Weng Kun and other senior officials will accompany the delegation during the visit. (Macau News / The Macau Post Daily)