Peruvian detained in Macau after swallowing 50 condoms of liquid cocaine worth 10 million patacas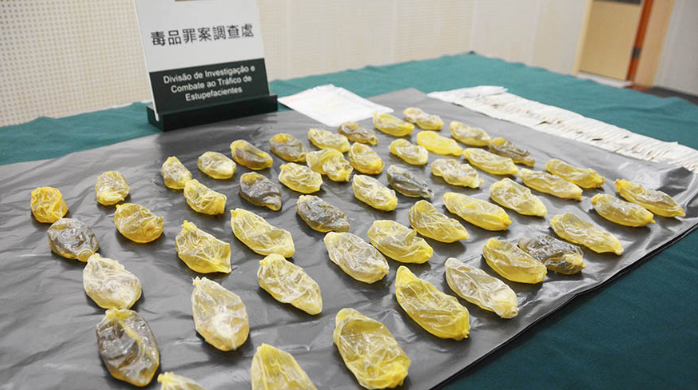 A Peruvian man was detained at the airport on Saturday for smuggling 1.6 kilogrammes of liquid cocaine worth about 10 million patacas.
A Judiciary Police (PJ) spokesperson said it was the first time that the local police were able to nab a drug mule trying to smuggle liquid cocaine to Macau.
The spokesperson said the police recently received a tip-off that a cartel had hired people to smuggle drugs to Macau. The police monitored a flight from Thailand on Wednesday and after it had landed, the police saw the suspect, a 63-year-old Peruvian surnamed Villanueva, looking flustered.
According to the spokesperson, the police requested Villanueva to undergo a full body scan and found a large amount of drugs inside his body.
The suspect was then taken to the hospital where it took the suspect three days to excrete 50 condoms filled with liquid cocaine, weighted a total of 1.6 kilogrammes and worth about 10 million patacas.
The spokesperson said that Villanueva, who claimed to be a chef, confessed to the crime during questioning.
Villanueva has been transferred to the Public Prosecutions Office (MP) for further investigation and possible arraignment on drug-trafficking charges, the spokesperson said, adding it was possible that the batch of drugs would have been taken to Hong Kong.
The police is still trying to discover the people behind the cartel and also the final destination of the drugs. The spokesperson said it was possible that more suspects in the case will be detained during investigation.(Macau News / The Macau Post Daily)