Macao's first AustCham Movember trivia quiz attracts 120 participants
Macao's first AustCham Movember trivia quiz attracts 120 participants

Link copied
AustCham's men's health awareness campaign scores success; chair hopes more men will grow moustaches for the cause next year.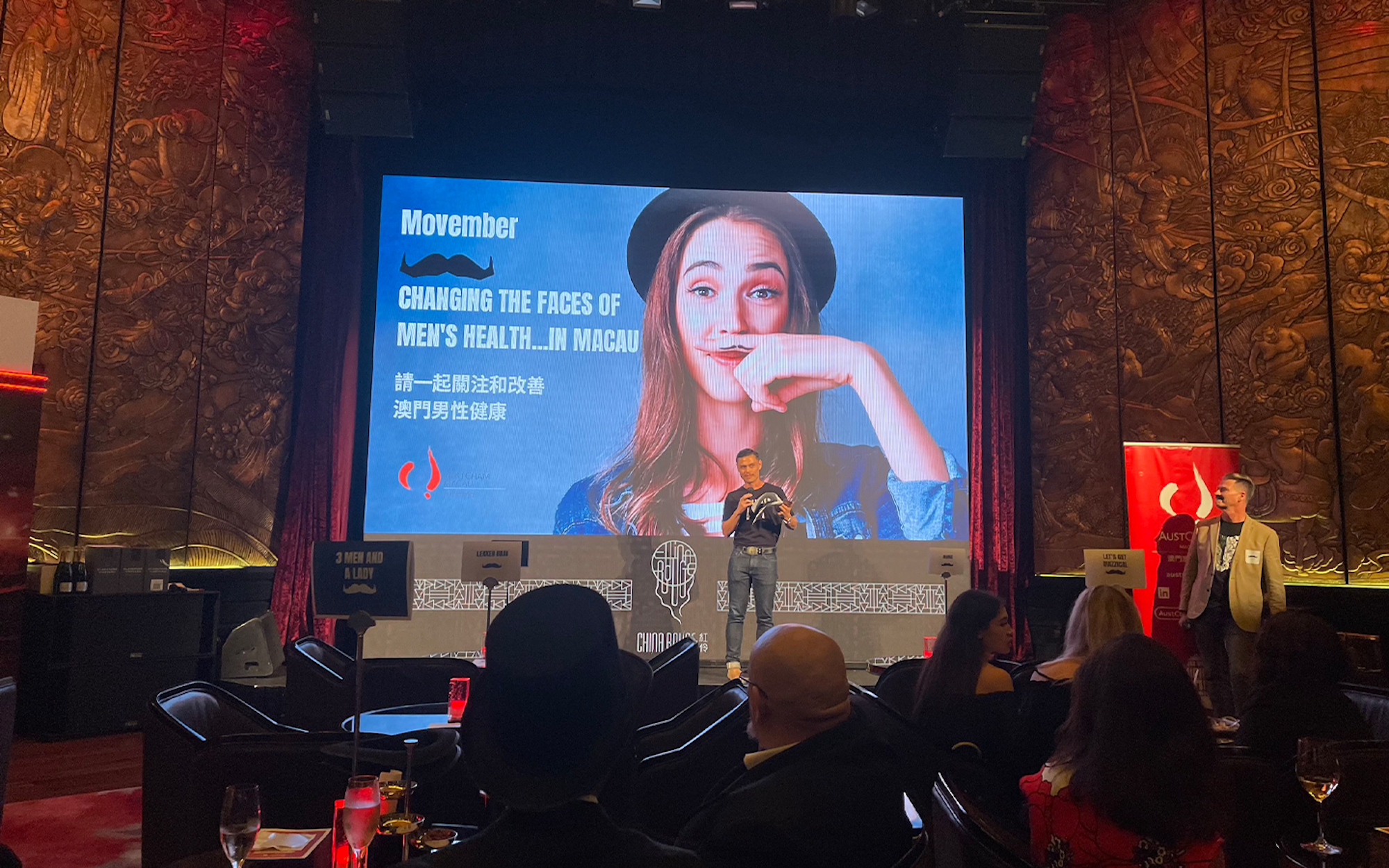 The Australian Chamber of Commerce (AustCham) Macau held the city's first-ever Movember trivia event at Galaxy Macau's China Rouge on Wednesday night, with 120 people participating through six rounds of questions. 
Participants came in groups, with some having creative names like Momantai, which means "no problem" in Cantonese, Iron Wolf, Always Late and The Cannons. I Like to Movid Movid received the night's Best Team award. The trivia questions ranged from geography and sports to entertainment. 
In addition, some people turned up in fancy dress, with the Rosies winning the Best Dressed Team award, while Sands China Senior Legal Counsel Carla Pires Ascenção received the Best Dressed Individual award. 
The prizes for the night included wines from The Flying Winemaker and Sands China-sponsored gifts, among others. 
The Movember trivia night was part of AustCham Macau's inaugural men's health awareness campaign that kicked off with a fundraising luncheon at The St. Regis Macao late last month, titled Men's Health in a Nutshell – Muses from a Clinical Pharmacologist, and Fundraising Luncheon to Support the Operations of ARTM. 
Founded in 1999, Movember is an Australian men's health campaign that encourages men to grow moustaches throughout the month of November to raise public awareness on men's health issues. The term is a portmanteau of "mo", an Australian-English informal short form of moustache, and "November". 
Movember is "all about raising awareness on issues around men's wellbeing, both mental or physical," said Sheraton Grand Macao and The St. Regis Macao Multi-Property Vice President Janet McNab, who is the current chair of AustCham's Board of Directors. 
McNab said that all the money raised by Movember will be donated to the Association of Rehabilitation of Drug Abusers of Macau (ARTM), which has a specific section for men's health. 
"The trivia night was a fantastic way to finish off our inaugural Movember campaign. Doing something for the first time is always hard, but it was really successful," she said. "Next year, we hope to get more men growing moustaches for the cause."  
Heart disease, cancer, diabetes and depression are among the world's top disease-related killers for men, according to the World Health Organization, while Macao's Health Bureau has classified coronary heart disease, hypertension, stroke and cancer as the city's common diseases among men.