Xi meets Chui, stressing Macau's prosperity, stability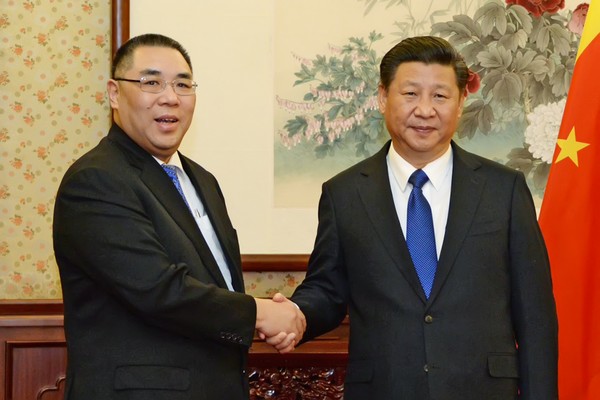 President Xi Jinping said last week the central government continued to attach great importance to Macau's prosperity and stability, urging the Macau Special Administrative Region (MSAR) to grasp opportunities of development and promote "appropriate diversification" of its economy.
According to Xinhua, the president made the remarks while meeting with Chief Executive Fernando Chui Sai On in Beijing on Wednesday. Chui was in the capital to report his work in 2015 to the central government.
"Although Macau's economy has witnessed a consecutive slowdown due to various factors, society remains stable and is facing new opportunities with a pressure-resistant economy," Xinhua quoted Xi as saying.
The president called on the Macau government to unite civil society and seize opportunities to boost "appropriate diversification" of the local economy and improve people's livelihood.
Xi urged the Macau government to be prepared for any eventuality, maintain political stability, improve its ability of governance and promote the implementation of "one country, two systems."
In the past year, Chui and the MSAR government worked hard on the city's long-term prosperity and achieved new development, Xi said, adding that the central government "fully endorses the work of Chui and the MSAR government."
Xi recalled that he attended celebrations marking the 15th anniversary of Macau's return to the motherland on December 19, 2014. During the visit, he promised to clarify the matter of jurisdiction over Macau's coastal waters.
One year later, the central government released a map of administrative divisions demarcating the maritime and land areas of the Macau Special Administrative Region (MSAR) on December 20.
According to the new map, an 85-square-kilometre sea area to the east and south of Macau will be administered by the MSAR. A stretch of land for a border checkpoint between Macau and Zhuhai has also been demarcated under the administration of the MSAR.
"Such demarcation will play a positive role in boosting the region's economic and social development," Xi said.
Xi extended his New Year greetings to all Macau citizens.
National People's Congress (NPC) Chairman Zhang Dejiang also attended the meeting.
In a separate meeting with Chui on Wednesday, Premier Li Keqiang pledged continued support to the MSAR government.
Li praised the Macau government's efforts to vigorously adjust the region's economic structure, improve people's livelihood, achieve a fiscal surplus and promote the job market.
The mainland will be a strong backup for Macau's prosperity and stability, and the central government will continue to support the MSAR government and the chief executive's governance, Li was quoted by Xinhua as saying.
Li also pledged support for Macau to take part in the country's "Belt and Road" initiative and its efforts in reaching out for international markets.
He also called on Macau to strengthen its role as a platform for business and trade co-operation between China and Portuguese-speaking countries.
(macaunews/xinhua)