Taikonauts tell children to study hard to live their dream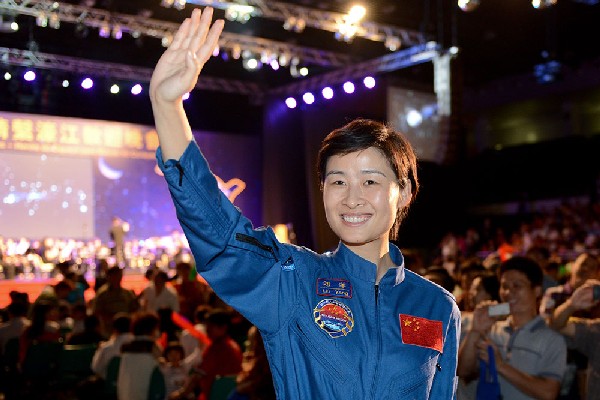 The nation's three taikonauts who accomplished their mission to dock the Shenzhou-9 (or 9th 'Divine Vessel') spacecraft with the Tiangong 1 ('Heavenly Palace') told about 2,200 schoolchildren yesterday to study hard and stay healthy to make their dreams come true, The Macau Post Daily reports today.
Jing Haipeng, the mission commander, along with taikonauts Liu Wang and Liu Yang, the nation's first woman in space, met pupils from 30 secondary schools at the Macau Polytechnic Institute (IPM) Multisport Pavilion on the second day of their three-day visit to Macau.
The children had 40 prepared questions for the space heroes.  Despite having already answered similar questions during their tour in Hong Kong over the weekend, the taikonauts still patiently answered the 24 questions asked by children in fluent Putonghua during the 1 1/2-hour meeting.
Besides talking about their experience in space, the taikonauts also gave some words of encouragement, as well as inviting a pupil from the audience to talk about his participation in an astronaut experience camp in Beijing last December.
The nervous 15-year-old surnamed Lam almost forgot which month he was born when he was on stage with Jing, who told Lam and his peers to study hard to make their dreams come true.
Liu Wang, who was responsible for the docking of Shenzhou 9 with space station Tiangong 1, used a Chinese proverb that can be literally translated as "fix a leak when it's sunny, study while you're young" to remind the young crowd to grab hold of the best time to learn, also stressing the importance of health by urging children to exercise regularly besides studying.
The nation's first female taikonaut agreed. "Each day we spent [in space] was memorable. There's no better way of letting you experience the special environment there than actually being there yourselves. I hope you train hard to become fit enough to join our space crew," Liu Yang said.
Two local students presented a robot named Little Chang'e to the three space heroes. The students created the robot dressed up as a taikonaut in a local school competition, which they won.
Chang'e, the goddess of the moon, is the name given to the nation's lunar probe.
The taikonauts will be doing some sightseeing today before leaving Macau this afternoon.  (macaunews)