Same standards for HK & Macao for national security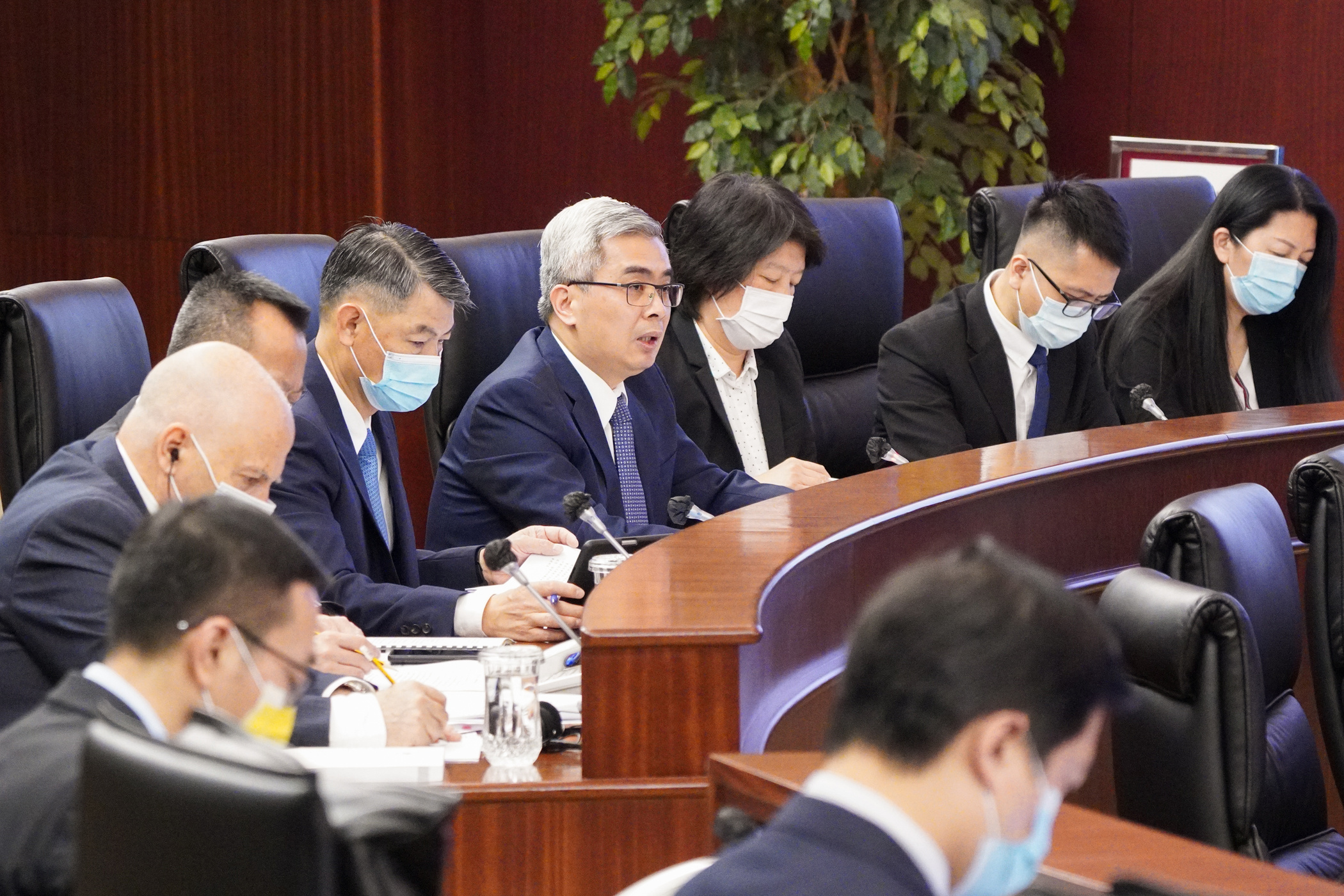 Secretary for Security Wong Sio Chak said on Monday that while Hong Kong and Macao have adopted different ways to accomplish their respective duties to protect national security, the two special administrative regions share the same required standards for safeguarding it.
Wong pointed out that Hong Kong has accomplished its duty to safeguard national security through the central government's national security legislation for the jurisdiction, whereas Macao has enacted its local national security law in line with the Article 23 requirement of the Macao Basic Law.
The Law of the People's Republic of China (PRC) on Safeguarding National Security in the Hong Kong Special Administrative Region (HKSAR) took effect at 11 pm on 30 June this year, after it was passed by the Standing Committee of the National People's Congress (NPC). The NPC Standing Committee listed the law in Annex III to the Hong Kong Basic Law for it to be applied in Hong Kong.
Macao enacted its national security law – the Law on the Defence of National Security – based on the Article 23 requirement of the Macao Basic Law back in 2009.
The policy secretary also said that those who are reluctant to safeguard national security "are not worthy of being" Chinese.
Wong made the remarks during a one-day Q&A session in the legislature's hemicycle about his portfolio's policy guidelines for next year.
In his introductory speech, Wong pledged that the local government will continue to push ahead with improvements in Macao's system regulating the protection of national security.
Wong also said that the government will continue to study the drafting of supplementary legislation that would assist in the enforcement of the local national security law.
Wong said that he and senior officials under his portfolio will continue to assist Chief Executive Ho Iat Seng in policymaking for national security matters through their participation in the Commission on the Defence of National Security of the Macao Special Administrative Region (MSAR) and the Cybersecurity Commission – both chaired by Ho.
Wong said that the Judiciary Police (PJ) will ensure that the four national security-related divisions operating under its Security Department, as well as the Terrorist Crime Alert and Investigation Division and the Cybersecurity Division – which were set up in October – can come into full operation early next year.
The four newly established national security-related divisions are tasked with the gathering of intelligence, the investigation of suspected cases, operational support, and the provision of administrative support for the Commission on the Defence of National Security.
Wong said that the police will remain vigilant about the latest development of the security situation in surrounding regions, continue to carry out risk assessments and the gathering of intelligence and intensify their monitoring of the security situation in Macao's coastal waters, coastal areas and border checkpoints. The local police will strengthen their communication and cooperation with their counterparts in Guangdong and Hong Kong for their joint effort to prevent infiltration and intervention by external forces and destructive actions by terrorists, Wong said.
Wong also said that the police will ensure that next year's Legislative Assembly (AL) election will be carried out smoothly.
During Monday's plenary session, a number of lawmakers talked about Macao's national security matters. Non-establishment lawmaker Sulu Sou Ka Hou said that Macao's national security law "has never been applied" since its enactment in 2009, which he said showed that Macao is in an "extremely low" risk for national security. Sou said that residents felt that Macao has a low risk for national security while the local government has underlined that there are always external forces endangering national security through Macao. Sou urged the government to reveal its risk assessment level according to which Macao is facing national security threats.
Civic leader-cum-lawmaker Si Ka Lon said that he disagreed with Sou's remarks, saying that safeguarding national security is everybody's responsibility. Si slammed Sou for mixing up national security and Macao's contacts and exchanges with the rest of the world, insisting that the local government has not wrongly determined the level of threats to national security that Macao is facing.
In reply, Wong said that every Chinese person has the responsibility to safeguard national security. "I think it is a big problem if you [Sou] disagree with this. I don't know your [Sou's] stance," Wong said.
'Unworthy of being Chinese'
"If one does not want to safeguard national security, they are unworthy of being Chinese," Wong said.
Wong underlined that Hong Kong's anti-government incidents (violent protests) have clearly shown that Macao is also facing threats to national security.
Wong said that "many" anti-government activists and those advocating localism in Hong Kong wanted to come to Macao in an attempt to work with some Macao residents to act against the central government. "Do you [Sou] know about this? I think you [Sou] are clear about this," Wong said.
Wong noted the fact that the Macao authorities have never applied the national security law does not mean that the law is not important or not useful. Wong said that one important point of Macao's national security law is to prevent national security cases. "It aims to prepare for rainy days," he said.
(The Macau Post Daily/Macao News)
Photo by Government Information Bureau (GCS)