Macau will set up state laboratory of Chinese medicine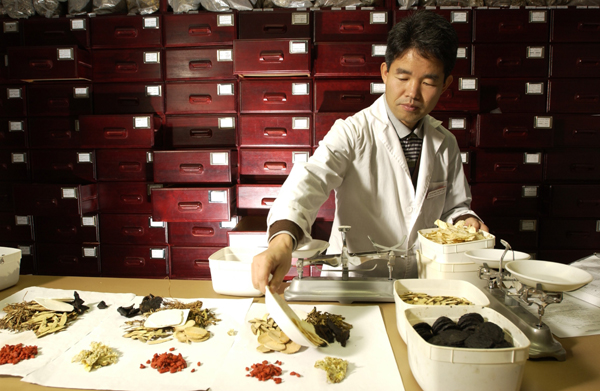 Macau, China, 29 Oct – Macau will set up a key state laboratory of Chinese medicine, which will help promote high-tech research in medicine, improve Guangdong-Macau co-operation and aid in the development of the Hengqin Chinese Medical Technology Industrial Park, said Chui Sai On, chief executive of Macao Special Administrative Region.
Chui announced this during a visit with Cao Jianlin, vice-minister of the Ministry of Science and Technology of the People's Republic of China, on Oct. 26 according to the People's Daily.
The two sides held exchanges on further strengthening the cooperation between Macau and the Ministry of Science and Technology, promoting energy saving projects and establishing the key state laboratory of Chinese medicine in Macau.
Cao said that "the agreement between the mainland and Macau to establish the Science and Technology Cooperation Committee" has already been in effect for five years, and the two sides have made remarkable achievements on the project cooperation, such as the comprehensive management on pollution of vehicle exhaust emissions, electronic waste management and pollution control.
Cao also said that Macau is a service platform connecting China and Portuguese-speaking countries and will also play a greater role in promoting national science and technological work in foreign countries.
In September the Macau government announced that will launch a Chinese medicine industrial park on the Hengqin Island with Guangdong province.
A joint venture will be established to run the Chinese medicine industrial park, of which the Macau government has a 51-percent share while the Guangdong provincial government owns 49 percent, said Tam Chon Weng.
Hengqin island is a part of Guangdong's Zhuhai city bordering Macau.
The construction of the industrial park will start after approval by the central government, and the project is expected to be completed in three years.
The planning of the industrial park will be submitted to the Macau government in the first half of next year.
Echo Chan Keng Hong, Macau Trade and Investment Promotion Institute (IPIM) executive director will be in charge of attracting investment for the Hengqin project.
The project will include spaces for conventions and exhibitions, creative industries, educational training and tourism.
The Guangdong provincial government has agreed to allocate half a square kilometer of land on the island for the industrial park and the funds will be provided by Macau.
(MacauNews)