Macau should develop multi-destination tourism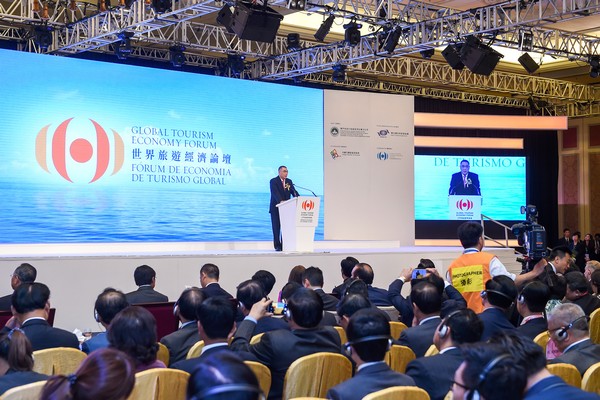 Macau's tourism sector should connect with the surrounding areas, particularly Hong Kong and the mainland, to develop a multi-destination approach, United Nations World Tourism Organisation (UNWTO) Secretary-General Taleb Rifai said on Monday.
Speaking to reporters after the opening ceremony of the Global Tourism Economy Forum at the Venetian in Cotai on Monday, Rifai commended Macau for the development of its tourism sector.
According to an official statement, the two-day forum is being held by the Secretariat for Social Affairs and Culture. Rifai and Hun Sen, prime minister of Cambodia, were among the guests. Over 1,000 delegates from all over the world are attending the forum, the statement said.
Rifai, a former Jordanian minister of tourism and antiquities, said one of the challenges for Macau was to diversify its tourism products. He also said the local tourism sector should consider how to connect to its counterparts in the surrounding areas, particularly the mainland and Hong Kong, so as to develop multi-destination tourism. "We need to make sure the freedom of movement is in the centre of our policies," Rifai said.
Describing Macau as "a success story", Rifai said he encouraged the city to stage more mega events. "Not only sports events, which are very important, but cultural events, family events," Rifai said.
"There are many temptations in Macau that would make you want to stay within the boundary of the hotels… the hotels should try to understand they need to encourage people to get out, to engage and to interact with people, to take a taxi, to walk," the UNWTO chief, who has been in his current post since 2010, said.
Addressing the ceremony, Chief Executive Fernando Chui Sai On pointed out that the forum has been held for four consecutive years in Macau, adding that it has provided the global tourism sector with a wide range of important idea.
"For many years, Macau has been acting as a platform for cultural exchanges… we'll try to combine the [local] culture and tourism to explore a bigger area for development," Chui said.
China National Tourism Administration (NTA) Chairman Li Jinzao and Macau's first chief executive, Chinese People's Political Consultative Conference (CPPCC) National Committee Vice-Chairman Edmund Ho Hau Wah also addressed the forum.
(macaunews/macaupost)