Macau Science Centre closes after blaze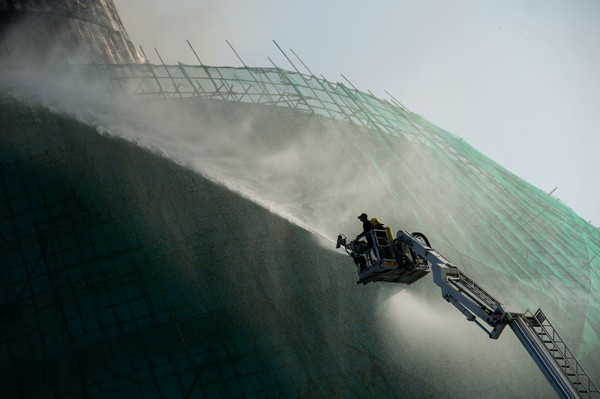 In the wake of Friday's fire, the Macau Science Centre will be closed until further notice, according to an official statement.
The smoky fire broke out at the top floor of the centre in Nape.
According to a report by the Chinese-language Macao Daily News on Saturday, the Fire Services (CB) initially believed a worker accidentally ignited some insulation material as he was soldering on the exterior of the centre.
The exterior maintenance is carried out every five years.
The centre said in Friday's statement that about 300 people, comprising visitors and staff, were quickly evacuated from the building after the fire broke out. No one was injured in the incident.
A Macau Science Centre spokesperson said they were still looking at the damage and calculating the cost of the repairs, adding they believed an initial estimate could be published early this week.
The spokesperson said as the planetarium was unaffected by the fire, it will reopen tomorrow, after the routine maintenance is completed.
The building was designed by Pei Partnership Architects in association with famous US-Chinese architect I. M. Pei, and construction started in 2006. The structural engineering was the responsibility of Leslie E. Robertson Associates.
Pei was born in Suzhou in 1917 and has, among many other buildings, designed the Bank of China tower in Hong Kong, the Pyramid outside Le Louvre in Paris and The Miho Museum in Kyoto.
The centre was opened in December 2009 by the nation's then president Hu Jintao.
(macaunews/macaupost)