Macau Hotel Estoril's mosaic 'inappropriate' for its new role, says Alexis Tam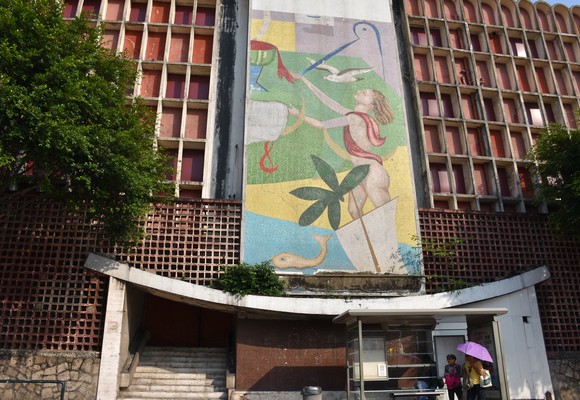 Secretary for Social Affairs and Culture Alexis Tam Chon Weng insisted on Monday that Hotel Estoril's mosaic was "inappropriate" for the building's new role the government has in mind.
The government announced in April its redevelopment plan for the former casino-hotel and its swimming pool, proposing to turn the former into a youth activities centre which would include a car park with 1,000 spaces and performance spaces for the Macau Conservatory, and the latter into an all-season pool with possibly a retractable roof.
The proposal was met with some opposition from the public, because some would like the building's façade and mosaic to be preserved, as they fear that the government wants to demolish the whole building to make space for a new one.
A local urban planning advocacy group handed in a petition with about 140 signatures last month urging the Cultural Affairs Bureau (IC) to revaluate the cultural value of the vacant property, and possibly adding it to the government's cultural protection list.
According to an interview by local Portuguese-language newspaper Ponto Final with Arnaldo Acconci, the mosaic's artist Oseo Acconci's son, last week, he urged the government to preserve the façade and repair the mosaic. He said the mosaic was one of the rare expressions of the futurism movement in Macau, as well as an example of the presence of European culture in Macau.
Acconci junior, who is also an artist, called the criticisms by some members of the public – who described the mosaic's depiction of a scantily-clad woman as "lewd" – disrespectful of his father's work, pointing out that the woman is actually Fortuna, the Roman goddess of luck, destiny and happiness. He also denied that the mosaic was created for feng shui, as some residents have claimed.
However, the artist added that he didn't object to moving the mosaic elsewhere.
Speaking to reporters on Monday, Tam said while he respected the artist's opinion, after many meetings with educators and civic groups, he found that the majority supports his proposal for a youth centre, adding that many also deemed the mosaic "inappropriate" for the new project.
Tam insisted that the government is open-minded about the fate of the mosaic.
(macaunews/macaupost)