Illegal migrants surge by 64% between January and September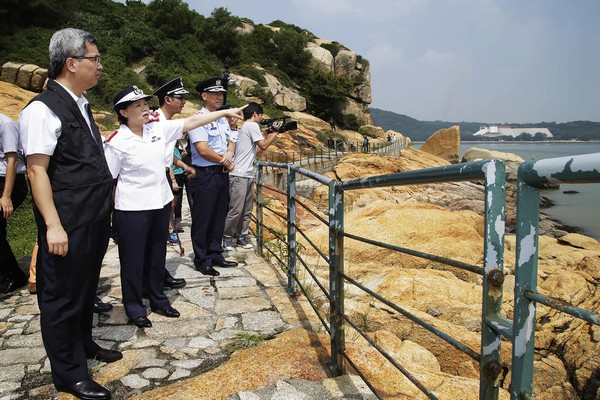 The secretary for security, Wong Sio Chak, accompanied by customs officials, took a field trip Thursday morning to inspect two black spots generally understood to be an entry point for illegal migrants – Coloane's Long Chao Kok and the University of Macau's Hengqin campus.
According to the secretary, the number of illegal migrants has surged by 64 percent to 1,810 between January and September, a percentage Wong described as "very high." During that time span, 905 migrants have been identified in the southern costal area alone.
Wong blamed the area's geographic features for the exponential growth of illegal entries, yet promised to develop more approaches to mitigate the surging flow of mainlanders arriving in the region from there.
"Today's field visits primarily, first of all, tell how highly we regard the issue. Another objective is to identify those difficulties," said the official in reference to the rocky bayside area. "From the data, it has been found that the risk of illegally entering the region is extremely high and we face certain difficulties in enforcing the law," admitted Wong. "This place is geographically demanding, which makes anti-detection measures easier."
Furthermore, the official indicated that previous investigations have suggested that the seaside area stretching from the Westin Resort to the rock-ribbed strip in the far south of Coloane could be one of a series of potential spots on which the arriving migrants could land.
"They might disembark anywhere and that's the challenge to our personnel deployment," he added.
The Secretary also visited the Hengqin campus of the University of Macau, where the security situation seems to be improving. A mere total of six people were caught this year trying to jump the walls of the university to enter the territory of the MSA, compared with a total of 51 people caught last year.
The walls surrounding the university which initially appeared to be short now have been made much higher with spikes scattered atop, Thursday's visit revealed.
Wong also pledged to continue close collaborations with the Zhuhai police in combating similar activities.
To further curb illegal arrivals in the region ashore, the government is now exploring 4G technology, which the secretary explained could allow surveillance imageries to be instantly transferred back to the authorities' headquarters as a way to monitor the situation. Starting last month, the citywide surveillance installation work has already begun, operating in four phases.
(macaunews/MDT)