​​Ho Iat Seng says Chinese leaders support Macao's appropriate economic diversification
​​Ho Iat Seng says Chinese leaders support Macao's appropriate economic diversification

Link copied
Central government gives Macao the green light for quarantine-free travel between Macao and Hong Kong, new developments to be announced soon.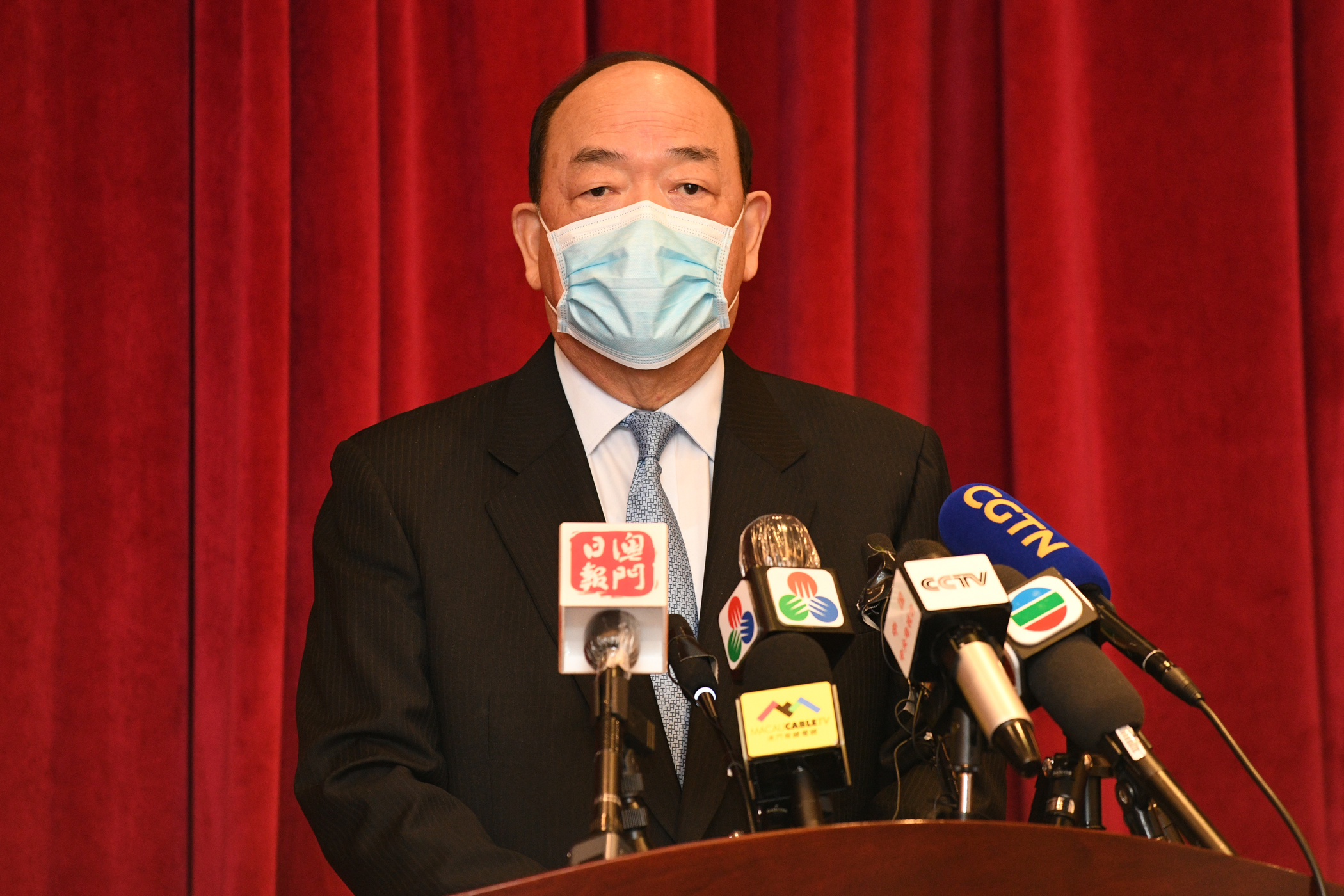 Chief Executive Ho Iat Seng said that China's leaders acknowledge Macao's Covid-19 control and prevention work and support Macao's appropriately diversified economic development.
Ho made the remarks during a press briefing at the local airport upon his return from a four-day duty visit to Beijing. While in Beijing he separately briefed President Xi Jinping and Premier Li Keqiang on Macao's situation and social and economic development.
Ho said that Xi and Li clearly pointed out the problem of Macao's overdependence on just one industry [gaming] and that the central government will, as always, fully support Macao's appropriately diversified economic development.
The chief executive underlined that while in Beijing he also visited several ministries and commissions related to the development of the Hengqin Guangdong-Macao In-depth Cooperation Zone concerning its future development.
Asked by the media whether his government will stick to its MOP 130 billion gross gaming revenue (GGR) forecast concerning next year's budget, Ho responded that if there hadn't been three local Covid-19 incidents in Macao this year, in August, September and October, the government's GGR forecast of MOP 130 billion (US$ 16.2 billion) would nearly have been met.
Therefore, the government's gross gaming revenue of MOP 130 billion will remain the same for next year, Ho said, adding that if Macao was to be affected by new Covid-19 incidents next year the forecast once again would not be met.
Regarding the recent closure of some casinos' so-called VIP rooms for high-stakes gamblers, Ho pointed out that there exists a contractual relationship between the operators of the VIP rooms and the city's gaming concessionaires, a relationship that has nothing to do with the government.
He emphasised that the government does not require Macao's gaming operators to run VIP rooms. He pointed out that in the past five years, the VIP room business has been shrinking, but that the government has still to assess the full impact of the VIP room closures on Macao's economy.
Macao's casino VIP rooms are traditionally run by junket businesses on behalf of casino operators. Junket operator Suncity recently announced the closure of all its VIP rooms after its chairman was remanded in custody for alleged organised crime activities, money laundering and illicit gambling businesses.
Concerning a possible Covid-19 quarantine-free travel arrangement between Macao and Hong Kong in the future, Ho said that the central government has given a green light to such an arrangement between Macao and Hong Kong in conjunction with the mainland, adding that any new developments on the Hong Kong-Macao quarantine front will be announced at once.