Goverment sold Taipa land to HK firm for 1.36 billion patacas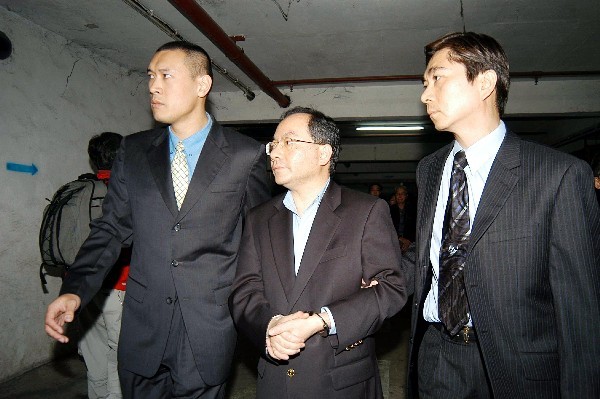 The Court of Final Appeal (TUI) heard Wednesday that it was the government's then secretary for transport and public works Ao Man Long who had decided to sell five plots of land totalling 79,000 square metres opposite the airport in Taipa to a company headed by Hong Kong real estate tycoon Joseph Lau Luen-hung for 1.36 billion patacas in 2004, according to The Macau Post Daily.
The land is now being developed into a luxury residential complex called La Scala, which has already sold about 300 of the total 899 flats in its eight blocks, with a ninth block being reserved for serviced apartments. A 177-square metre flat was priced at HK$13 million last month when the developer put the flats up for sale.
Ao's third graft trial continued in the Court of Final Appeal (TUI) Wednesday. He stands accused of six counts of bribery and three counts of money laundering over five public work projects and one land sale. The disgraced policy secretary is tried by Macau's top court because of his former position as a principal official. He does not have the right to appeal.
Seven government officials appeared in court as witnesses in yesterday's hearing. One former government official, Antonio Jose Castanheira Lourenço, was exempted from appearing, Sam Hou Fai, the president of the three-judge panel, said, without explaining why.
All the witnesses said they were "ordered" to change the scores for the government's evaluation report on rivalbidders so that the company Ao had indicated would win the respective tender.
Transportation Infrastructure Office (GIT) Assistant Co-ordinator André Duarte Xavier Sales Ritchie told the court that his former direct superior Castanheira Lourenço at the Infrastructure Development Office (GDI), where he worked at that time, told him that it was a good time to sell the five plots of land opposite Macau International Airport when the market was doing well in 2004.
Ritchie said that although he had no proof that what his superior said was an order from Ao, Castanheira Lourenço worked directly under Ao, which was how the Infrastructure Development Office operated.
Ritchie also said that Castanheira Lourenço did not explain to him why Jones Lang LaSalle, CB Richard Ellis (CBRE) and an STDM consortium were invited to submit rival bids within 10 days for the tendering process, which Ritchie said was quite a difficult task. Jones Land LaSalle won the tender with the highest bid.
Public Prosecutor Kuok Un Man questioned why Jones Lang LaSalle, which was in fact bidding on behalf of Moon Ocean, a subsidiary of Hong Kong listed company, Chinese Estate Holdings, owned by HK real estate tycoon Lau, could win the tender with its 1.36 billion pataca bid in 2004, when the land valuation outsourced by the governmentstood at two billion patacas back in 1997.
On Monday, Ao's charge sheet read out by Court of Final Appeal President Sam Ho Fai claimed that Lau paid Ao HK$20 million to win the tender.
Lau in a statement on Tuesday denied the bribery allegation.
The trial continues to Friday with more witnesses.
Ao listened to Wednesday's proceedings without uttering a single word. He did not look at the witnesses.(macaunews)