Cristina Morais sworn in as the new coordinator of the Support Office of the Macau Forum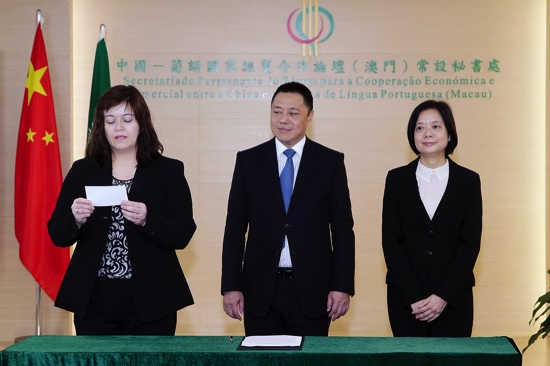 The new coordinator of the Support Office of the Macau Forum was sworn in on Friday in a ceremony presided by the Secretary for Economy and Finance, Leong Vai Tac.
Cristina Gomes Pinto de Morais, fluent in Chinese, Portuguese and English, previously worked in the Economic Services of the Macau government.
Leong Vai Tac said Cristina Morais "is the perfect person for the job due to her dedication over the years to activities related to economy and trade".
"Working in the Macau Economic Services since 1991, Cristina Morais has a great knowledge of administration, foreign trade, economic cooperation and relations with the portuguese speaking countries" said Secretary Leong.
Cristina Morais said she will do her utmost to improve the work of the Forum, facilitate the relations between China and the portuguese speaking countries and emphasized that her main priority for 2016 will be the 5th Ministerial Conference of the Forum that will be held in Macau.
Cristina Morais substitutes Echo Chan Keng Hong who resigned in October for personal reasons.
(macaunews)