Chui says housing issue can't be solved through 'too heavy' measures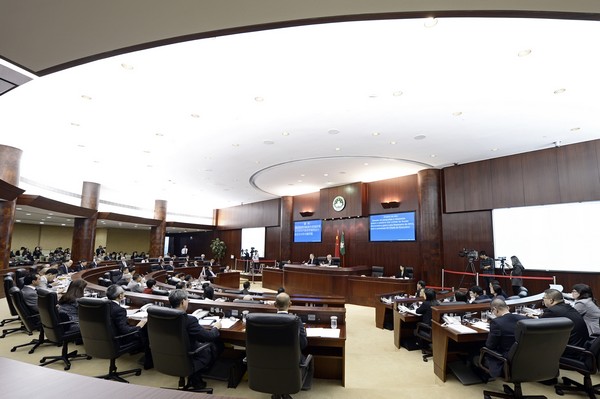 Chief Executive Fernando Chui Sai On said Wednesday while the government would continue to take the initiative to stabilise the housing market, it would not be reasonable to carry out any  "too heavily" applied measures.
Chui made the remark during a three-hour question-and-answer session in the Legislative Assembly (AL) about his 2013 Policy Address that he delivered on Tuesday.
He answered 26 lawmakers' questions on issues ranging from housing to education, social mobility, official support of small- and medium-sized enterprises (SMEs), the social welfare system, gaming regulations, economic diversification, and tackling corruption.
All 29 lawmakers attended Wednesday's session.
According to The Macau Post Daily, Chui reiterated that in addition to resuming the government's public-housing application process in the first quarter of next year, the government also planned to build 6,300 more public housing flats on top of the 19,000 flats that it has promised will be completed by the end of the year.
The government's public housing programme consists of low-rent social housing flats and subsidised home-ownership scheme (HOS) flats.
"We want the public to understand that the government has reserved [land] and has plans to help local residents settle down," said Chui as he set about explaining that buying a flat was something that could always be done in the future.
Chui commented that housing prices always fluctuate and he believed that they would eventually decrease. He urged the public to "know what they can afford" and consider their financial capabilities when thinking about buying a flat.
While conceding that he believed the current private housing market is "overheated", Chui insisted that any "too heavily" applied measures could profoundly affect local residents so that the government would need to be cautious on the matter.
"Restrictive measures are in place because we need to stabilise the housing market if it gets out of control," said Chui. "… But if these measures [on housing] are too heavy, then I think citizens might need to face the consequences."
Chui did not elaborate on the types of consequences residents might have to deal with if tougher measures on housing were imposed. However, he remarked that there is no clear-cut formula to resolve the city's housing issue, adding that it was vital for the local housing market to develop in a "healthy" manner.
The chief executive nonetheless promised that parts of the newly reclaimed land would be reserved for public housing and flats owned by Macau people.
Chui said that "Macau People, Macau Land" was a novel idea, pointing out that relevant laws such as on pricing and land use must be drafted before the concept could be implemented.(macaunews)