Almost 50 flights affected by thick fog over Macau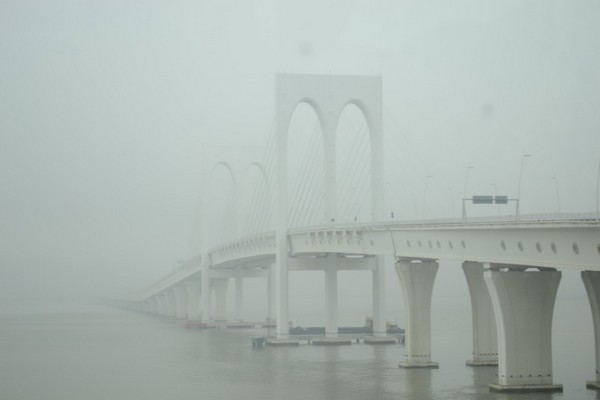 Almost 50 flights were cancelled or postponed today due to the foggy weather.
The Meteorological Bureau says the weather will remain unchanged in the coming two days.
It was still foggy in Macau today.
Those seeking to travel by sea or air were the most affected, with almost 50 flights cancelled or postponed.
Many people had no option but to wait at the Macau airport departure hall.
"It affects me. It is so troublesome. I have to be back to work tomorrow," said a visitor from Taiwan.
"I came here yesterday. Then I am still here today. I have been waiting for two days. It is so uncomfortable," said a mainland Chinese tourist.
Another visitor says the flight delay situation is inevitable due to the weather.
Meanwhile, at the Outer Harbour Ferry Terminal, ferry schedules sailing between Hong Kong and Macau have resumed. Citizens and visitors were able to buy ferry tickets and the sailing times also returned to normal.
"Today is fine. It only takes one hour. It's not too affected. However, my classmate who came on Saturday had been sitting for a long time. It took around 3 hours," said a visitor.
Another resident decided to leave in advance after being affected by the bad weather on Friday.
"The initial ferry from the airport was delayed from 5pm to 6:15pm. However, I was sitting in the ferry until 8:15pm. Therefore, when I leave tomorrow, we would go to Hong Kong earlier in advance. We are not going to take the airport ferry as we worry that the delay might make us unable to board," she said.
On Saturday a ferry sailing from Hong Kong to Macau carrying 74 people on board hit the Hong Kong-Zhuhai-Macau bridge. Officials have announced that nobody was injured. The boat left Hong Kong at about 8:16 a.m. and collided with a concrete pillar of the bridge 24 minutes after departure. No water breached the hull, which was carrying a total of 67 passengers and seven crew members.
The Meteorological Bureau says visibility is still low in Macau and predicts it will be wet with thin fog in the next two days.
The Bureau reminds drivers and individuals who work at sea to be more alert and pay attention to driving and sailing safety.
(macaunews/tdm)