Up to 123 candidates from 16 groups to take part in Legislative Assembly election for direct seats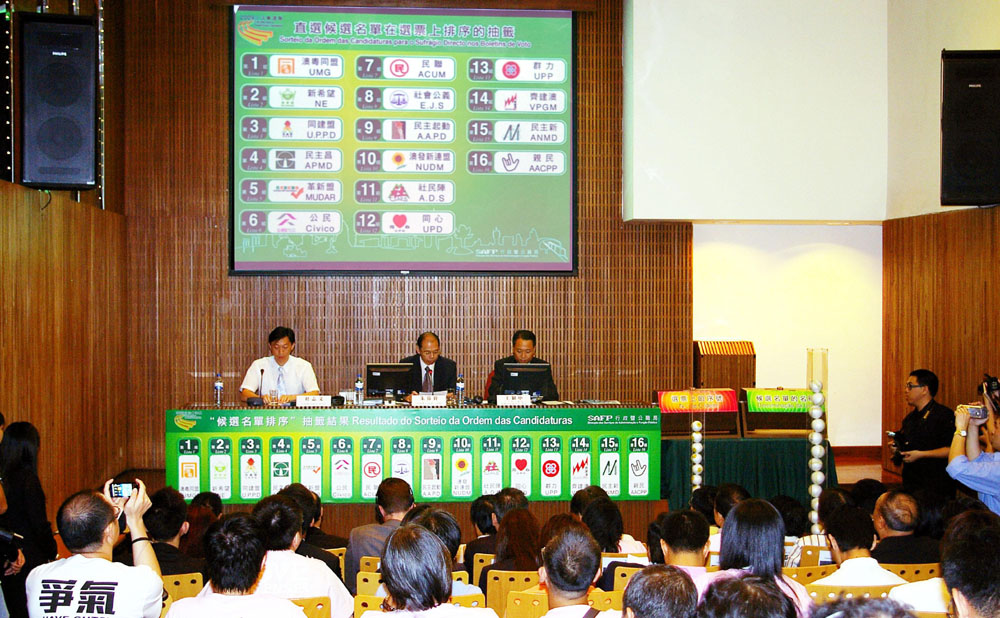 Macau, China, 30 Jul – Up to 123 candidates from 16 civil groups in Macau will take part in the 4th Legislative Assembly Election of the Special Administrative Region (SAR) to the 12 directly-elected seats in the Assembly based on a proportional representation system.
The 16 groups completed their registration procedures over the past six weeks for joining the SAR's direct legislative election which was scheduled to take place on September 20.
The SAR's legislature has 29 seats, 12 of which are directly elected and 10 indirectly elected while the rest will be appointed by the SAR's chief executive.
All the groups competing for the directly-elected seats claimed Wdnesday that they were "satisfied" with their respective numbers of the ballot paper.
The numbers were drawn in a public raffle held by the Public Administration and Civil Service Bureau (SAFP).
The sequence of the numbers from 1 to 16 on the ballot paper was posted on the Public Administration Building right after the raffle.
The Macau Post Daily said today that veteran lawmaker Ng Kuok Cheong's Democratic Prosperous Macau group draw the number 4 that is particularly inauspicious, according to traditional Chinese numerology.
"However, Ng put on a brave face by insisting that his aim is one plus one equals four, and we will be very lucky if we win four seats in the legislature" he paper said.
Ng Kuok Cheong alluded to the fact that he and fellow lawmaker Au Kam San's Democratic New Macau are competing in the election with two separate groups ("one plus one") that together strive to win four seats in the Legislative Assembly."
In previous elections, the duo ran with just one group.
The two grass-roots activists are keen to take advantage of Macau 's proportional representation system that favours small groups. Realistically, it is virtually impossible for one group to win more than two directly elected seats.
The Legislative Assembly Election Affairs Committee announced last week that since each sector of the indirect legislative election came up with just a single list, the 10 candidates for the 10 seats at stake were "elected by default."
Vasco Fong Man Chong, who heads the committee said since there was no longer a need to hold an election for the 10 indirectly elected seats, no polling stations would be set up for the indirect elections on September 20.
The 10 "automatically" elected candidates represent four sectors.
Lau Cheok Va and Lam Heong Sang represent the labour sector.
Lau Cheok Va is vice-president of the outgoing legislature. He is tipped to become the incoming legislature's president.
Lam Heong Sang is a trade unionist and member of the Executive Council, being a first-time lawmaker.
The industrial, commercial and financial sector has four representatives in the legislature – Ho Iat Seng, Fong Chi Keong, Kou Hoi In and Cheang Chi Keong.
Ho Iat Seng, a member of the Executive Council and National People's Congress, is a first-time lawmaker.
Fong Chi Keong changes his position from a directly to an indirectly elected legislator.
Kou Hoi In and Cheang Chi Keong have been reconfirmed as indirectly elected lawmakers.
The professional sector is represented by Chui Sai Cheong and Leonel Alberto Alves.
Chui Sai Cheong is a brother of future chief executive Fernando Chui Sai On and Leonel Alves is a lawyer and Macanese community leader.
Both have been reconfirmed as indirectly elected lawmakers.
The social services, cultural, educational and sports sector is represented by two businessmen, Chan Chak Mo and Cheong Lup Kwan.
Both had been indirectly elected lawmakers of the previous Legislative Assembly.
(MacauNews)