1,000 protestors march for democratic reforms, family reunions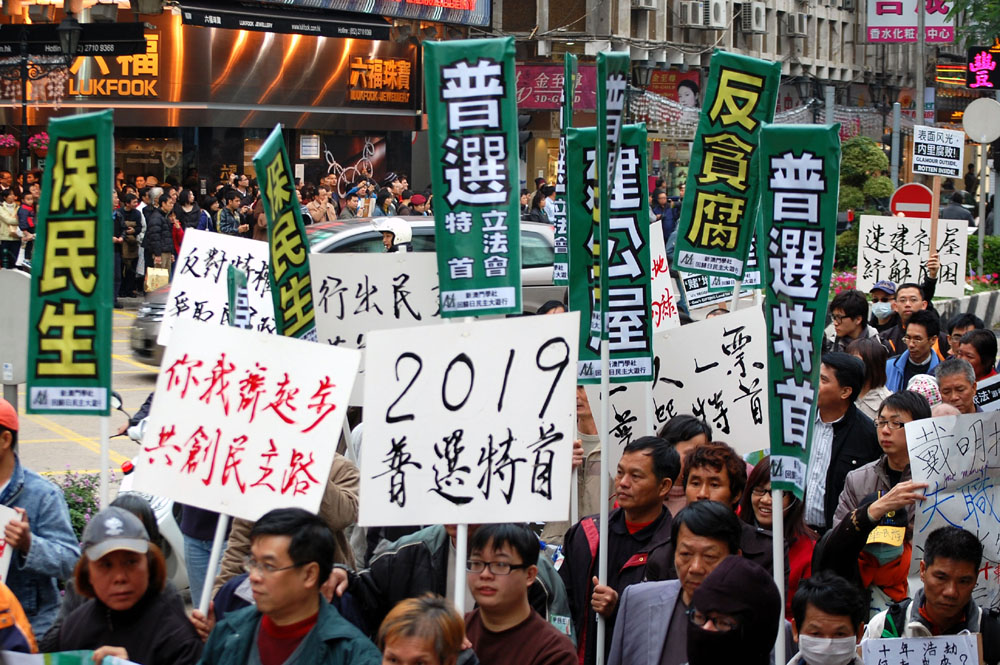 Macau, China, 21 Dec – Around 1,000 pro-democracy and pro-family reunion protesters took to Macau's streets on the 10th anniversary of Macau's return to Chinese administration Sunday, calling for democratic reforms and an end to government corruption.
The protestors marched through the city chanting slogans and waving banners calling for an end to corruption, universal suffrage, the protection of people's livelihood and for the right of their mainland-born children to settle in Macau according to The Macau Post Daily.
The protest finished in front of the Government Headquarters on Avenida da Praia Grande, where the event organisers, grass-roots based pro-democracy group the New Macau Association (NMA) and representatives from other groups involved in the protest submitted signed petitions and demands to a government representative.
Key demands in the petition from the New Macau Association (NMA), which collected over 10,000 signatures in a one and a half month period in the lead up to the march, included a clamp-down on government corruption, protection of people's standard of living through diversification of the economy, and universal suffrage for the election of the chief executive by 2019.
However, Ng said that newly-sworn in Chief Executive Fernando Chui Sai On had not given any indication that he was prepared to meet with his group.
Another key issue aired during the protest included the provision of public housing. The previous administration in 2008 committed to providing 19,000 new low-cost flats for rent or purchase to tackle the issue of skyrocketing property costs. A number of protestors expressed anger about what they called the government's slow delivery on this promise.
While the organisers put the number of demonstrators at 1,100, the Public Security Police (PSP) said that 900 took part.
(MacauNews)