Nacky Kuan Sio Peng is Executive Director of Macao Water Supply Company Limited. She is fluent in Cantonese, Mandarin and English.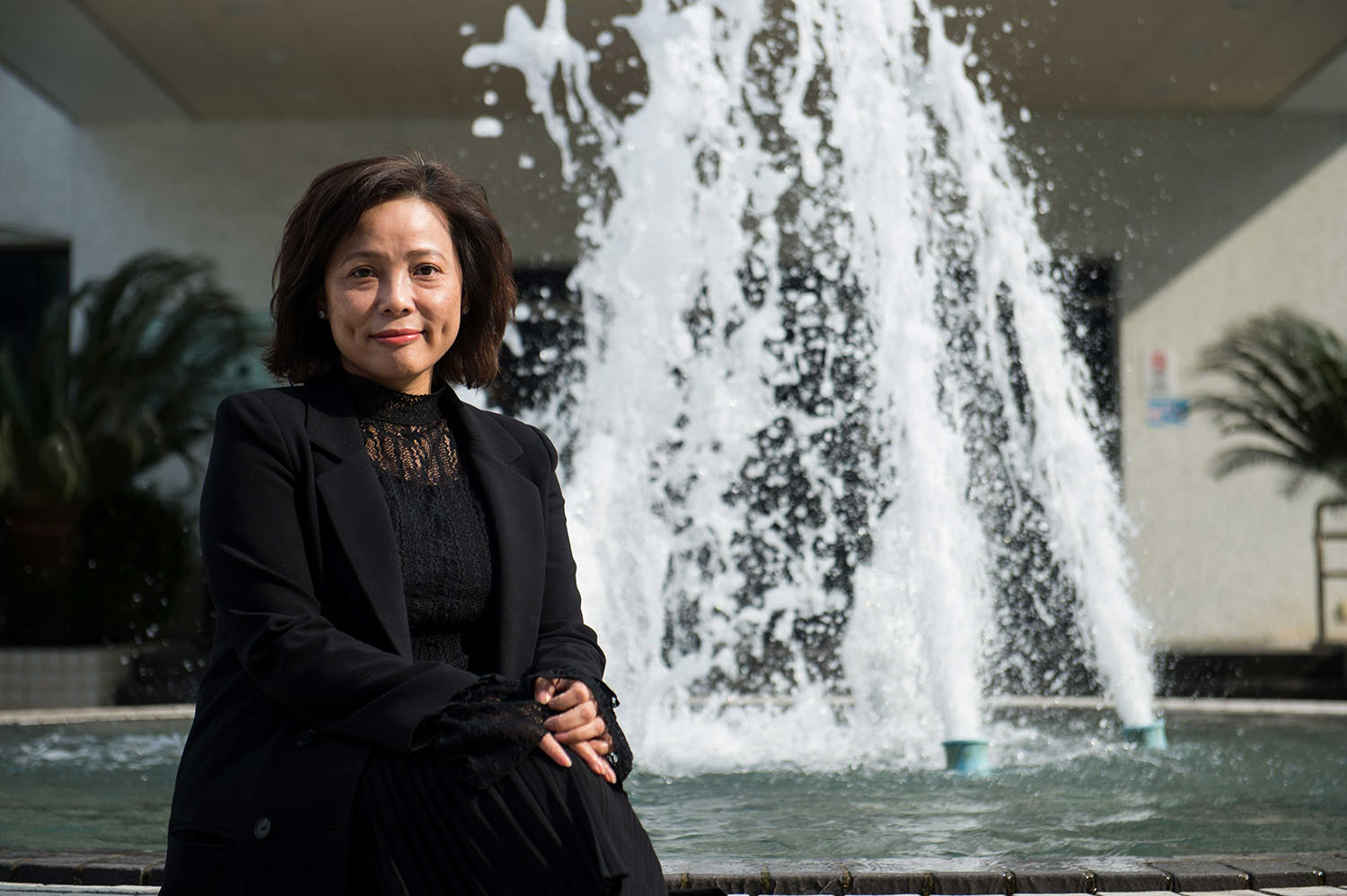 Nacky Kuan Sio Peng is Executive Director of Macao Water Supply Company Limited. She is fluent in Cantonese, Mandarin and English.
Born 8 October 1965, in Macao, Kuan is the middle child of six. She has two older brothers, one older sister, one younger brother and one younger sister. She attended primary school at Escola Canossa Pui Ching and secondary school at Sacred Heart Canossian College. As a child, she dreamed of being a kindergarten teacher specialising in mathematics. "I like calculations! I remember when I was small, I always liked calculating the dim sum bill in advance for my mother!" Kuan laughs.
After receiving her bachelor's degree in accounting from the University of East Asia in 1988 (now the University of Macau), Kuan landed her first job as an auditor for KPMG, one of the Big Four accounting firms. She held that position for three years before moving to Fast Investment Limited, a local financial company, where she also worked for three years. In 1994, she embarked on her career at Macao Water, where she has remained ever since.
Even after more than two decades with the same company, Kuan is as enthusiastic about her job as ever. Her secret? "We can only be motivated when we genuinely like what we are doing. When people say they are too busy to do something, usually it's just an excuse. If they like it enough, they will find the time and figure out a way to do it. It's always about one's priorities."
As a female leader, Kuan believes she is very lucky to be living and working in Macao, where men and women enjoy the same rights and opportunities throughout all sectors of society. "I am extra lucky that Macao Water is a western company that encourages a diverse and multicultural working environment."
Kuan draws inspiration from other female leaders, namely German Chancellor Angela Merkel and American politician Hillary Clinton. "Actually, I really admire Chancellor Merkel. As the leader of a country, she has to be well-rounded with the capacity to resolve multi-faceted issues simultaneously. Now that I am Executive Director, there are so many more aspects that I have to contemplate while accommodating different parties, such as stakeholders, the media, the public, Macao's numerous associations, NGOs and, of course, our employees," she explains. "As Chief Financial Officer, the only thing I used to focus on was money!"
Kuan's goal upon taking on the new role is to continue building public trust in Macao Water. "Trust is very important in all relationships, be it between a company and its clients, the management team and its staff, colleagues or lovers. Without trust, all relationship falls apart." This is a motto that Kuan truly takes to heart, literally and figuratively.
Ask her to share the best decision she ever made, and she will respond without hesitation that it was marrying her husband. "Family is always my first priority. I believe that a happy family life is one of the keys to a successful career. Without a harmonic and supportive family, one might find it difficult to spare the time and effort required to achieve goals in the workplace."
Being a self-aware person, Kuan often reflects on her life. If she could go back in time, she would have tried harder during university to be a better academic student. And she would have spent more time with her father, whom she lost over ten years ago. "It was still a patriarchal society in Macao back then. I was closer to my mother but rarely even talked to my father. We only talked during family dinners. He was quite strict and intimidating, so I didn't really hug him or chat with him casually the way I did with my mother," Kuan recalls.
Losing him taught her the importance of treasuring loved ones, so now, every day that she isn't working is family day. "I like spending time with older generations, like my mother and my in-laws. We go to 'yum cha' [have dim sum] every Sunday!"
Kuan also enjoys travelling in her spare time. 'He that travels far knows much' is an idiom that resonates with her, and she attributes travelling with broadening her horizons. "Although I take business trips frequently, even more so now that I am Executive Director, I prefer going back to the same place with my husband and exploring it leisurely."
It should come as no surprise that if she could have dinner with anyone in the world, living or deceased, Kuan would choose her husband in the blink of an eye. "I feel most comfortable when I am with him. Although we have been married for many years and don't have kids, I never feel bored when I am next to him, even when we are doing nothing special. After dinner, usually we just go back home and watch TV together, but I still enjoy it a lot. He is the one I will always choose," she says affectionately.