Professor Karen Araño Tagulao's work over at USJ is helping to promote the conservation of mangroves in Macao. Hear her story here.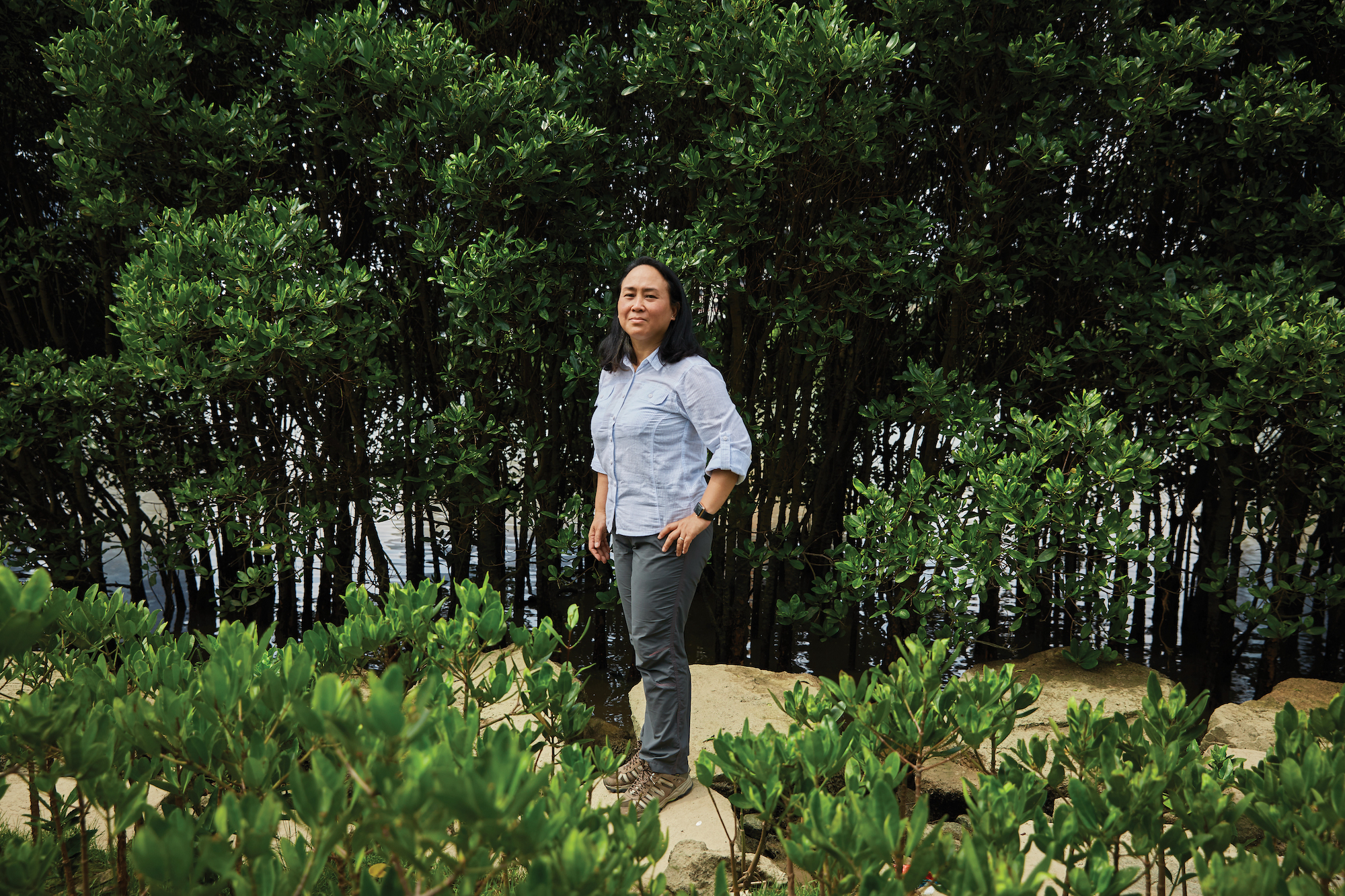 Karen Araño Tagulao was born in Cabagan, Isabela, in the northernmost part of the Philippines, just 30 minutes away from Tuguegarao.
The eldest daughter in an academically-inclined family – her parents are retired professors and several of her five siblings have pursued academic careers.
Having grown up inside the university campus of the University of the Philippines Los Baños, she and her sisters were surrounded by books and activities all relating to academics. And thanks to the numerous pools and the accessibility of nature in the campus, they also grew up loving sports and nature. As she shares, her father would bring them swimming or even hike in the forest of Mount Makiling nearby. Today, her father is still as active as he had been many years ago as a natural scientist, with the added benefit of being retired and getting to do more of what he loves.
"I still remember those times when my dad used to bring us to the forest," she shares, "you know leeches used to stick on our legs, and we'd scream. But that's part of the fun. I think all of these experiences in that setting influenced me to become a biologist — to love nature and water."
Finding her vocation in biology had come when she was in high school, crediting the school she went to: "I went to a science high school so we always did experiments, we did fieldwork. And I knew — I think I was just a sophomore that time — that I will be a biologist".
After pursuing Bachelor's and Master's degrees at the University of the Philippines, she became a PhD fellow in marine biology in an integrated scheme involving the Netherlands' Radboud University and the UNESCO-International Institute for Infrastructural, Hydraulic and Environmental Engineering, now known as the IHE Delft Institute for Water Education.
Her ongoing doctoral research consists of applying molecular techniques to study the evolution and relationships of seagrass populations in the Indo-Pacific region.
In January 2003, shortly after she was married in the Philippines, Tagulao arrived in Macao. She moved to the city because her husband was already there – he'd been working in the territory since 1992. "I was uncertain about the future," she admits, "but I was optimistic that I could continue my scientific work in Macao because the city is surrounded by water."
The marine biologist soon settled in and became a mother. Two years after her son's birth, on his baptism, she met Father Denis. She mentioned her background and was asked to come in for an interview a week after at the university (formerly known as the Macau Inter-University Institute).
In 2008, she landed a position at the University of Saint Joseph (USJ), returning to teaching and researching. Today, she is now a senior lecturer at the Institute of Science and Environment and the co-ordinator of USJ's Pre-University Programme, which helps prepare students for university in Macao or overseas.
In 2010, she also became the principal investigator of the institute's project on mangrove forests – a position she still holds as she and her team investigate these unique habitats that are characterised by vegetation growing in tidal coastal swamps.
"In a city like Macao," says Tagulao, "which is vulnerable to the impact of storm surges, mangroves can help protect the coastline by acting as natural barriers." She adds that mangroves are 'equally important in the protection of the city's coastal waters from pollution due to their ability to act as filters'.
Featured in a BBC StoryWorks-produced series for International Association of Universities (IAU) in 2019, Tagulao, alongside students and other researchers at USJ shared their efforts in promoting the conservation of Macao's mangroves.
Aside from working closely with Macao's coastal areas and mangroves, she had also given workshops to local schools about DNA technology and have coordinated on environmental education initiatives focused on wetlands as part of the university's science promotion program.
"We need to do more in collaboration with the government and the community to make our environment a better place," she says, "Sustainability is to find balance between the economy, equity and the environment."
As a way to de-stress, she had always gravitated towards sports. She had loved swimming when she was much younger, with scuba diving a big part of her life as a marine biologist.
Today, she does more tennis than swimming. Her whole family engages in tennis and occasionally, she and her husband play doubles with friends. Her youngest son also plays for the Macao Tennis team.
Their family also go on hikes in Coloane. Running and jogging too. As Tagulao says, it keeps her "motivated and disciplined". And staying active has definitely been kept a family affair.