Joe Liu is the co-founder and Director of MOME, an integrated marketing and media company that produces and promotes content across Macao, Hong Kong and Greater China.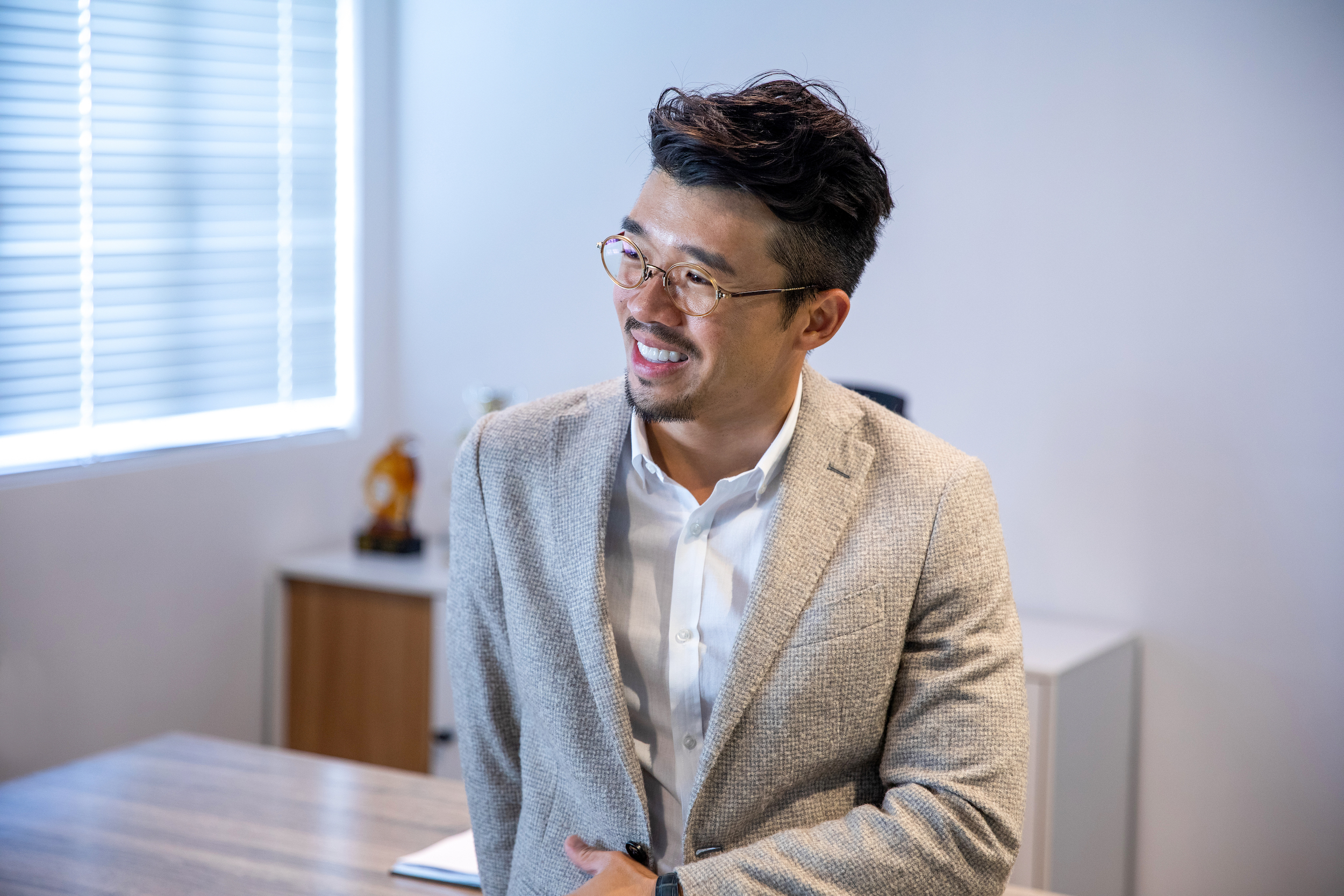 Joe Liu is the founder and Director of MOME, an integrated marketing and media company that produces and promotes content across Macao, Hong Kong and Greater China and the Director of Macau Pass, a contactless smartcard and e-payment system.
He is also a director of Transmac, one of Macao's three public transportation companies and Macau Pass, the city's contactless smartcard. He speaks fluent Cantonese, Mandarin and English.
Liu was born in Hong Kong on the 1st December 1983. He moved to Macao in 1988, when his father, Liu Hei Wan joined Transmac, one of the earliest public transportation companies in Macao. Since then, Liu has regarded Macao as his hometown.
Coming from a traditional family, his parents arranged a full schedule of extracurricular activities for him including painting, violin and piano lessons. However, he admits he was not a good student back then. "I was always getting poor grades. I guess it's because I rejected everything that was forced onto me, from memorising textbooks to mathematic formulas."
At the age of 13, Liu left Macao to attend Uppingham School, a boarding school in the Midlands, England. This experience changed his view on school life. Not only did he become the house captain, but he also joined the school orchestra as a violinist and became the captain of the school's 1st XI football team.
He recalls how his time there also helped shape him into the man he is today. "Being away from home made me learn to take care of myself and get along well with other people. I am thankful that I made a lot of friends in high school, and still remain close to many of them today."
When it was time for university, Liu chose a subject that required creativity and innovation. After initially starting an architecture degree at University College, London (UCL), at the end of the first year he changed his course to urban planning design. He completed this degree in 2004, choosing to continue his studies with a master's degree in European property development. "I really like to understand the environment, how a city ​​is planned and how people relate to the space and buildings around them," he explains.
After completing his master's in 2007, Liu became a property surveyor at the London headquarters office of Savills, one of the world's largest real estate firms. "My job there was to work with developers and contractors. My responsibilities ranged from liaising between different parties and submitting architectural drawings to the government, through to hiring foreman to put together construction crews."
When not studying or working, Liu devoted much of his time in London to sports such as football, golf, tennis, motor racing, swimming and snowboarding. He was especially passionate about football, representing both his university and several local clubs in London.
Liu knew he had a successful, comfortable life in London, but he was also unsure of the direction it was taking. "I had a stable job with good salary but the market there was saturated. I couldn't help but ask myself, was this the kind of future I wanted? So I took a look back at my hometown, Macao. I realised that it had so much potential for development but was hindered by a lack of manpower. After doing some research and seeking advice from my family, I decided to come back."
In February 2010, Liu returned to Macao, where he worked in Savills' Macau office for two years as a valuation and development consultant. He also started managing a property investment fund as well as a number of projects at his father's company; including the Macau Pass.
Liu's passion for sports continued, as he joined local football club Monte Carlo. In 2013, he also opened the city's first independent golf shop in the city with a group of like-minded friends.
It was also in 2013 that he decided to move on from his corporate career, having realised over time that a traditional corporate environment was not the right fit for him.
Liu launched MOME with his childhood friend Joseph Chan that year. The company produces audiovisual media for television, mobile devices and the Internet, alongside a marketing consultancy service that offers advertising and promotion support.
"It's always difficult at the beginning, but I'm happy to be working with a great team of talented people, from marketing practitioners to visual producers. Together we learn from our experiences and continue to improve."
At the beginning, MOME worked with Transmac to install mobile TV across the company's bus fleet. This system now broadcasts a variety of content, including commercial and entertainment programmes produced by MOME.
Customers that seek marketing consultancy from MOME range from casinos and Food & Beverage chains through to government organisations. In 2016, MOME opened an office in Bangkok to oversee a major marketing campaign targeting Chinese buyers for the 7-Eleven brand in Thailand.
Since then, Liu has concentrated his efforts in bridging the gap between MOME, Transmac and Macau Pass in the hopes of further developing Macau Pass's online payment system to bring a cashless system to Macao.
As an entrepreneur, Liu has found that this new style of working has made him adapt his work attitude, which led to some positive changes. "I was never a particularly hardworking person before, but now, having started my own business, I finally feel the stress of maintaining a business and am determined to put all my energy and focus into it," he enthuses.