Charles Choy is on a unique mission to make Macau Beer one of the city's most celebrated exports.
Charles M. Choy has worked alongside his parents and brother to grow his family's business, Vaian Group (International), for decades. With his international experience and entrepreneurial mindset, Choy has welcomed the unique opportunity to explore new business ventures. 
He has not only been integral to modernising the group's handbag manufacturing business, but has also brought Chinese herbal cough syrups to new markets, established an organic agriculture business, and even developed one of the few products carrying the territories' name: Macau Beer. 
Choy was born in Macao in November 1968 to a Thai-Chinese father and Chinese mother who grew up in Macao. He studied at Pui Ching Middle School, a Baptist Chinese-language school, and left for Hong Kong at 9 years old to attend St Louis School, a Catholic English grammar school in Sai Ying Pun. He spent his first year in Hong Kong in boarding school and then stayed with relatives until secondary school. 
"This was a big change for me," Choy recalls of that period. "Nowadays people think Macao and Hong Kong are very close; back then they felt very far apart. That time shaped my views." 
Then came another significant change. At the age of 15, Choy left for the US to study at Archbishop Riordan High School, a co-ed high school in San Francisco. He welcomed the dramatic cultural shift, embracing the opportunity to immerse himself in new ways of thinking. "I found San Francisco to be very friendly, and the diversity and intellectual curiosity I witnessed shifted my mindset, says Choy. "People thought outside the box, and that encouraged me to think more broadly." 
While many who live in California prize the weather and lifestyle, Choy had more erudite concerns. When it came time for university, he chose to trade year-round sunshine for infamously harsh Midwestern winters. Choy was set on studying under Nobel Prize-winning American economist Milton Friedman, who was a visiting lecturer at The University of Chicago at the time. 
"He was a big star. I was a kid and didn't really understand economics, but I heard his name a lot," Choy says of his move to Chicago to pursue a degree in Economics and Sociology. "He was advising [Communist chairman] Deng Xiaoping on how to reform China, and I was fascinated."
Besides being one of the top 10 schools in the world for economics, it is also home to numerous Nobel Prize winners. "My classmates would say, 'When you walk on campus, the chances are high that you will bump into a Nobel Laureate,' and it was true," says Choy, delighted by the highbrow conversations in the cafeteria at his "geek school."
It was here where he made lasting connections with like-minded people, who shared Choy's curiosity and ambition. Upon graduating in 1991, Choy spent a year working as a financial analyst at American consultancy firm Arthur Andersen, before returning to Asia to join the family business. It was around the time that Asia started booming, so it was exciting to be fresh out of school and explore a new market, says Choy of his move to Thailand.  
Arriving in Bangkok in 1992, Choy found himself working alongside his parents, who had established Vaian Group in 1969. At the time, the group comprised two core businesses: Macao's longest-running local handbag manufacturing company and a Traditional Chinese Medicine (TCM) business selling the herbal syrup, Pei Pa Koa.
While in Bangkok, Choy worked in the handbag factory's sales office, where he learned how to communicate with customers and gained firsthand experience in the art of sales. Three years later, he returned to Macao to work at Vaian Group's headquarters. 
Soon after, the Choys started selling the herbal cough syrup in Japan in 1993, believing that if they could meet the demands of such a quality-driven and stringent market, other markets would feel easy by comparison. "We learned about the quest for quality in service and products by working in Japan," says the entrepreneur. At the time, the herbal cough syrup was classified as a health food and, as a result, Choy engaged mainly with buyers and distributors from the health food industry. This allowed him to make many connections in the still-nascent organic agriculture sector. 
Around the same time, the family also partnered with Kirin Group Brewery Company to grow various agricultural products – such as organic rice – and co-developed farmlands in the US, Australia and China. 
While running several businesses under the Vaian umbrella, Choy continued to dig into new, exciting ideas throughout the late 1990s and early 2000s. And soon, he found his way to an opportunity that made sense not only for his family business – but also for his hometown of Macao.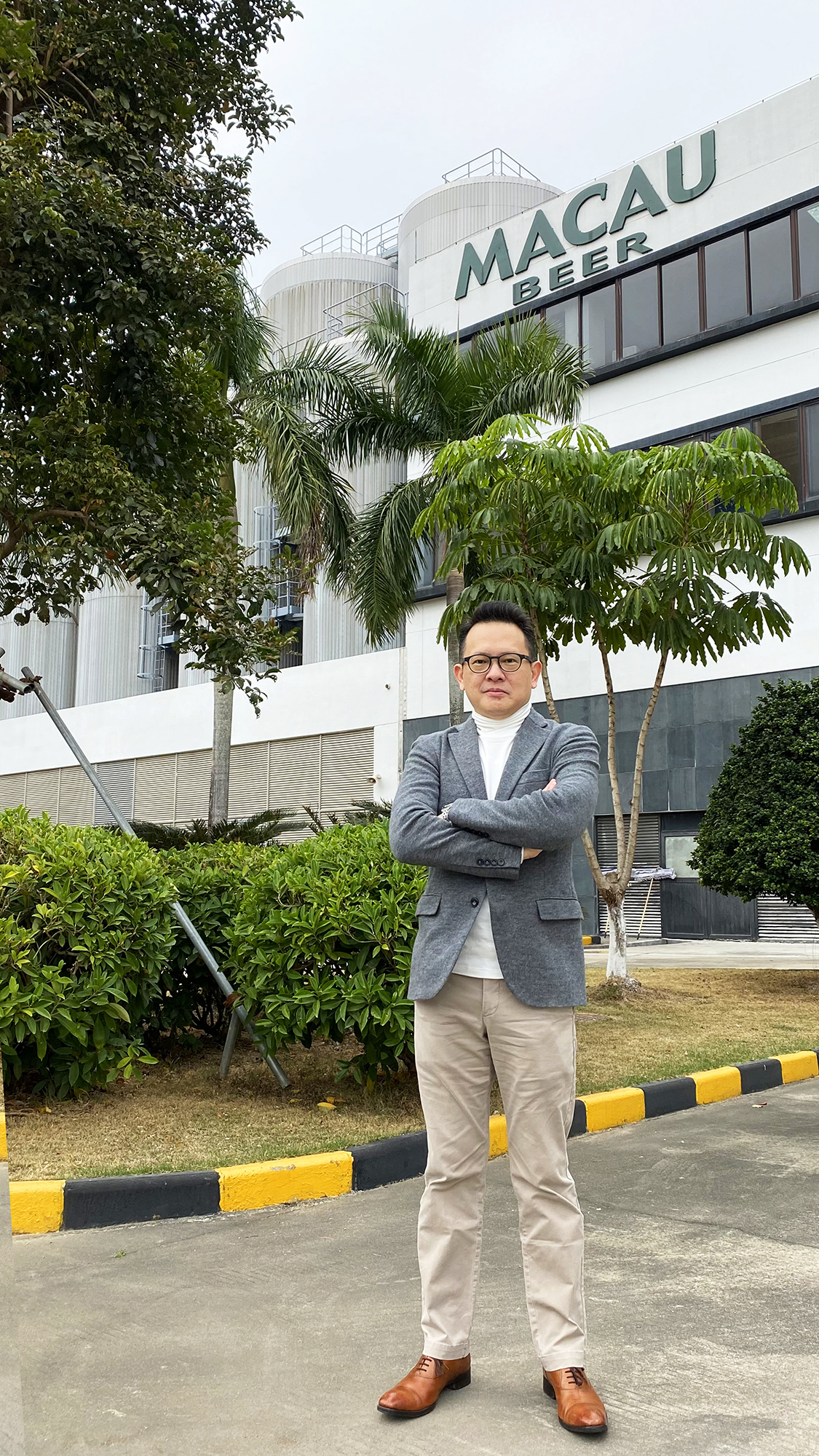 In 2002, Kirin acquired Macau Beer from a group of local business people who brewed the beer in an industrial building in Areia Preta (also known as Hac Sa Van). Kirin moved Macau Beer out of the city in 2006, right around the time Macao eclipsed Las Vegas as the world's casino capital. 
"[Kirin] wanted to explore the China market and they needed more space, so they moved Macau Beer to the Zhuhai High-Tech Zone, where Kirin already had a [regional] base," explains Choy.    
Having established a relationship with the Japanese brewer through Vaian's organic farming pursuits, Choy joined Macau Beer's board as a director in 2007 when they were looking for a local partner. 
"Beer is a universal language. Everybody knows what beer is all about: people toast when they make a new friendship, find common ground, and enjoy the unique tastes – we believe this represents Macao."
In 2016 Vaian successfully acquired half of Macau Beer's shares, with Kirin Holdings owning the other 50 per cent. "Up to that point Macau Beer had been fully owned by a Japanese company, and it became one co-owned by local Macao people, so that was already a big change," says Choy of the influence this would have over the future direction of the brand. "It gives it so much more room to develop the brand identity." 
As the co-owner of Macao's namesake beer, Choy feels a responsibility to promote the city through the brand. The company works closely with the Macao Government Tourism Office and other government agencies to showcase local products and spotlight Macao's evolving food and beverage scene. 
"Beer is a universal language. Everybody knows what beer is all about: people toast when they make a new friendship, find common ground, and [our beer] has a unique taste – we believe this represents Macao," says Choy.  
Roughly 30 years of research have gone into creating Macau Beer's signature blonde ale, a beer that he feels represents Macao. The businessman describes it as a "light beer with a rich flavour and strong aroma."
"Of course our hot market is Macao, but we also sell to markets in China, including Beijing, Shanghai, Chengdu, Guangdong, and the Greater Bay Area because we have factories there," says Choy. "We also sell to Japan, Korea, the Philippines, Taiwan and Vegas – in places where people [are familiar with] Macao as a destination." 
For Choy, beer has the universality to connect people and places. At the same time, the image of the Ruins of St. Paul's on the Macau Beer label, "conveys a lot of what Macao is all about", striking a chord with those who have experienced the territory and sparking curiosity for those who have yet to visit.
As a respected businessman, Choy sits on many boards and volunteers with many charities. The list includes more than five positions, such as Chairman Emeritus of The American Chamber of Commerce in Macau; Vice-Chairman of International Federation of Organic Agriculture Movements (IFOAM); and Director of the Tung Sin Tong charity, among others.
Yet running several businesses and sitting on numerous boards means Choy has little time for much else. His Japanese wife, who he met on a business trip to Japan, is supportive. The couple married in San Francisco in 1995 and have called Macao home for the past 26 years. 
Choy recalls missing Macao deeply while studying and working overseas. For Choy, the chance to share his love for his hometown with a product that people worldwide can relate to is all the motivation he needs to invest his energy into making Macau Beer as successful as possible. 
"I was born in Macao, and I love this place. Now I have the rare chance to own a brand which can promote Macao, and possibly convey its stories through our beer," says Choy. "This sense of achievement and enjoyment is just tremendous for me. Macau Beer is more than a business – it has a mission, too."