Since 2016, Carmo Correia has set aside her freelance life for a more stable full-time position with Galaxy Entertainment Group.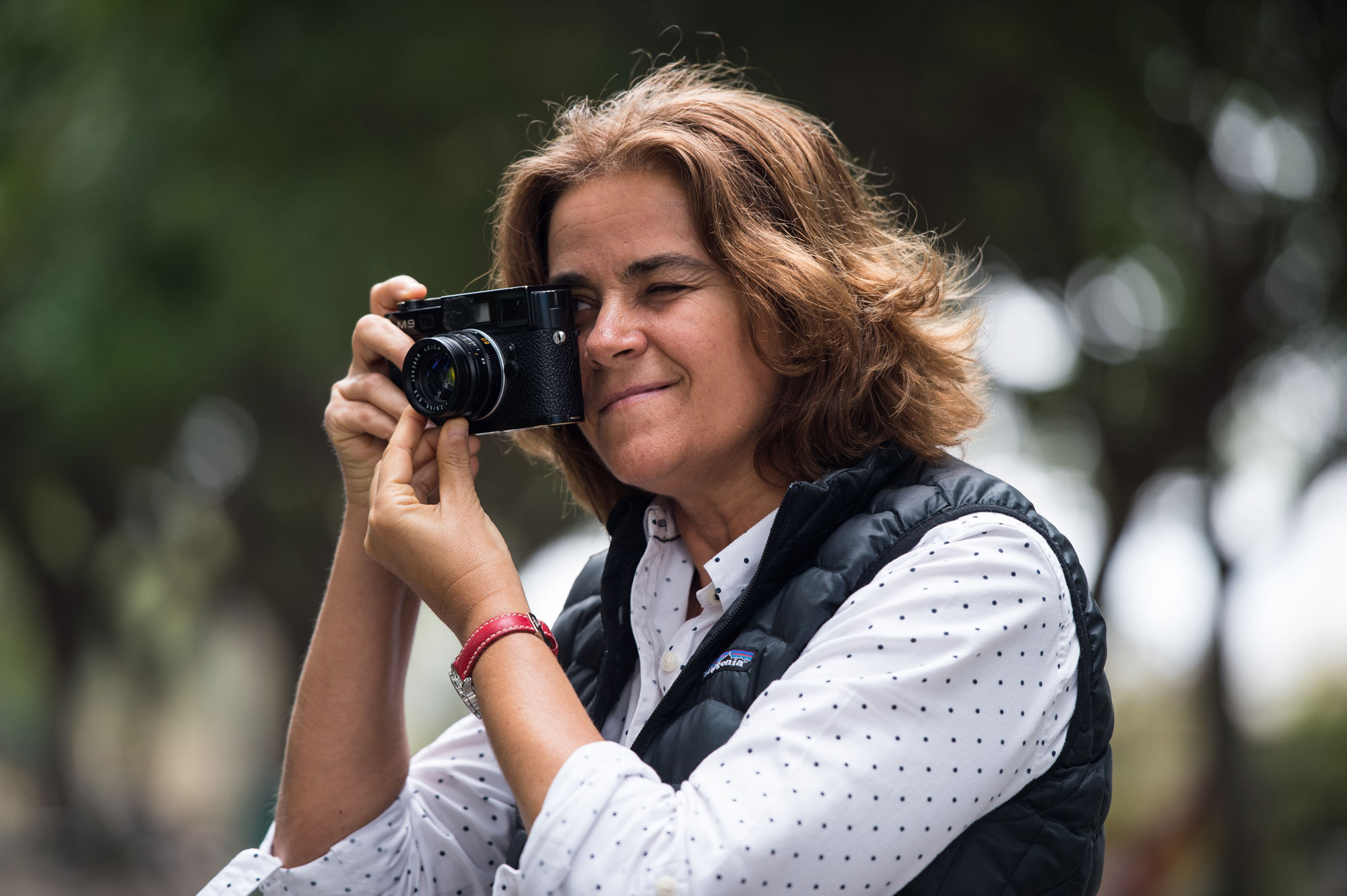 Carmo Correia is a Macao-based senior photographer at Galaxy Entertainment Group. She speaks Portuguese and English and has traveled half the world over the course of her career.
Born in Lisbon, Portugal, on 17 January 1967, Correia received her bachelor's degree in Languages and Tourism at the former Instituto Superior de Línguas e Administração in 1988. She then worked at a travel agency for six months selling "Portuguese travelling experiences" to tourists.
With her parents living in Algarve, Correia would travel frequently to the south of Portugal. On these visits, she would often spend time with her best friend, a photographer who fostered her love for the art form. "Every time I was in Algarve, I was always asking him questions and watching what he was doing," she recalls. One day, she decided to buy a camera herself and enrolled in a beginner's course at one of Lisbon's most renowned photography schools, Ar.Co. "In the 90s, Ar.Co was one of the only schools that taught photography. It was hard to get in and hard to remain in the program. We had to build up a large portfolio. Fortunately, I made it through both years of the course."
Two years later, Correia married a Portuguese Air Force Officer and moved to Terceira Island in the Portuguese archipelago of the Azores. Life on the Lages, an American Air Force base, was easy. "Life was great. I was surrounded by greenery and lived close to the beach for four years. One additional perk was that we had access to American products that were flown into the base."
After her son was born and with plenty of time on her hands, Correia volunteered to work in the base's photography laboratory where she also developed photos and took studio shots. During her travels around all nine islands of the Azores, the camera never left her hand.
This marriage of photography and travel has been going strong ever since. In 1992–93, she returned to Lisbon where she worked as a freelance photographer for virtually every magazine in Portugal. Her work has appeared in travel magazines including Rotas e Destinos, Descobrir, and Volta ao Mundo as well as consumer affairs magazines such as Proteste and daily newspaper Correio da Manhã. "By that time, almost every publication had a travel section, so I sold my pictures and remained an on-going collaborator," she recounts. "I travelled a lot, and although people think it's a dream job, it's not just roses. We have to deal with long shoots and bad weather, and if the photos are not good, we don't sell them."
In 2000, her husband got a contract with Air Macau. Correia packed her bags to start anew, and she has never left since. "When I arrived, Macao didn't have a market [for freelance photography], so I dedicated most of my time to my family and had our second child." Still, Correia managed some photography work, mainly submitting to image banks. "I took so many photos, I had a lot of pictures that I could sell via image banks. If someone needed a specific location photo but was unable to physically send someone on-site, they could search the image banks, and sometimes I had photos that fit their needs," she explains.
With the recent democratisation trend in the photography market and increased everyday access to cameras, the market for image banks has been dying slowly. "Anyone can take a picture and provide them for free to publications in exchange for having their name printed in the magazine's photo credit, so the market for professional photographers has been dying."
Macao, however, has proved an exception to this trend, with the photography market growing due to the casino boom. In 2003, Correia started working as a freelancer photographer for the Macao branch of the Portuguese news agency, Lusa, as well as other local publications such as Ponto Final, Macau Closer, Macao Magazine, Revista Macau and Cathay Pacific's in-flight magazine.
The need, however, for her own projects has always endured. In 2007, Correia published her first book Sense of Heritage with pictures of Macao heritage sights and places that sadly no longer exist. The book received a honourable mention in the category of "documental book" at the 2008 Pilsner Urquell International Photography Awards, one of the most prestigious international photography awards. In 2009, Colours of Culture came out featuring a series of photographs of Macao from a more commercial perspective.
An accident on the job in 2010 sidelined Correia, but as soon as the Portuguese photographer recovered, she began working on her third book Bridge of Light. "This project took a lot out of me. I often worked 40, 50 days non-stop, 13 to 14 hours a day. Even so, it took me two years to complete."
The book features a series of photos depicting the Portuguese presence in Asia including stills from Macao, Thailand, Timor, Malacca, Sri Lanka, India, Japan and Indonesia. "The idea for this project came to me several years ago, but I did not feel I could complete such a vast and complex work without amassing some experience," Correia explains.
Since 2016, Correia has set aside her freelance life for a more stable full-time position with Galaxy Entertainment Group. It is an enjoyable change of pace for her. "My current job is both corporate and commercial. I shoot a lot food, interiors and portraits, which I enjoy." No matter the subject, Correia couldn't imagine herself doing anything other than photography, and the confidence she has gained in her many years of experience has helped her to coax even the shyest of subjects to smile for her camera.