Ada Chio is Vice President of Destination Marketing & Brand Strategy at the Grand Lisboa Macau. She speaks English, Shangainese, Cantonese and Mandarin.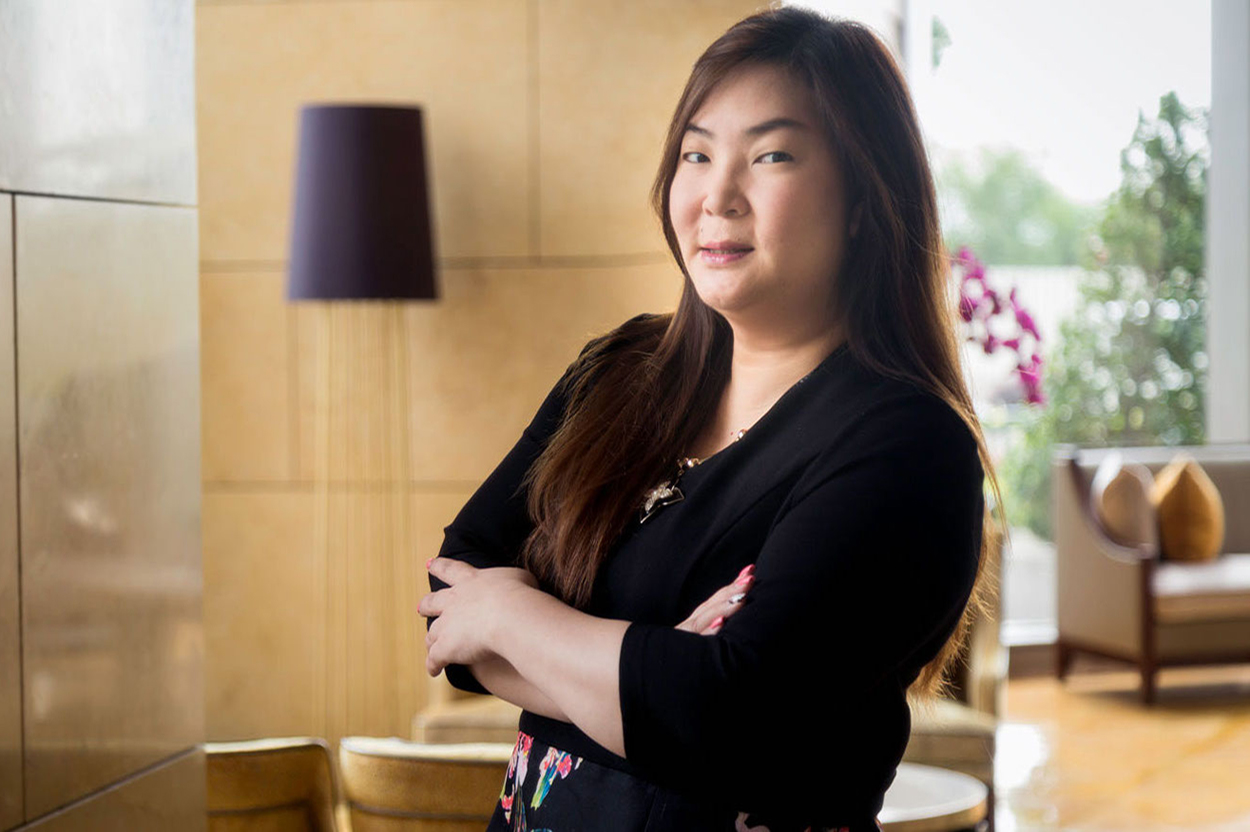 Ada Chio de la Cruz is Vice President of Destination Marketing & Brand Strategy at the Grand Lisboa Macau. She speaks English, Shangainese, Cantonese and Mandarin.
Born 13 June 1975, in Shanghai, Ada moved with her parents to Macao when she was four. Her mother was a teacher at English section Santa Rosa de Lima, where Ada also went to school.
By the time she was eight years old, she began following her artist father to Macao's historical locations to paint landscapes alongside him. This fostered her love of art, especially for design, and she dreamed of becoming a fashion designer in Paris.
However, the trend for her generation was to study Business Administration (BA) in the United Kingdom, so Ada put her dreams aside and went for bachelor's degree in BA at De Montfort University in Leicester, England, until 1998. She balanced off her school fees with part-time jobs during her university life, which helped her gain work experience overseas in early days.
Even though she chose the more pragmatic path, Ada has always found a way to pursue all the things she loves. "The calendar year has 365 days, but it is up to you to decide to make each day different," she says, full of energy and with a contagious smile. Over an espresso, she laughingly admits that in the past, a normal day for her consisted of eight espressos fueling the extra energy necessary to pursue her very active life. Born in the Year of the Rabbit, Ada is also a Gemini in Western astrology, and she believes these two horoscopes have influenced her approach to life. "I have two faces: one is very quiet and one very social with endless energy."
Ada worked at Mandarin Oriental for 16 years but rejects characterising herself as a workaholic, preferring to describe herself as "the hyperactive girl around the city". From 2000 until 2009, she moved her way from a rank and file to Director of Communications. In January 2010, she took on the role of Director of Marketing Communications. In August 2012, she was promoted to Regional Director of Communications, North Asia for Mandarin Oriental Hotel Group. In this capacity, she oversaw Japan, Taiwan, Hong Kong, Macao, mainland China and South Korea. In 2017, Ada embarked on a new career path at Grand Lisboa Macau, a hotel owned by Sociedade de Jogos de Macau (SJM).
Her "hyperactive" dedication to her work has earned her international recognition. She was "Marketing & Communications Hotelier of the Year" at the 2014 Hotelier Awards China. "After 16 years, I still love my work. I can do routine work, but I still find new ways to do it," she says with passion and a sense of commitment. "It has been a long journey, but we shouldn't skip steps to move faster. Going slowly and making mistakes is the way to learn and to create a solid base," she advises, confessing that she learned how to take one step at a time when she was a Girl Scout leader during her Santa Rosa days. Even then, she remembers setting three-year goals for herself and the troupe.
It comes as no surprise, then, that Ada proactively pursues a diverse and impressive range of projects and activities. In 2015, she spearheaded "Hidden Faces", a digital marketing campaign that reveals Macao's many hidden and forgotten gems. The campaign launched on WeChat, one of China's largest social media platforms. Since 2012, she has been a member of Chaine des Rôtisseurs, the international association of gastronomy, and the Ordre des Coteaux de Champagne of France, the official fraternity of the Champagne brands of wine. Recently, she and a few partners opened "The Nail Shop", a nail salon in Macao.
Ever a self-learner at the age of 40, Ada taught herself Photoshop, Illustrator and StreamWeaver—relevant graphics softwares for a former fashion design aficionado—not by attending courses or workshops but by reading books on her own. She says her latest field of study is learning to navigate the era of the Millennials and admits to owning accounts on a number of social media platforms as well as possessing a phone full of selfies.
Although not born Macanese, Ada is proud to claim Macao as her home and heart. She travels frequently for work and has become familiar with destinations all over the world. "I represent Macao. People visiting Macao want to see and hear what Macanese people do in their daily lives, and working in the hospitality industry gives me the greatest opportunity to showcase and share the best experience in the city to visitors."
Ada believes being involved with the community is very important. She especially loves bringing people with different interests together. In 2016, she became Secretary of the Board of Directors of Skål, the International Association of Travel and Tourism Professionals.
A mother of two children, one 14 year-old teenager and one ten-year-old, Ada defies conventional stereotypes and boundaries. "Who says a business-woman cannot also have a family? The secret is to make [your family] understand how much your work means to you. Being able to have a work and personal life balance is all thanks to my family's support."