Treasure hunt: Where to shop for vintage fashion in Macao
Treasure hunt: Where to shop for vintage fashion in Macao

Link copied
Whether you're looking for chic couture handbags, historic sportswear or utilitarian French jackets, fulfil your fashion dreams at one of the city's top vintage boutiques.
Vintage fashion is having a moment right now. Maybe it's that sense of discovery you get when sifting through racks and stacks of apparel from another era. Or perhaps it's because every vintage shirt, dress and accessory has a story of its own – a link to another place and time. In addition to that sense of nostalgia, vintage fashion also offers a more eco-friendly way to shop and a chance to bring home a unique souvenir while travelling. 
Most of the vintage shops on this list have been around for over a decade, accumulating a treasure trove of throwback finds. Whether you're a visitor looking for a retro jacket to remind you of Macao or a fashion maven hunting down mint-condition French pieces, you're sure to strike gold at Macao's top vintage boutiques. 
To get you started on a vintage adventure in Macao, here are a few of our favourite shops in the UNESCO Historic Centre and beyond:
1. Vintage Market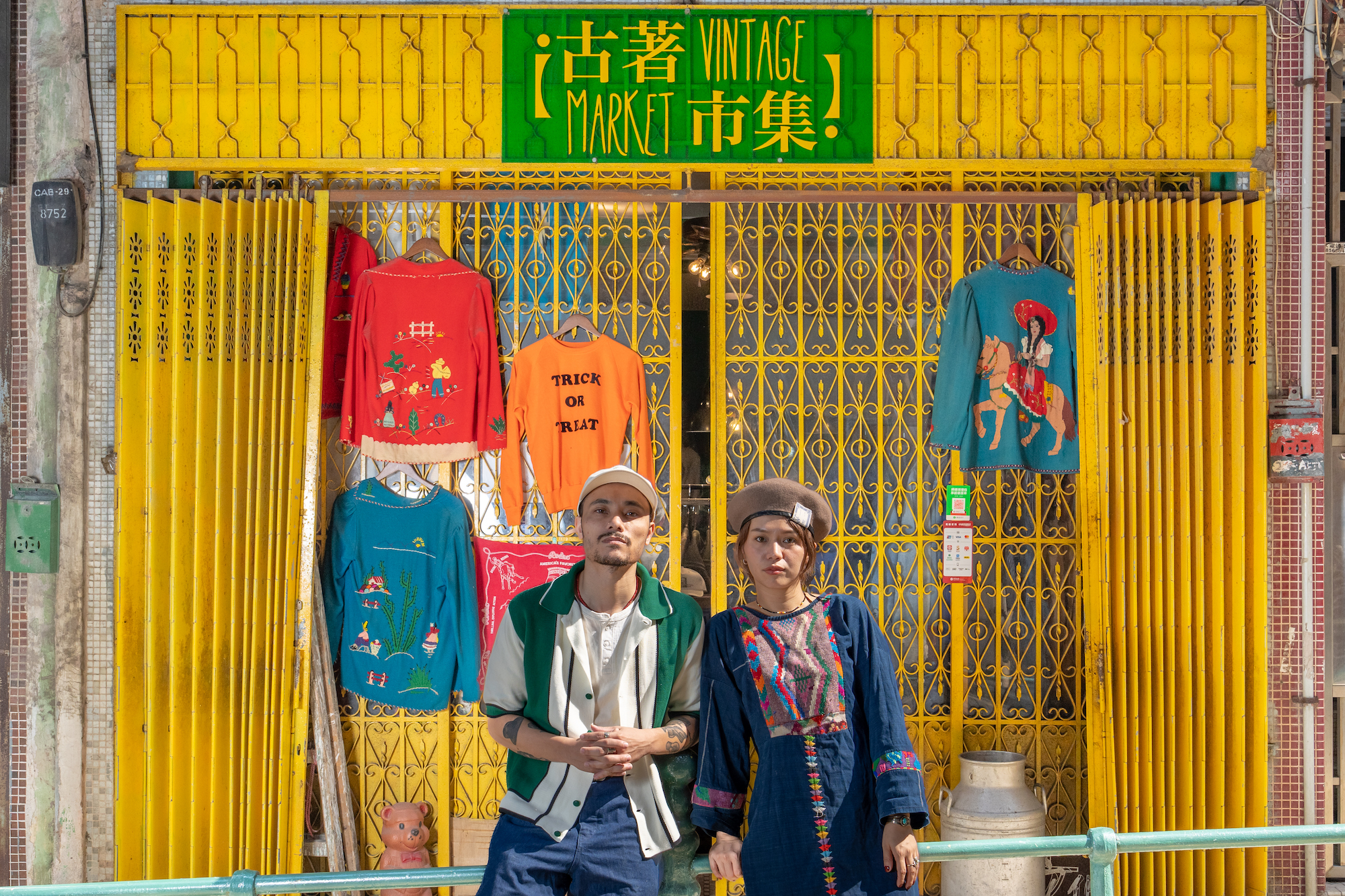 The founders of Vintage Market, Terence Chan and Elva Chan, crossed paths on a dating app called Skout in 2012 and soon learned they share a love for vintage clothes. "We got into a relationship not long after and often travelled to Hong Kong to look for vintage denim jeans," Chan says. 
In 2013, Chan began researching vintage and secondhand clothing in Macao. Noticing the absence of local vintage boutiques, she opened Vintage Room online and started selling a mix of secondhand and new garments. As her customer base grew, Chan set her sights on opening a brick-and-mortar store. In January 2014, that dream came true, and the couple opened a women's fashion store in the St Lazarus district, then moved into a fabulous retro boutique nearby with nostalgic 1970s decor. 
The couple took over the lease, moved Vintage Market into the vibrant yellow space, and started selling American vintage clothing and accessories for men and women. "We treat our customers like friends or family," says Chan. "We always tell them to put down their things and pick the clothing in your own time, like you're home." 
To curate their goods, the Chans typically travel to places like Hong Kong, Taiwan, Japan, Thailand and the US, returning with a haul of vintage T-shirts, pants, shirts, dresses, skirts, kimonos, hats, shoes and handmade accessories. In addition to their wide variety of vintage finds, the store's collection of hard-to-find The HW Dog & Co hats – a premium hat brand from Tokyo, Japan, known for its craftsmanship and 19th- and 20th-century design inspiration – is another major draw. 
Prices: MOP 200-500
Address: Rua de São Roque 22A, Macao
Hours: Mon-Fri, 3 pm-7 pm; Sat-Sun, 2 pm-7 pm
Contact: Facebook / Instagram / (853) 6233 3900
2. Pepperland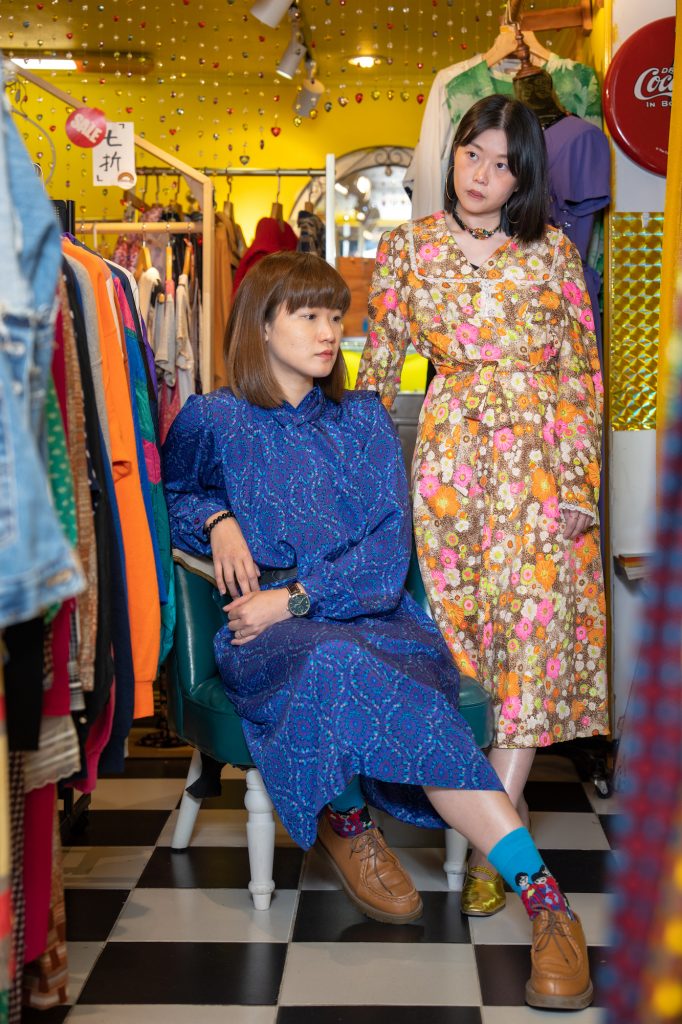 Songs, movies, clothes… Amy Pang and Sandy Vong, the owners of Pepperland, adore anything and everything vintage. The name of their shop is a vintage reference, too, derived from a fictitious paradise in The Beatles' 1968 animated musical film Yellow Submarine. "When customers enter [the store], they enter another universe," says Pang of the name choice. "We use yellow as the theme, so you feel like you step into the yellow submarine in Pepperland." 
Pang and Vong have been classmates since secondary school at Sacred Heart Canossian College and later studied together at the University of Macau. During their time there, the two discussed opening a vintage store, but it took a few years until they brought their vision to life.
At the time, Pang recalls travelling to Taiwan to visit vintage shops, where she found lots of treasures. After university, Vong worked as a buyer (a person who purchases merchandise from brands) for Rainbow Group, an international luxury brand retailer in Macao. She often travelled to Milan, Italy, to buy products from Emporio Armani. On those trips, Vong recalls feeling astonished by how the Italians dressed: "The Italians have their own style and uniqueness, and [I wanted to] bring that to Pepperland," she says. 
In 2016, Pang and Vong established the store, which specialises in luxurious women's fashion and accessories, including jewellery, bags and clothing, such as patterned dresses from couture brands like Dior or Givenchy, as well as 1950s-80s vintage wedding dresses from Taiwan that you can purchase or rent. Aside from vintage wares, they also stock contemporary accessories from Hong Kong brands, like Cutcha, Amlas, Hahayhay and Glasshouse Plaiting. 
Price: MOP 300-1,500 for most items; From MOP 7,000 for wedding dresses
Address: Edifício Fong Cheong, 3 Calçada do Poço, Macao
Hours: 1 pm-8 pm (daily)
Contact: Website / Facebook / Instagram / (853) 6683 8877
3. Col Bleu. Union Vintage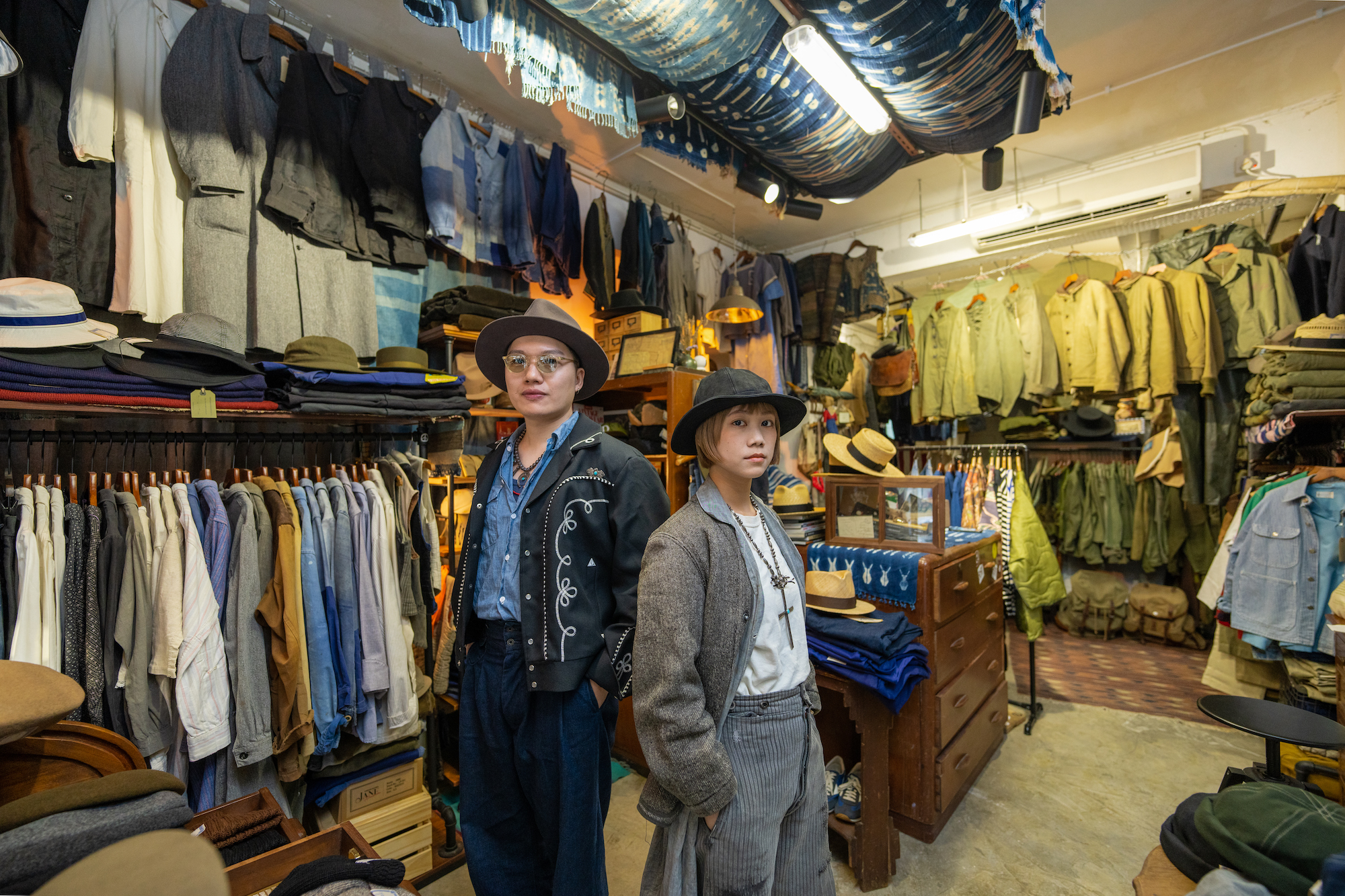 Shopping for vintage items is a way of life for Joseph Leong, the owner of Col Bleu Union Vintage. At first, it was a way to save money. When Leong was planning to purchase jeans from Dickies as a teenager, a friend suggested a shop that sold vintage Dickies jeans for about half the price. 
"That was the first time I got into vintage," Leong says. "I realised later it's not [really] vintage but just used clothing. It's hard to find a [fully] vintage store in Macao, as it's always [a mix of a little vintage] and a little second-hand."
As he got to know pre-loved clothing better, Leong gravitated towards vintage French workwear and denim jackets. But it wasn't until 2016 that Leong and his wife, Mia Chang, turned their passion into a career. They travelled to Hong Kong to curate their collection of French vintage clothing and then started Col Bleu. Union Vintage as an online shop. 
In 2018, they opened a boutique in the St Lazarus district. Visitors can find everything from denim jackets to military uniforms and French handyman workwear dating to the early 1900s through the 1960s. 
Meaning "blue collar" in English, the name Col Bleu comes from the couple's love for a specific style of denim jacket with a rich history. Between the 1940s and 1950s, blue-collar French workers wore a practical bleu de travail, or "blue work" jacket designed for demanding physical jobs. Workers often stitched on patches when their coats ripped – a mentality and aesthetic Leong admires. 
Col Bleu purports to be the only store in Macao that sells mainly French vintage items, stocking a mix of workwear, military and non-vintage goods. "The products I choose have meanings or stories behind them," says Leong. "So customers are not only buying a piece of cloth, but also a piece of history." 
Price: MOP 400-10,000 or more
Address: Edifício Sun Tai, Rua Nova de São Lazaro 9A, Macao
Hours: 11 am-9 pm (daily)
Contact: Facebook / Instagram / (853) 6300 3309
4. Vintage Ar

ound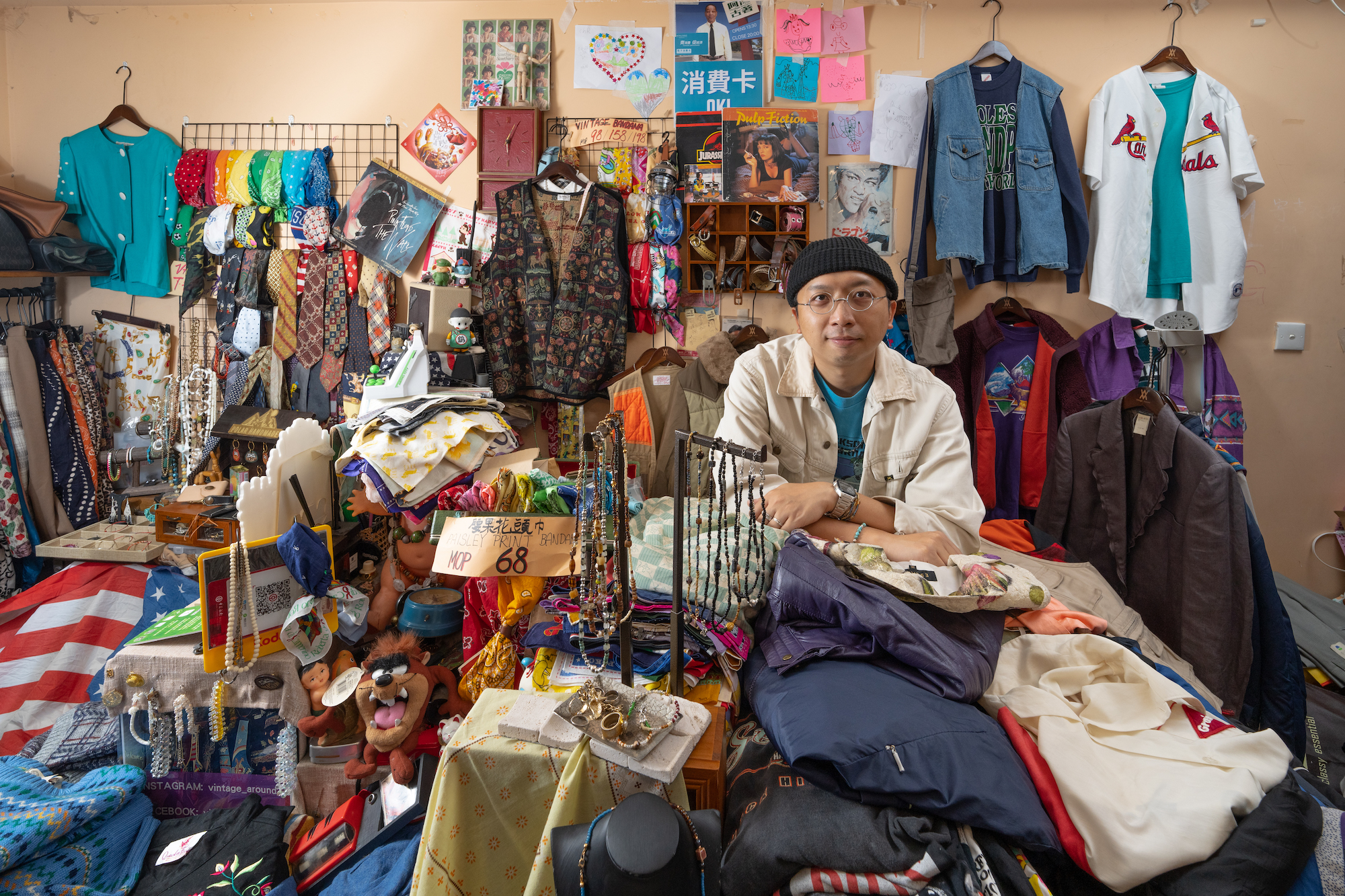 Benny Tam, a former luxury fashion buyer who owns Vintage Around, discovered vintage fashion eight years ago on a trip to Kowloon, Hong Kong, with his wife, Vikki Wong. "What is quite fascinating is that you can get quite good-quality stuff for a lower price [in Kowloon], and you can also buy clothes that you cannot find anywhere else," Tam says. 
In 2018, the couple opened Vintage Around, a compact but comprehensive store filled with all types of vintage clothing. Some loyal customers visit the boutique every week, knowing they will always find something new each time. Many specifically seek out Tam's colourful array of Hawaiian shirts and dresses – he stocks thousands of pieces simultaneously. Tam also collects sportswear that reflects historical moments, such as a prized Lithuanian basketball shirt from the 1992 Olympics. As he explains, after the Soviet Union collapsed in 1991, Lithuania couldn't afford to fund its basketball team at the Olympics. 
When American rock band the Grateful Dead heard about their plight, they printed tie-dye T-shirts and basketball jerseys in Lithuania's national colours. They then paid for the team to join the Olympics, where Lithuania won a bronze medal.

"It was pretty significant, and, of course, the T-shirt looks cool," Tam says, adding that the shirt retails for MOP 3,000. 
"My customers [sometimes] need time to [learn] about the items," he says. "If it is a real or popular vintage [such as this shirt], the price will always be higher. Though items from the 1980s or '90s would be a [more] reasonable price."
Price: Most items are MOP 100-500; Special pieces have special price tags
Address: Avenida do Conselheiro Ferreira de Almeida 44, Macao
Hours: 1:30 pm-8 pm (daily)
Contact: Facebook / Instagram / (853) 6288 0840
---
To experience the best of Macao's evolving vintage scene on your next visit to Macao, start in the St Lazarus district, where you'll discover Vintage Market, Pepperland and Col Bleu, then head to Vintage Around on Avenida do Conselheiro Ferreira de Almeida.