'There are things to do here that are unique in Asia.' A Jolly good time in Macao
'There are things to do here that are unique in Asia.' A Jolly good time in Macao

Link copied
Josh Carrott and Ollie Kendal, the presenters behind the hit YouTube food channel Jolly, were recently in Macao for an in-depth exploration of the city's food culture.
One of Asia's gastronomic capitals, and home to what is believed to be the world's first fusion cuisine, Macao has long attracted culinary adventurers. 
The latest to arrive on these shores are Englishmen Josh Carrott and Ollie Kendal, the masterminds behind the food-themed YouTube channel Jolly. They're also known for another YouTube channel, Korean Englishman.
Jolly's 3.5 million subscribers come not only for Carrot and Kendal's honest food recommendations, but also for the duo's laidback style. Watching their videos is like hanging out with two fun friends who know a thing or two about good eats.
The two YouTubers spent four busy days in Macao, sampling everything from street food to Michelin-rated meals. Here's what they had to say about food, YouTube fame and (naturally) egg tarts.
Welcome to Macao, Jolly! What are your main impressions on the city?
Ollie: On the one hand, you have these glitzy casinos and world-class hotels, then you have these historic neighbourhoods that feel like they've been that way for hundreds of years. In a way, that's a metaphor for Macao itself –  a mishmash of different cultures, ethnicities and cuisines. 
Josh: The number one impression is that this really is a unique blend of old and new. Having lived for some time in China, I have never seen that. I've seen the growth of China, everything becoming hyper-modernised. But to have that blended with these old beautiful buildings as well, with these old big trees … It's a strange observation, but I'm quite impacted to see all of these beautiful trees in these old neighbourhoods.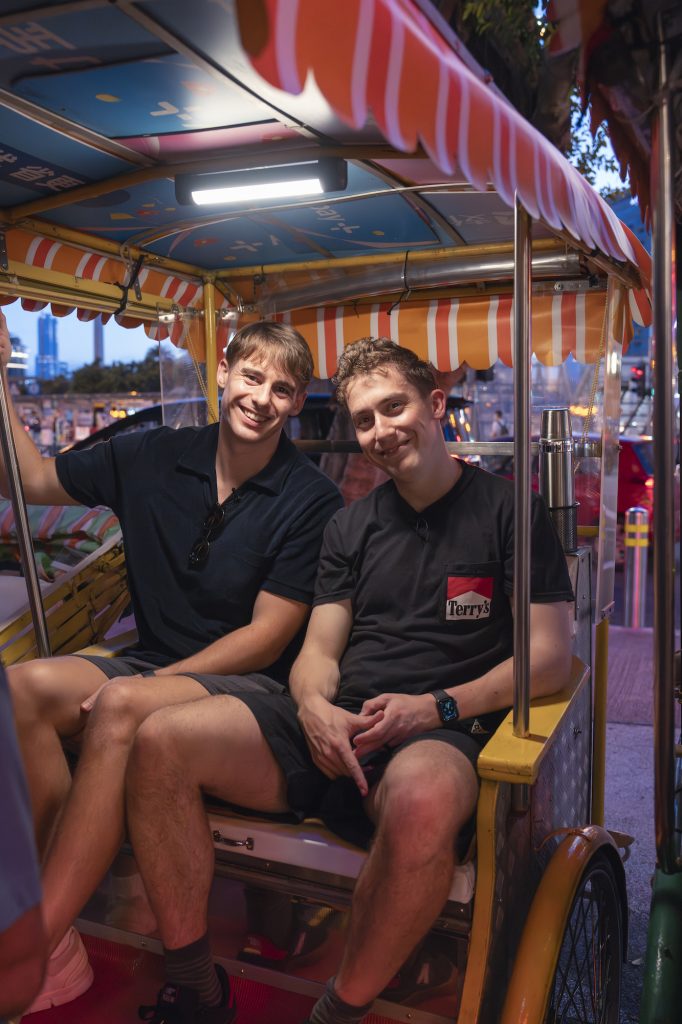 Ollie: There are distinctively Macanese experiences to have, Macanese food, things that shine in their own merit. There are things to do here that are unique in Asia. I think getting that word out … To which hopefully some of the things we filmed in Macao will play a part. 
What are the three most memorable foods you've tried? 
Ollie: It's a cliché but it's got to be the egg tarts. We actually split up the spoiler, but we ranked Lord Stow's and the traditional southern Chinese egg tart at Chion Chau café as our joint favourite.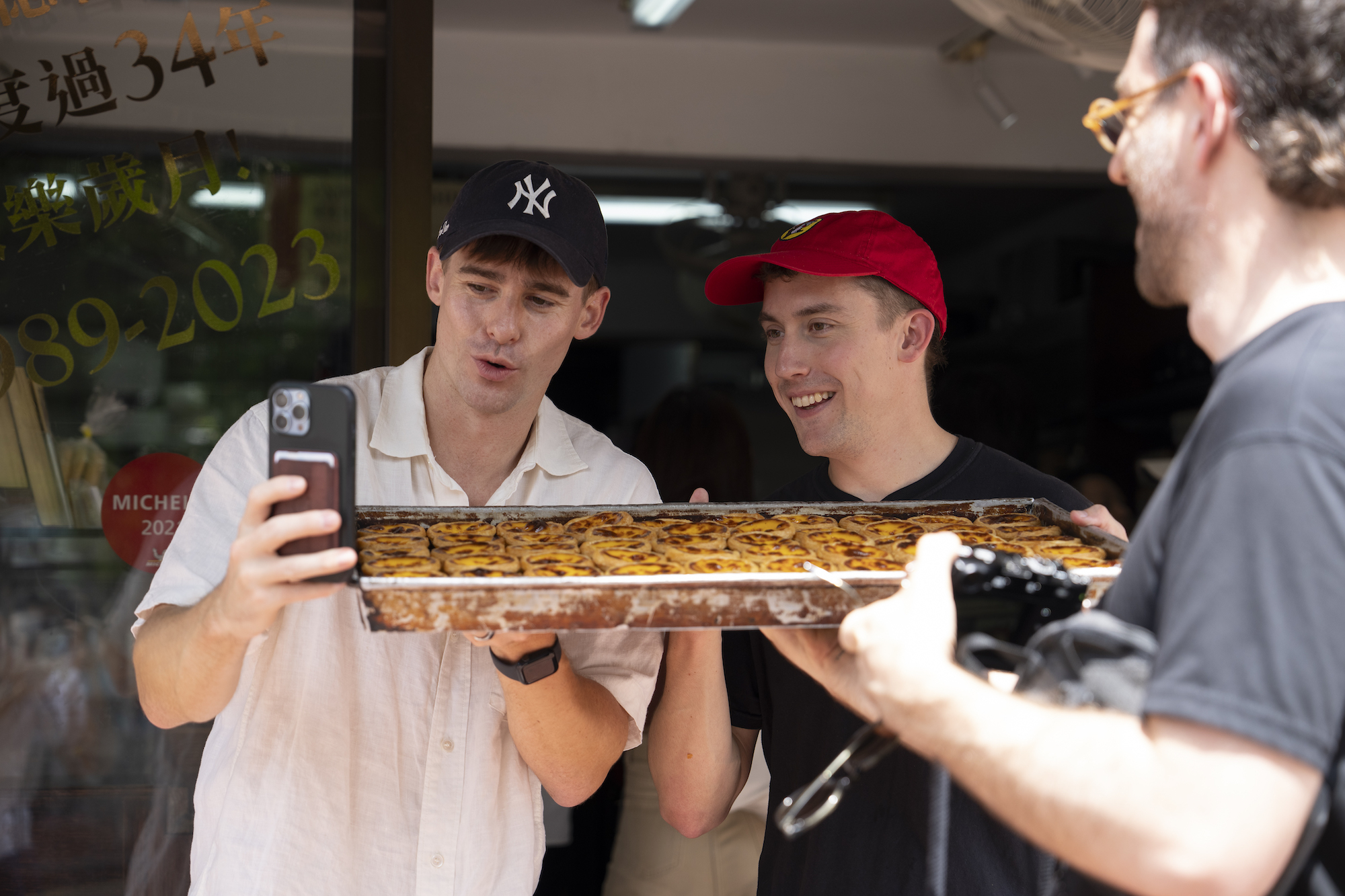 Josh: I've had a lot of egg tarts in my life, and that was one of the best, if not the best. It was incredible. [Another] one of my favourites was the dim sum street food, I've never had anything quite like that. 
Ollie: After that, Chef Tam's stir-fried lobster. It's crazy!
Josh: His char siu as well.
Ollie: And Jade Dragon.
Which one is probably one meal you wouldn't try again? 
Ollie: The pork chop bun. I genuinely don't know why it's popular. 
Josh: I think what was a little disappointing about it was it felt like it was worse than the sum of its parts. The ingredients were good and it was freshly fried up in front of you, but it was too dry. 
I also don't think I'll have the meal we had at Robuchon au Dôme again because I could never afford it. Slightly different reasoning! (laughs).
You guys have more than 3.5 million subscribers on your YouTube channel, Jolly. Why do you think people love it so much?
Josh: The one thing I think that has helped us to keep doing this for so long is we just try and make sure we're having a fun time in every video. Hopefully, if we keep having a lot of fun people will still have fun watching us.
What is it about food that brings people together? 
Ollie: It's a shared language. You can connect with someone on a very human level without speaking the same language if you share a meal together.
Josh: You can get insights – without having to sit in a classroom – into a culture and into the people of a place by sitting down exactly as they would, ideally with locals, and sharing food. That's really special.
You get a message from a friend asking you to recommend a couple of restaurants in Macao. Which ones are you going to suggest?
Josh: Everything we filmed in the street food episode, I would recommend all of those places. Go get an old Chinese egg tart, find that milk tea and coffee café, sit down and you're just going to have the best morning.
You eat for a living. How will you continue to sustain that as the decades go in terms of health and fitness?
Josh: We go to the gym about five to six times a week. That's a recent change, as we especially do more American content. The American trips are hardcore … fast food!
Behind the camera, we've started to eat more healthily. We're aware that we get some of the best food in the world as a job, which is amazing, but we need to pace ourselves.
Do you have another YouTube channel that you like watching?
Ollie: We live on YouTube! I found a great YouTube channel where they get drummers from bands to listen to songs in a different genre and then they'll get them to play the drums along to it. 
They got the drummer from Megadeth metal band to listen to The Killers' "Mr. Brightside." He had never heard Mr. Brightside and then he played like what he would play to it. Sorry, that's super niche!
Josh: Max Fosh is pretty good! He's a friend of ours and really goes all out for every video. If you watch a Max Fosh video, it probably took a lot of time and money. 
We see you guys play a lot of chess on your phones. 
Ollie: Wow yeah, Josh just got me into it on this trip [to Macao] and he crushes me like an egg. 
Josh: When you do find your life's passion as a job, it can be very hard to switch off. As I got older, I started gravitating towards hobbies that take all of my brain because that allows me to switch off.
---
Follow Jolly's YouTube channel for their Macao travel series, showcasing the city's dynamic food scene. Whether you're a food lover or a travel enthusiast, this series is not to be missed!