Jolly Tasty: British YouTubers Jolly discover Macao's Michelin-rated street food
Jolly Tasty: British YouTubers Jolly discover Macao's Michelin-rated street food

Link copied
Not everything in the gourmand bible needs to cost the earth as travelling foodies Josh Carrott and Ollie Kendal discovered on their trip to Macao.
Macao's buzzing restaurant scene caters to all price points – from fancy fine dining to no-frills street food. But, if you know where to go, there's no loss of quality as you go down the price range.
Don't just take our word for it. The Michelin Guide, last word on all things gourmet, rates Macao's street food highly, with many unpretentious eateries deemed worthy of a mention alongside restaurants with one, two or three Michelin stars. 
Unsurprisingly, Michelin-rated street food was high on the agenda for British YouTubers Josh Carrott and Ollie Kendal during their recent visit to Macao. Working under the name Jolly, the two have amassed 3.5 million subscribers for their unvarnished reviews of eating experiences around the world.
In Macao, they explored some of the city's best street food and realised that top eats don't have to cost top dollar. Fancy following in their footsteps? Hit up this handy list of street food joints that have been rated in Michelin guides past and present.
Chong Shing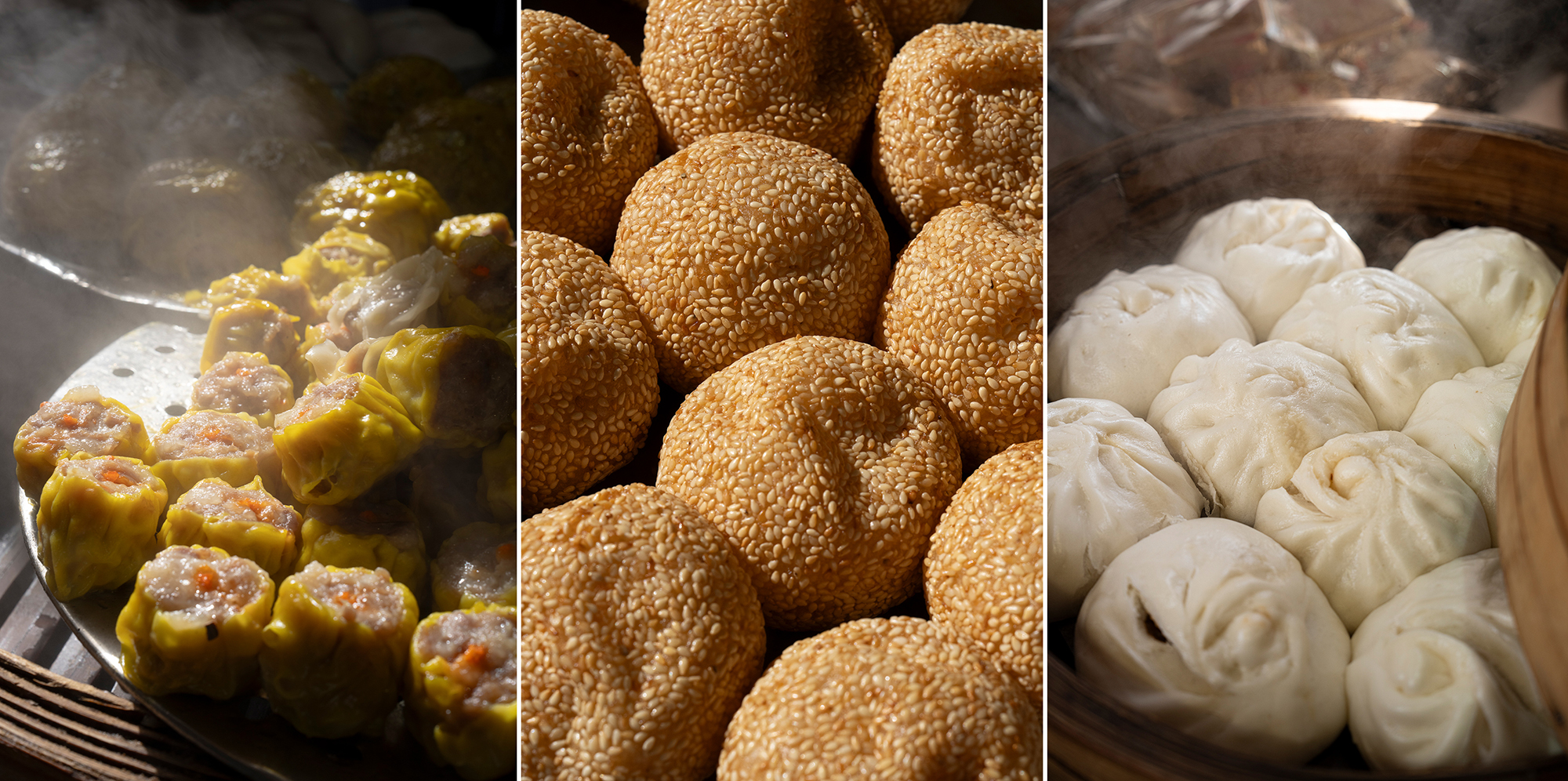 Carrott and Kendal's explorations led them to Chong Shing in the bustling Three Lamps district first thing in the morning. The humble open-air shop draws a steady stream of locals on a daily basis, queuing patiently for the pork dumplings, or siu mai, which are made overnight, as the rest of the city sleeps. The price of these little parcels of bliss? A mere 4.5 patacas each. Also famous are the giant, house-made pork buns, or cha siu bao.
The secret to both dishes, according to Chong Shing's loyal regulars and staff, is the freshness of the ingredients. Chong Shing's owner Leong Pak Meng heads over to the district's iconic Red Market or Shali Tou Wet Market at the Inner Harbour district every day to source the pork that's used in the preparation of buns and dumplings. Only the very best will do. 
Where: 11 Tomé Pires, Macao
Operating hours: 6:30 am to 8:30 pm
Ving Kei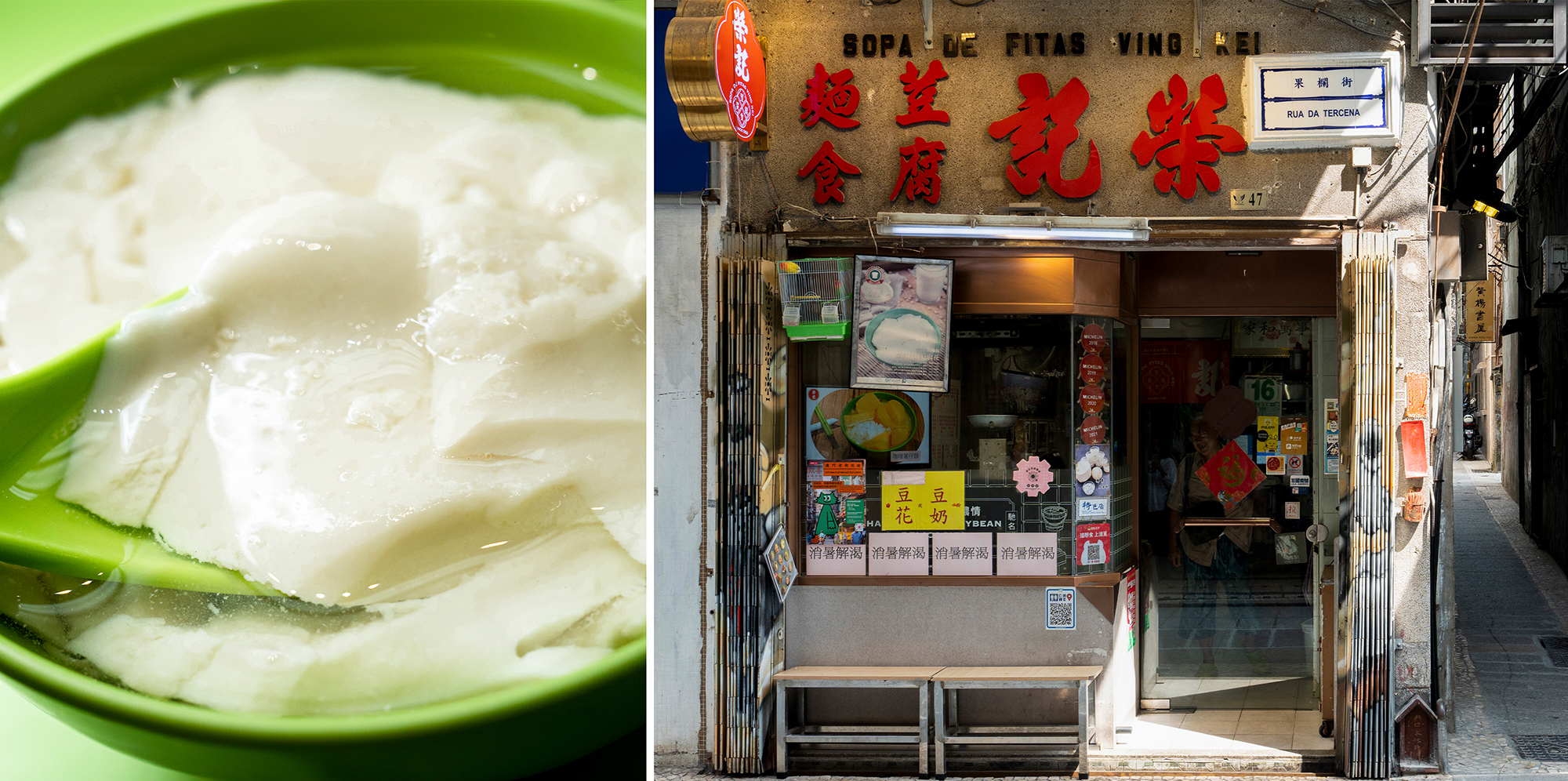 A five-minute walk from Chong Shing, in Rua da Tercena, sits Ving Kei, a decades-old, no-frills eatery famed for its tofu dishes. They've been a specialty since the establishment's earliest days in the Inner Harbour district. You can savour tofu in your drink, over a warm bowl of noodles, or as a dessert. 
For a mere 9 patacas, a spoonful of Ving Kei's Michelin-rated tofu pudding will envelop your palate in silkier-than-silky goodness, leaving a slightly sweet, earthy trace behind. 
Where: 47 Rua da Tercena, Macao 
Operating hours: Daily, 8:00 am to 6:30 pm 
Cheong Kei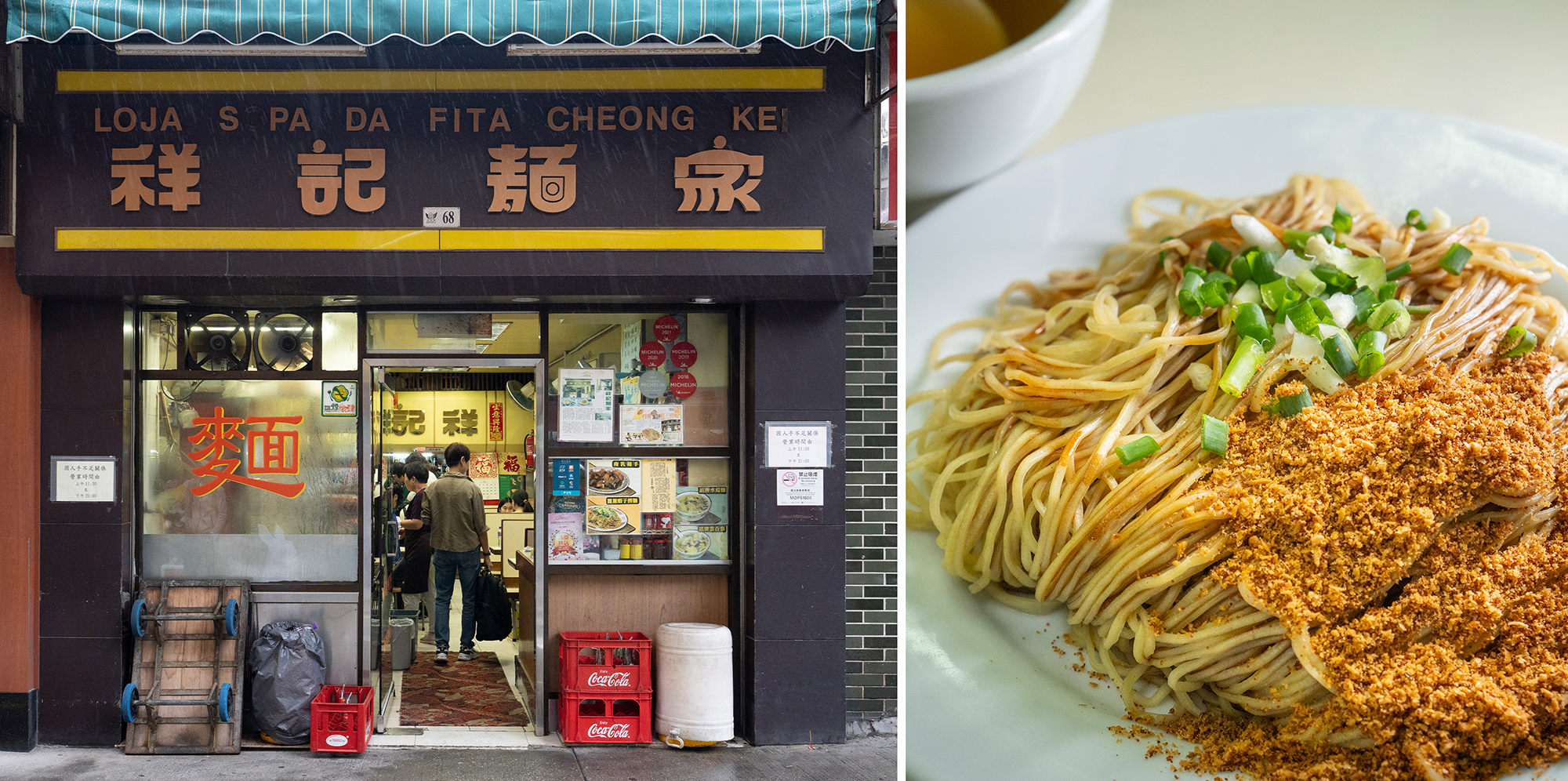 Nestled a few steps down Macao's old red light district in Rua da Felicidade, Cheong Kei is a Michelin-rated hole-in-the-wall noodle joint featuring a menu of comfort fare at reasonable prices. The owner Lau Kam Chong (whose mother acquired the business in the 1970s) takes pride in the old-fashioned techniques the kitchen team uses to craftshop's thin egg noodles, pressing them with bamboo poles. 
The specialities of the house are the signature shrimp roe noodles for 43 patacas, blanched or deep-fried wonton dumplings (43 patacas) and braised pig's trotters in beancurd sauce (47 patacas). Also popular is the Cantonese-style beef curry at 47 patacas. As Joshua declared:  "The Michelin man hit the mark with this one!"
Where: 68 Rua de Felicidade, Macao
Operating hours: Daily, 11:30 am to 9:00 pm
Mok Yi Kei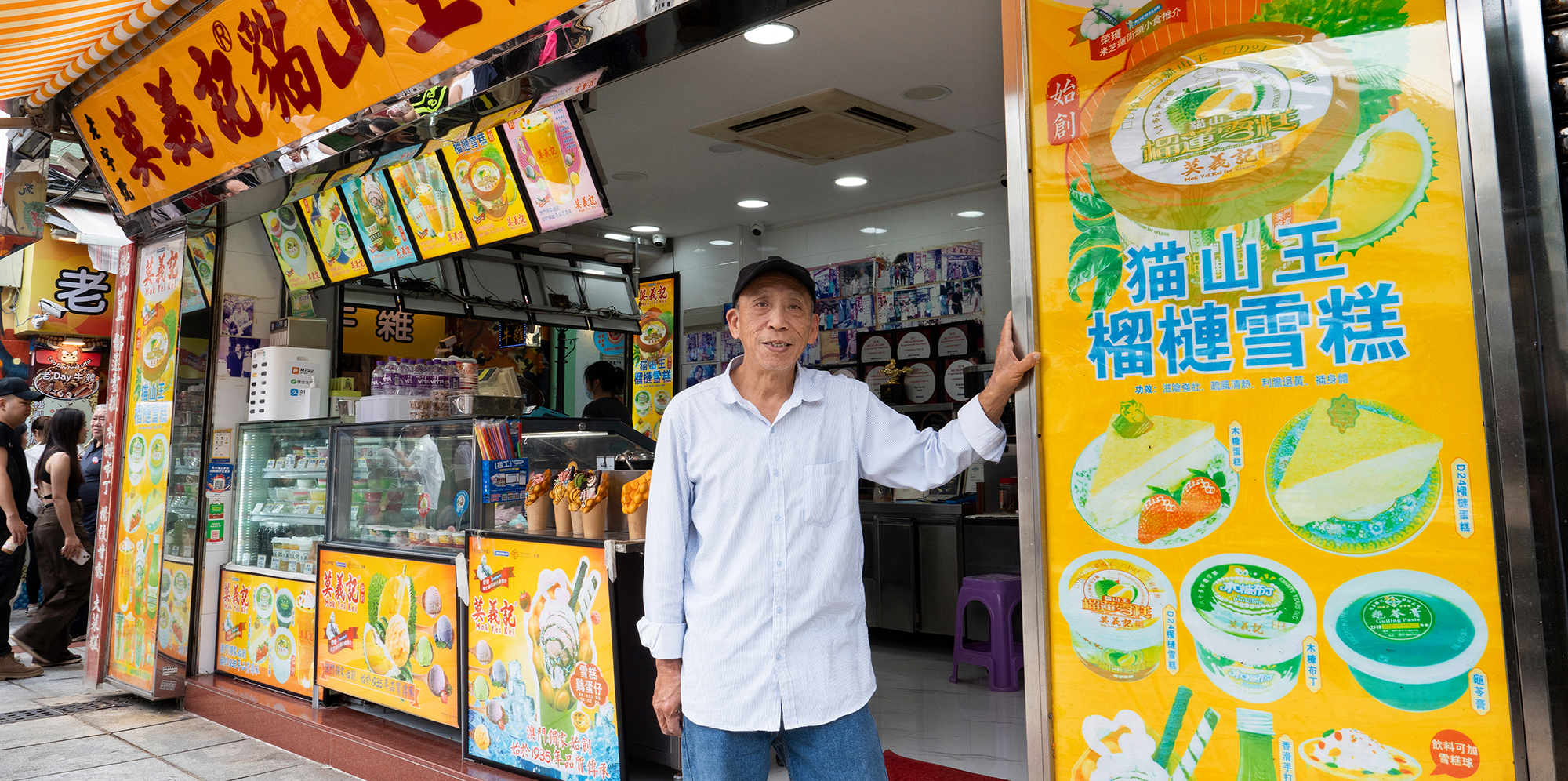 Durian inspires love and hate reactions for its pungent odour, but it's a mainstay in Asian food culture and durian ice cream is a funky treat at dessert chain Mok Yi Kei, which has been featured on the Michelin Guide since 2016. 
Though Carrott and Kendal were not exactly sold on the delicacy, Mok Yi Kei is a mandatory pit stop for both durian lovers and the bold taste hunters. Priced at a hefty 70 patacas per cup, it's the least affordable entry on our Michelin-rated street food list, but that's the price to pay for the spikey delicacy flown in from Malaysia on a monthly basis. Head over to the branch located in one of the city's busiest foodie destinations,  Rua do Cunha, and try the signature delicacy for yourself. The agar agar jelly, priced at 22 patacas, also comes highly recommended. 
Where: 9 Rua do Cunha, Taipa Village, Macao
Opening hours: Daily, 9 am to 11 pm