Chef's picks: Dine like Chef Simon Li at the Mercado de S Domingos
Chef's picks: Dine like Chef Simon Li at the Mercado de S Domingos

Link copied
After a long day at work at Michelin-starred The Kitchen, Chef Simon Li craves simple, nostalgic foods. So where does he go? The Mercado de S Domingos Municipal Complex.
"Hong Kong has Kowloon City, Macao has the Mercado de S Domingos Municipal Complex," said respected Singaporean food critic Chua Lam on one of his many trips to Macao. Just steps away from Senado Square and right behind St Dominic's Church (São Domingos), the market lives up to its reputation as one of the best food destinations in the city. 
Built in 1893, the market has become synonymous with fishmongers, butchers, fruit sellers, florists and an excellent food court on the third floor with 14 food stalls and a smattering of four-seater tables. Customers can sit anywhere they like, digging into everything from pork chop sandwiches to noodles, beef offal, clay pot rice, rice rolls, stir-fried dishes and coffee brewed in clay pots. 
The no-frills environment and classic comfort foods are exactly what Chef Simon Li, the head chef of Michelin-starred The Kitchen restaurant at the Grand Lisboa Hotel, craves after a long day of work. Chef Li, who hails from Hong Kong, has more than 30 years of culinary experience under his belt.
He first joined the Grand Lisboa Hotel in 2006 as a sous chef and eventually worked his way up to oversee the hotel's Round-The-Clock Coffee Shop, The Grand Buffet, Crystal Lounge and the former Executive Lounge. In 2008, he helped open The Kitchen, which has become well known for its high-end steaks and seafood. He then helmed Hotel Lisboa's Guincho a Galera for several years, before returning to The Kitchen to run the show.  
Thanks to Grand Lisboa Hotel's central location, just a 10-minute walk from the market, Chef Li is able to visit about once a week. A creature of habit, he usually takes a walk around the poultry, butchery and fruit stalls on the first and second floors, before heading up to the food court for a late lunch or early dinner.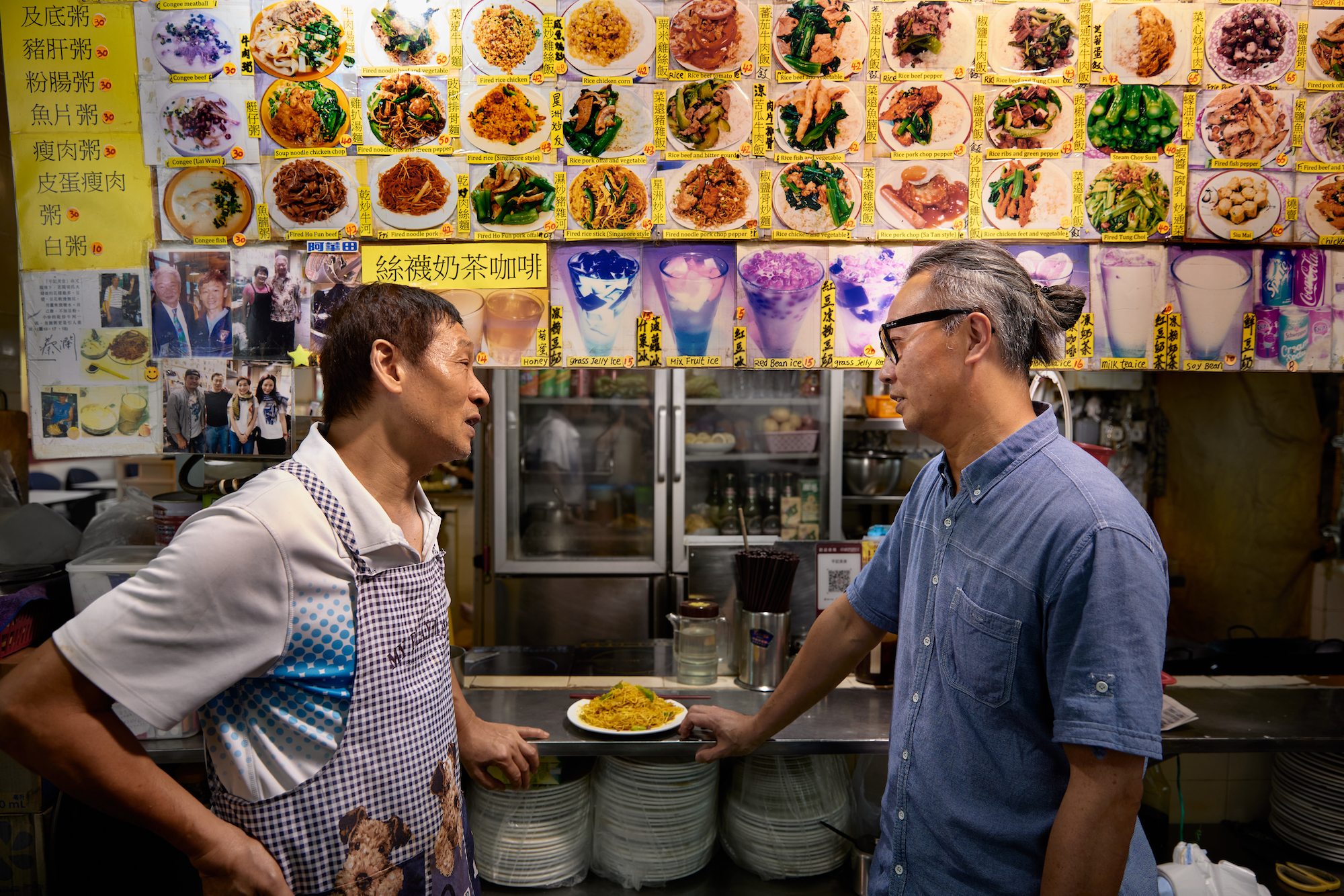 "It's become a habit to visit. I usually go to the market during off peak hours, around 3 pm, so I can relax there," says Chef Li. "The prices of dishes are reasonable, the atmosphere is quiet and nice, and people there are friendly. Sometimes when I pass by, even though I am not hungry, I still go up and have a cup of coffee before shopping for fresh ingredients."
Indeed, Chef Li enjoys the centre's wonton noodles, egg waffles, milk tea and more but he's become a regular at two food stalls in particular: Café Seng Kei and Ping Kei. We caught up with the chef to hear what makes these two spots special.
Café Seng Kei: The lure of claypot coffee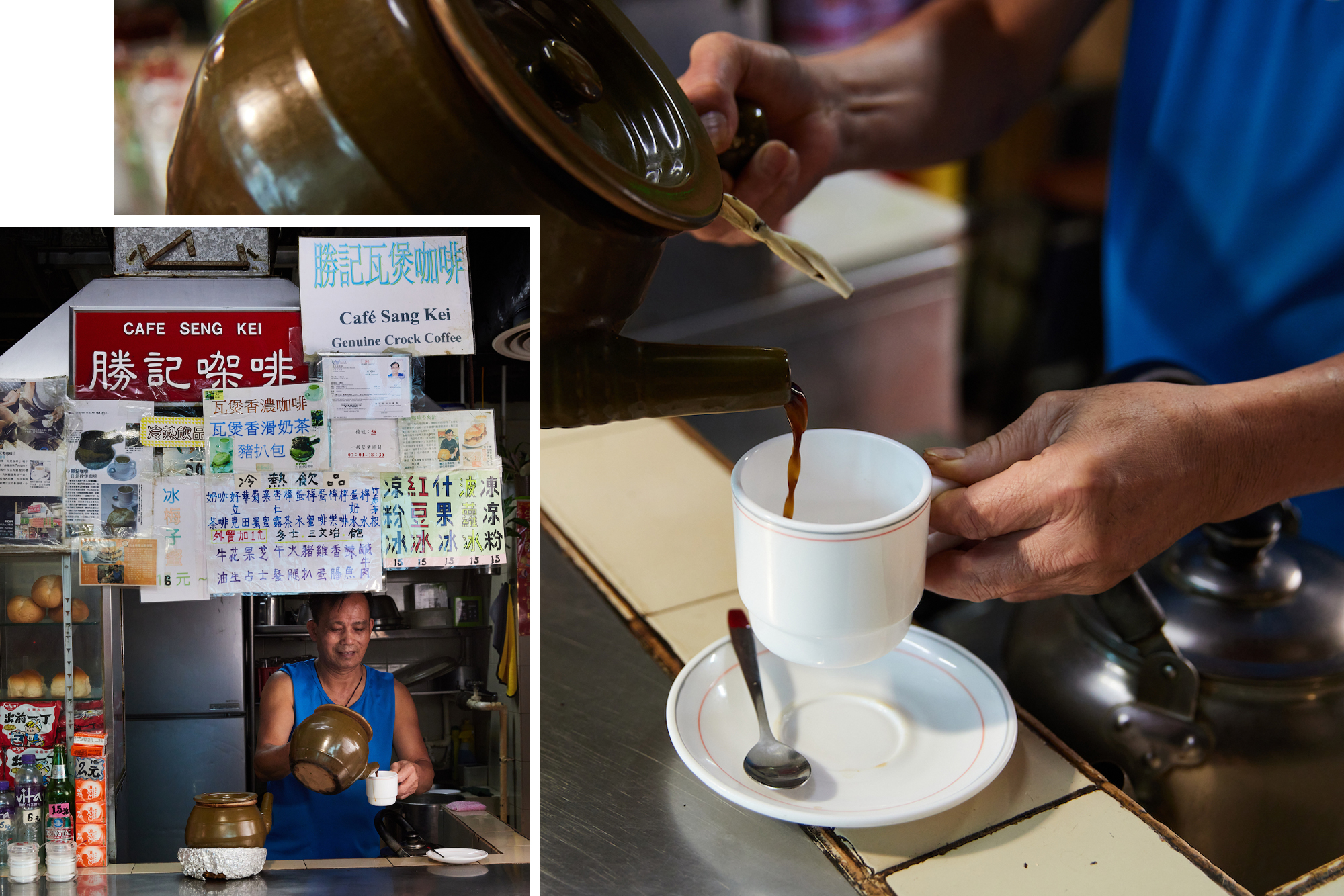 Named after the owner's father, who ran a hawker stall for 40 years near the market, Café Seng Kei is manned by 60-year-old Tam Lin Hei. "Life in Macao was tough back then; many people were poor," says Tam of his parents' lives. "We had two stoves – one for making claypot coffee, the other for toasting bread. I helped my father in my teenage years, fanning the stoves every day."
Like many other hawkers, Tam's father moved his stall into the market in 1998, and a few years later, Tam took over the business in 2003. "It was the year of SARS [outbreak of severe acute respiratory syndrome], things were tough," recalls Tam. "A couple of years later, Chua Lam [the respected Singaporean food writer] visited and praised our drinks. After that, we had long queues every day. Many tourists came to try our drinks." 
The hawker stall has a few well known signatures, including claypot coffee, claypot milk tea, and pork chop sandwiches. "My father invented claypot coffee," says Tam. Later, when Tam took the reins, he introduced claypot milk tea. 
"In my hometown Zhongshan, it was common to cook rice in clay pots because it adds a nice aroma to the rice. So, I thought, 'Why not claypot milk tea?'"
Chef Li says he loves enjoying a cup of claypot coffee at Café Seng Kei. "It smells nice and the texture is smoother than normal coffee. It gives you a feel from the old days when people made coffee by hand," he says. "Clay pots also remind me of my childhood when people cooked lamb belly stew, rice and herbal tea in clay pots."
Tam, who now runs the stall alone, starts work at 6:30 am every day to gear up for rush hour, when office workers and parents go shopping in the market. It's a hot, sweaty job, but his happy customers make it all worth it. 
"Some of my customers have been coming here almost every day since I started in 2003," he says. "The eldest ones are around 80 years old. It is nice to see them." 
Ping Kei: Stir-fried to perfection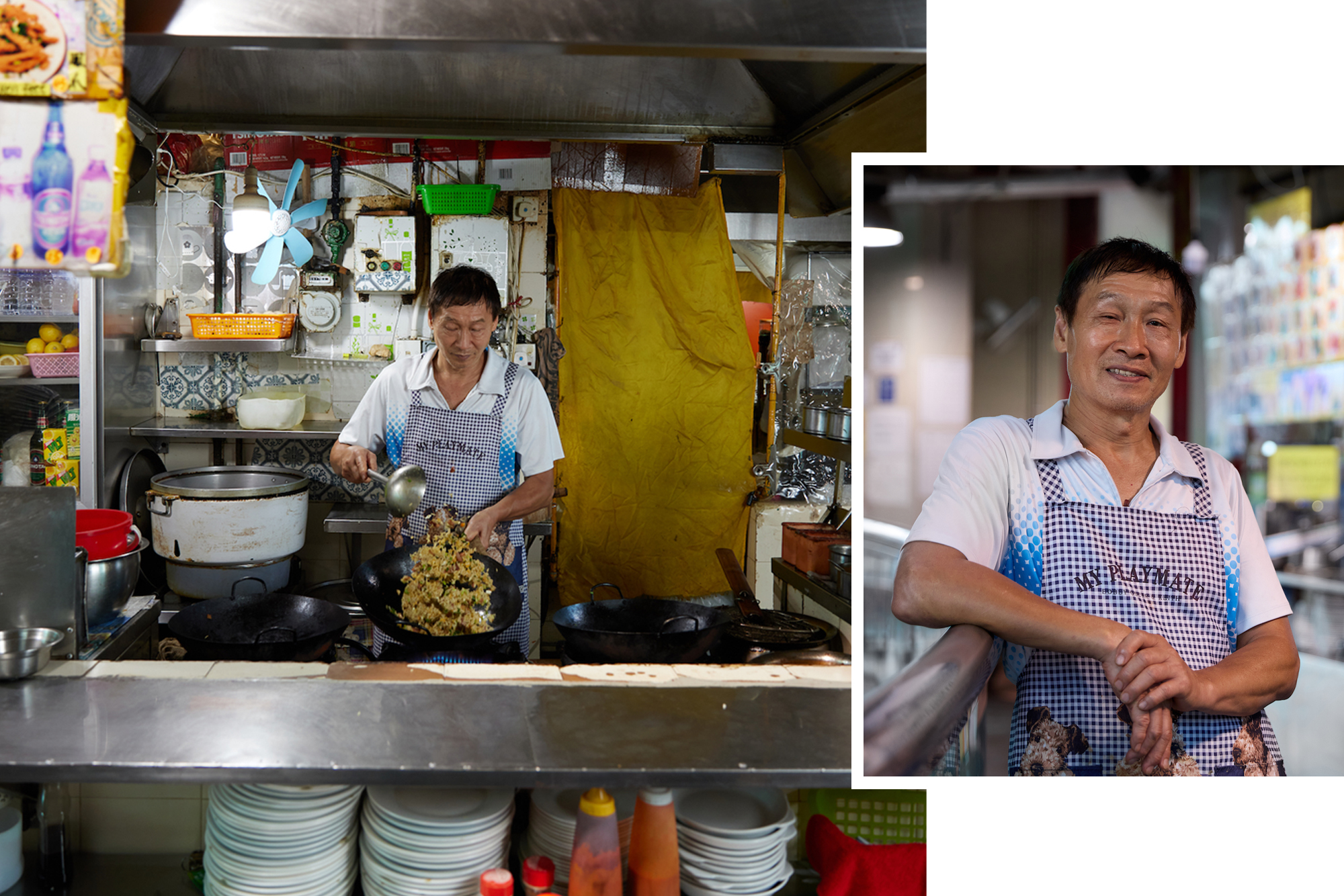 Wok hei, which means "the breath of wok", refers to that smokey, savoury flavour and aroma you get from an expertly stir-fried dish. And it's the superior wok hei that keeps Chef Li coming back to Ping Kei time and time again. 
When he visits, Chef Li usually orders one of his favourite dishes, either stir-fried beef rice noodles or Singaporean fried rice noodles. "Their dishes are gau wok hei," he says, praising the eatery's strong wok hei.
The stall, equipped with five stoves, is manned by Leung Shek Wai and his wife, Mak Choi Soi. At a young age, Leung helped his father sell cart noodles and bean curd (also known as tofu) on the street. "My father carried the ingredients on a shoulder pole and sold them near the Macau Labourers Club. He was also a bean curd wholesaler at the time." 
As a young adult, Leung cooked in a small Chinese restaurant – and that's where he picked up his exceptional stir-frying skills. He later branched out on his own, opening a hawker stall near the market. 
In 1998, he moved his stall inside. Now he and his wife take turns cooking, because the work is too hard and gruelling to do alone. "When we started, I had already worked in a kitchen for a long time. My hands hurt from the tough kitchen work, so my wife learned to stir-fry to ease my workload," he recalls of their teamwork. "The student surpasses the teacher – she is now a better cook than me."
Now in his 60s, Leung says the market's cooked food centre has improved over time. At first, no one knew where to find the stalls but now they have regular customers who have been coming for years. They've also welcomed many new faces recently. 
"The population in this area is ageing. Elderly people do not eat stir-fried food due to health conditions, and young people tend to look for food in various community areas," says Leung. "So now our customers are usually tourists, office workers, students and immigrant workers." 
And, of course, veteran chefs from Michelin-starred restaurants. Upon hearing the revered chef's praise, Leung says: "I am very glad. As a cook, it's always a pleasure to have someone like your cooking. Outstanding chefs like him [Chef Li] must be able to taste the layers and textures of food, so it is indeed flattering."
Craving classic Cantonese flavours and a friendly, low-key environment? Take a cue from Chef Simon Li and visit the Mercado de S Domingos Municipal Complex's cooked food centre (Travessa do Soriano; open 7:30 am to 8 pm daily), for a taste of local Macao.