Music Man: Jones Chong, co-founder of Chessman Entertainment, is betting large on Macao's local talent pool
Music Man: Jones Chong, co-founder of Chessman Entertainment, is betting large on Macao's local talent pool

Link copied
A pioneer of Macao's music scene, Jones Chong has been pushing for more recognition for local artists since his university days. Here's how he built his empire, and what he plans to do next.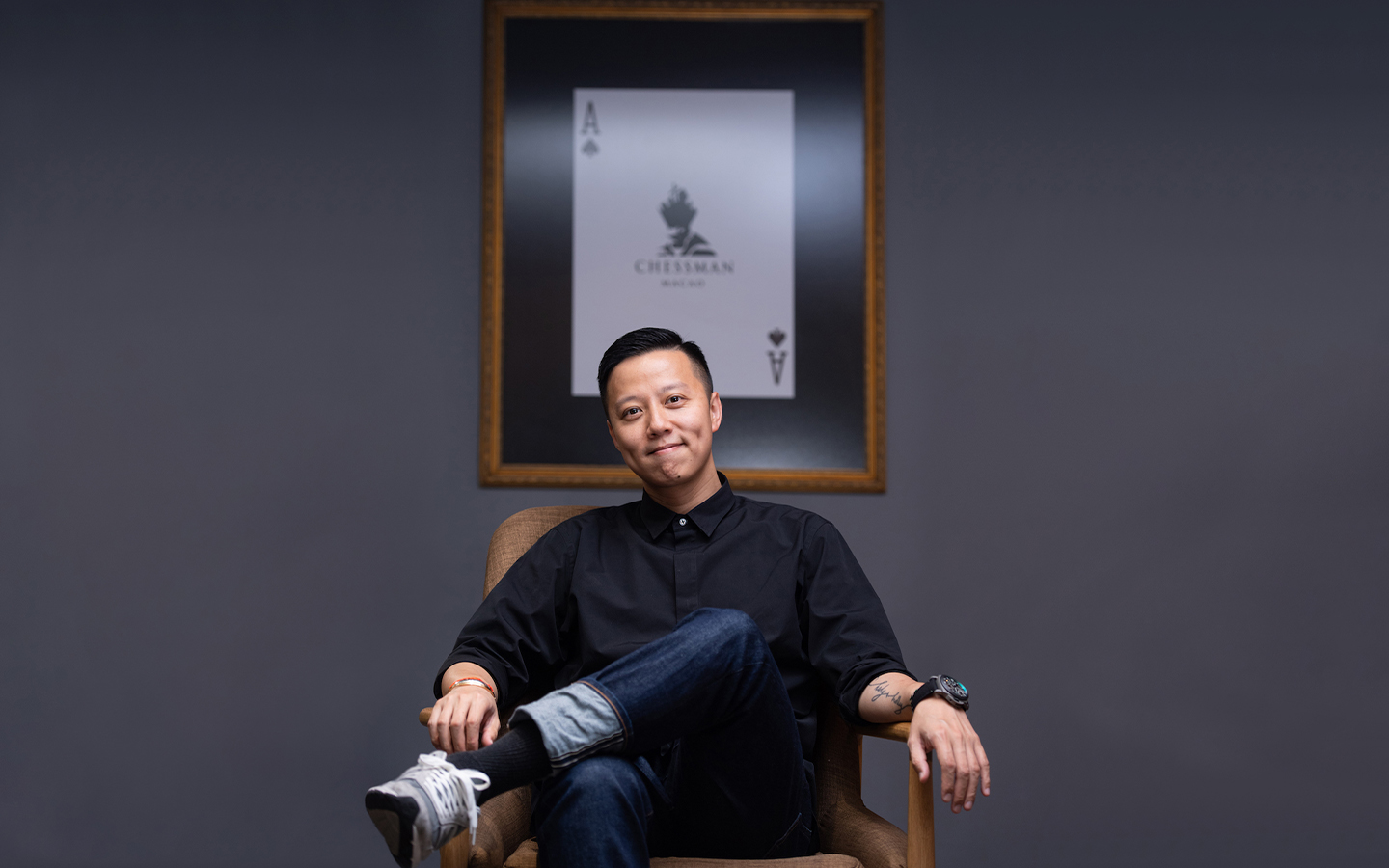 Born and bred in Macao, Jones Chong has been pivotal in promoting the local music scene, as well as bringing in world-class entertainment, like the Blue Man Group and the beloved musical The Sound of Music. He is the co-founder and managing director of Chessman Entertainment & Production, a premier regional entertainment production company. 
From his earliest years, Chong has always valued creativity. In a career that has spanned from his days as a teenage musician to a deejay at TDM Radio to planning some of the region's biggest live performances, he says he always tries to stand apart and do things differently  – a strategy that has seemingly paid off for him. 
Born in March 1979, Chong attended Yuet Wah College, the all-boys Catholic school where he would meet lifelong friends Lawrence Che and Chui Chi Long. The trio bonded over their love of pop music, and have remained close throughout the years. Chong would go on to launch his own music act, C-PLUS, with Long (better known as his stage name 小肥 pronounced Siufay in English) in 2000, and eventually co-founded Chessman with Che in 2001. 
We sat down with Chong to find out more about his illustrious career, his best management advice, and the importance of an active local music scene. 
Macao News: You founded your company, Chessman, with your friend and business partner, Lawrence Che at university. How did that come about?  
Jones Chong: I remember one night, we were having a late supper. We were talking and wondering what we could do with our lives in the future. We had already organised some shows while in the music society [University of Macau Student Union Music Society], and we thought that it would be great to have a career doing the same thing. So we established Chessman in 2001. 
MN: Where did the name come from?
JC: We both believe in a saying, which goes: "Life is like playing a game of chess." You either become a pawn, manipulated by others, or control your every step. The culture of Chessman embraces the latter, we believe in being the master of your own destiny. By launching our own company, we committed ourselves to work hard to ensure our own success in this life.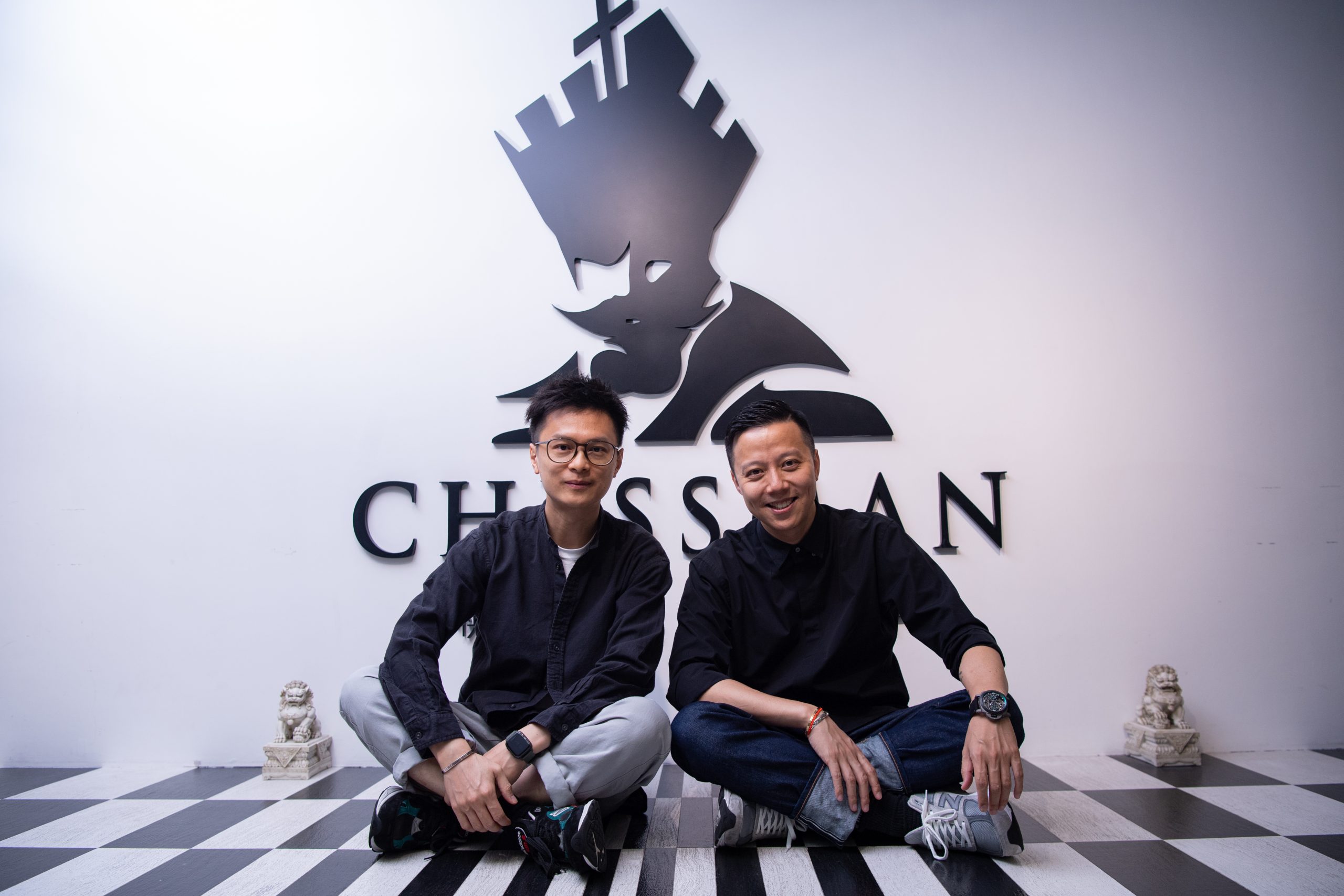 MN: At the University of Macau, you were the president of the University of Macau Student Union (UMSU) Music Society and made the controversial decision to cancel the annual karaoke competition. Why?
JC: At the time, local musicians were making original music, but weren't getting any attention. 
We have great songwriters, but at the time Macao didn't have a receptive local music scene, which forced many of our talented musicians to go abroad. For example, Chan Fai Young was producing for Joey Yung and Eason Chan; Yan Ung had written《DNA出錯》[meaning 'DNA goes wrong'] for Leon Lai; and Joe Li wrote《爛泥》[meaning 'mud'] for Andy Hui.
By cancelling the karaoke format, I hoped local artists could have the opportunity to showcase their original work, instead of singing other people's songs. Instead, we created the first campus-wide original songwriting competition, which encouraged students to submit their own work. The slogan was "No more other people's songs, sing yours!" (跳出來吧  不唱口水歌)
MN: You also were a deejay for TDM Radio as a student, what was that like?
JC: When I was deejaying, I wanted to play original music from Macao artists on TDM Radio. Half of the deejays at the station were supportive; the other half didn't think the local music scene was up to par. But if we didn't promote it, how would it ever improve? So in the end, with the support of then-director Kong Wai Fan, we made it happen.
When local singer Yeung Hing Chiu released《分開了仍覺溫暖》[meaning 'still feeling warm after the breakup'] in 1996-1997, it really solidified my faith in Macao's musicians. It was an instant hit; even Hong Kong singer Julian Cheung covered it in 1997, catapulting it to even greater fame. At the time, I was frustrated that our talent was overlooked, and recognised only after established Hong Kong stars took an interest. I still think we need to promote respect and appreciation for Macao's talent as musicians in their own right.

MN: Can you tell us how C-PLUS inspired you to establish Chessman?
JC: C-PLUS sang original songs and released two albums. At that time, Macao didn't really have its own songs. We formed the group with a big heart to move local music forward and we certainly had to make money to be able to make music. That's why we worked in the industry as well. C-PLUS was our beginning. Without it, we wouldn't have wanted to make and advance original music, and we wouldn't have wanted to run a business [Chessman]. 
MN: How was running Chessman after you graduated from university in 2003?
JC: Graduates are usually thinking up ways to make money, but we were asking banks to lend a very large sum of money to run a music company. We would carry around our portfolio listing all the shows we had produced, and approached more banks than I can count. Finally, one of them lent us MOP 175,000. That was a lot of money to us at the time, and it gave us our start.
One of the shows that we produced that really helped us was Hutchison Telecom's first anniversary celebratory show in Macao. Coca-Cola Macao, who supported local music a lot, including the first album of C-PLUS, was part of the event. By chance, they asked us to organise this show, which featured HK duo SHINE, girl group COOKIES, Cantopop dance group EO2 and C-PLUS. 
MN: You've worked with friends who you've known since your school days. What has it been like to have that kind of relationship? 
JC: I feel deeply grateful for the opportunity to work with my closest friends. Friendships that span decades are invaluable, and it is even more incredible to be business partners. The three of us have run this company for twenty years now. Many close friends become business partners but at the end many fall out. But for us, we look at dreams and beliefs together. It's great to fall all into your work with friends who have the same ideas and values. So far, I have seen very few examples, like us.  
MN: How did you all manage to get through the more challenging periods – for example, the SARS crisis in 2003? 
JC: The economic toll of SARS from 2003-2006 was very hard. I really thought we were going to give up, but somehow we managed to get through it. Compared to the pandemic now, however, that was nothing. Now it's the real crisis. Everywhere in the world, the entertainment industry is on hold, but somehow at Chessman, we're still managing. 
These days, I also try to remember that in those dark days between 2003 and 2006, it was actually a very productive incubation period for many remarkable artists. Local artists were still making music; every year they wrote or produced 10 to 15 songs, sometimes more than 50. 
During this time, you saw some great singers emerge, including Siufay, who signed up with Gold Typhoon in Hong Kong in late 2006; the rock duo Soler, comprising twin brothers Julio Acconci and Dino Acconci; Sean Pang Veng Sam and Chita Yu.
MN: Have the gaming operators helped the local music scene? 
JC: In 2007, casino-hotels successively descended upon Macao, and a whole new world of entertainment opportunities opened up. The hotels needed entertainment, and we were the first company in Macao promoting and managing full-time artists. Macao's music was also maturing. Local people were accepting their own musicians, and there was finally a market for singers to pursue their passions full-time.
MN: What's the next big achievement you hope to make in your career? 
JC: I want to organise long-running shows in Macao, just like Las Vegas. We brought over the Blue Man Group in 2016 and The Sound of Music in 2017. These long-running shows cost a lot to produce. Ultimately, they didn't pay out what we hoped, but someone has to try. If you want to develop an entertainment business, you've got to bring shows in. It is difficult, but after the pandemic we plan on trying it again.
MN: How would you describe your management style? 
JC: Be your own boss. This is the secret and culture at Chessman. There is no perfect individual, but working together with the right partners who complement each other can build a strong team, which is what we offer all our artists.
I also believe that a leader can only directly manage eleven people. Each of my eleven teammates manages another team of eleven people. This way, we can be more accountable and build a more successful company together. 
MN: You've expanded Chessman to Beijing and Portugal. What kind of potential do you see for local artists in international markets? 
JC: If you ask people what Hong Kong singers they can think of, they can list them off. How about Macao? They're less known, but I think that's a great thing, because whichever local musician makes it big first will be the one who gains international recognition. 
I think that opportunities will come from the Greater Bay Area (GBA) because local [Macao] shows are of various styles, including original songs and musicals sung in the Cantonese language. Because Cantonese is also spoken in the GBA cities, I believe it would be a great opportunity to bring these shows to the GBA as long-running shows. This is something we want to do.
As for Portugal, we started producing Portuguese red wine in 2019 in the Península de Setúbal as a side project, with its branding designed by Macao designers. We called our first wine – which has already sold out –  'Chessman', then our second and third followed the Chinese zodiac years of 'rat' and 'ox' in 2020 and 2021 respectively. Our aim is to complete one full cycle with 12 bottles, each representing one zodiac year.