Fun things to do in Hong Kong for Macao families
Fun things to do in Hong Kong for Macao families

Link copied
When you've done Happy Farm, pedal boating on Nam Van Lake, and checked out the Grand Prix Museum, what's next? A trip to Hong Kong, of course.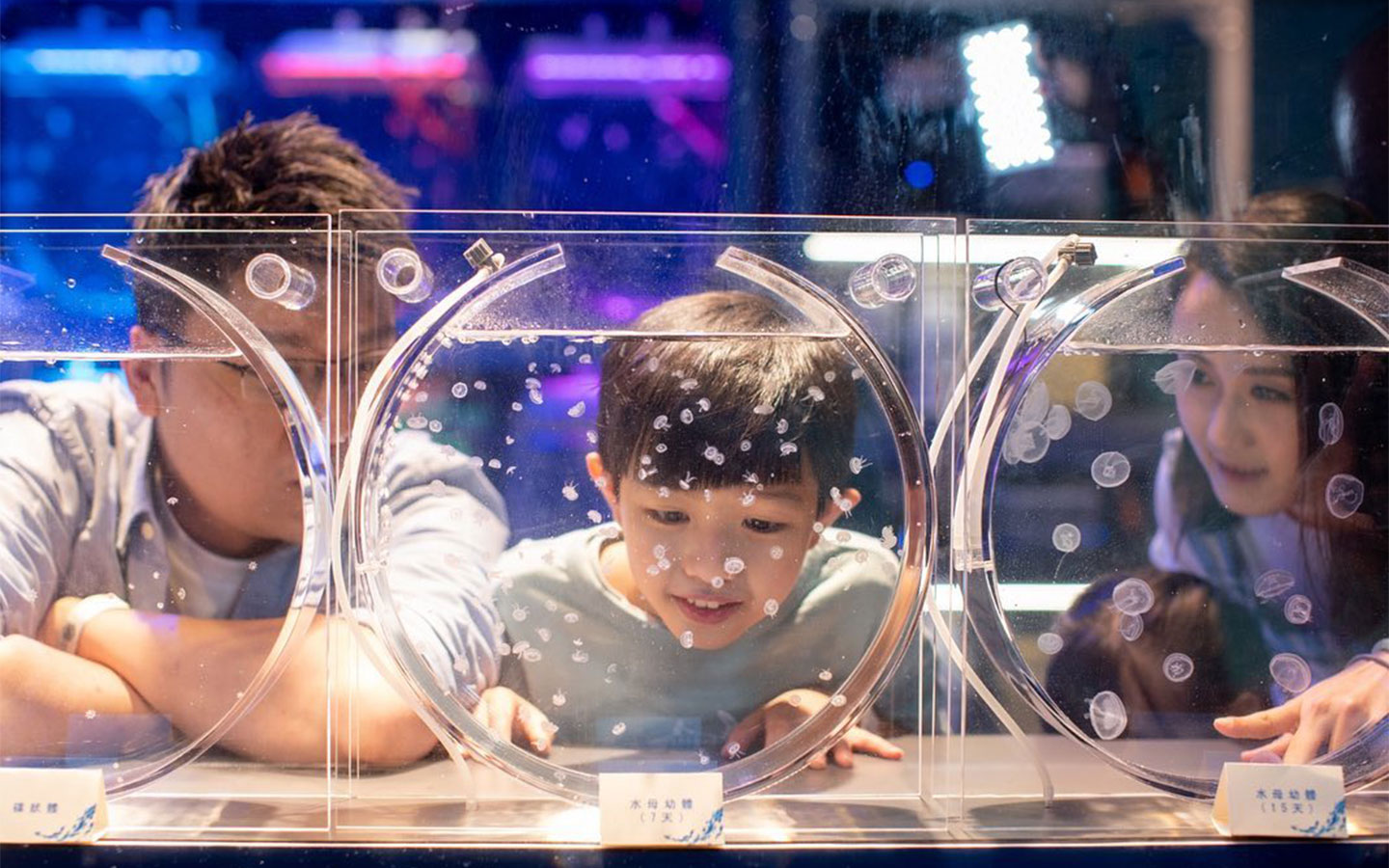 Parents know there are only so many trips you can make to the Cotai Bowling Centre or the Giant Panda Pavilion before the little ones start clamouring for something new to do. That's when you fall back on the time-honoured solution of Macao families through the ages: make a day trip (or even an overnight visit) to Hong Kong.

While iconic theme parks, such as Disneyland and Ocean Park, and attractions like the Hong Kong Observation Wheel are already well-known, there are plenty of other things to do with children in Hong Kong. Not all of them need to break the bank either – especially important when you're already shelling out for ferry tickets and possibly a hotel. Here are some suggestions.
Indoor
Legoland Discovery Centre
Designed specifically for children aged 3 to 10, this over 2,700-square-metre Lego indoor playground is divided into 10 themed areas, such as the Lego 4D Studio (where you can watch 3D movies while you experience physical effects in the theatre, hence the term "4D") and Miniland, where visitors can see tiny replicas of Hong Kong buildings and landmarks made from more than 1.5 million LEGO bricks. Don't forget Lego City Soft Play, where children can climb walls or build structures with giant Lego. 
Address: Shop B131-133, B1, K11 Musea, Victoria Dockside, 18 Salisbury Road, Tsim Sha Tsui, Kowloon
Donut Playhouse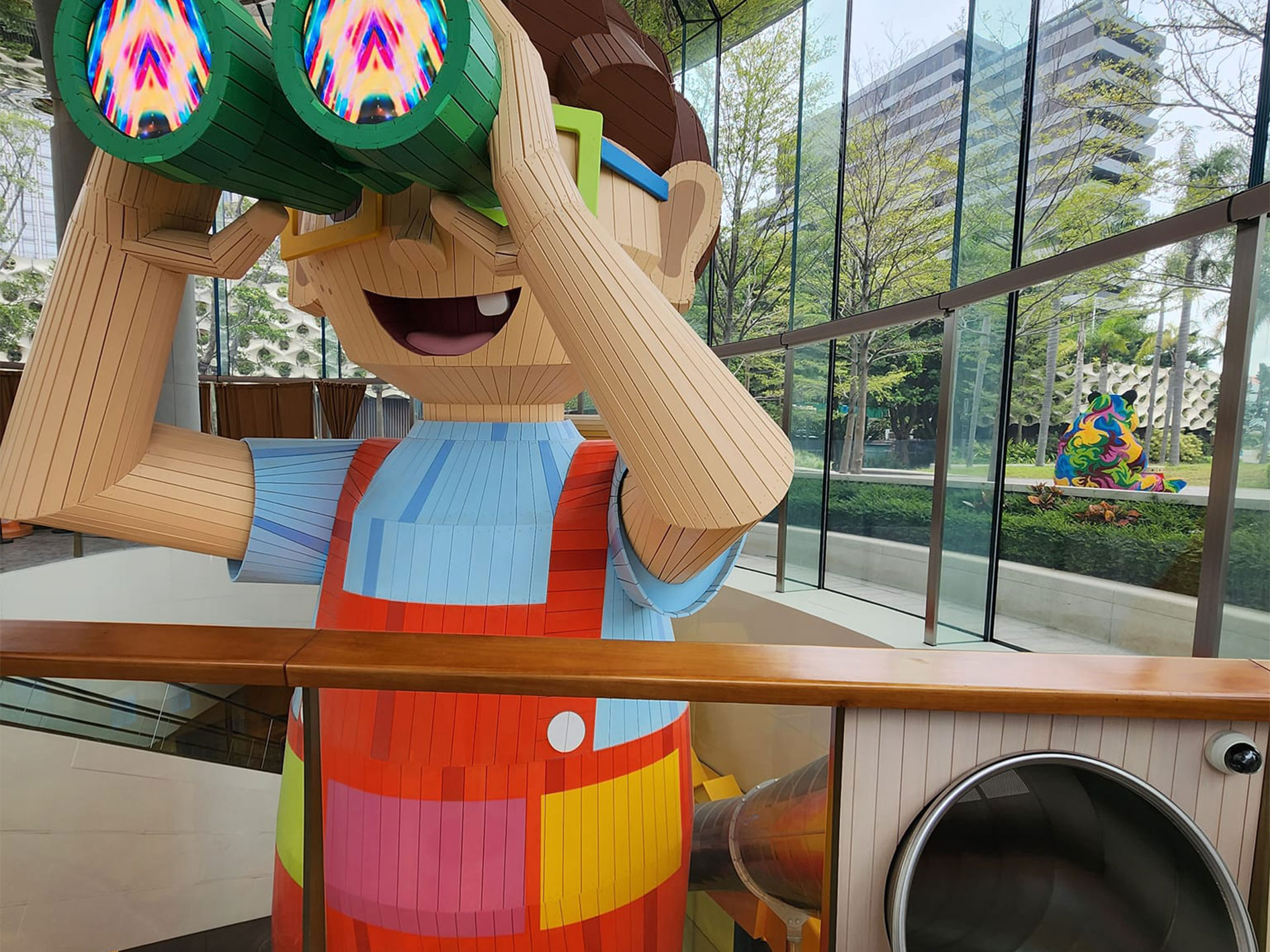 This three-floor edutainment facility is conveniently close to Legoland. With a giant slide that starts from the top floor and snakes all the way down to the ground, Donut Playhouse offers interactive physical and digital games, a food and beverage area and a souvenir shop, In case you're wondering, Donut is the 10-metre-tall wooden giant standing in the middle of the playhouse.
Address: Shop No. 050, G/F, K11 Musea, Victoria Dockside, 18 Salisbury Road, Tsim Sha Tsui, Kowloon
Contact: (852) 3892 3890
Cube O Discovery Park
Covering an area of over 900 square metres, this jellyfish-themed indoor park combines hypnotic tanks of drifting jellyfish with conservation displays and multimedia games, aiming to increase awareness of our marine environment.
Address: Cube O Discovery Park, Plaza 88, Tsuen Wan
Contact: (852) 2127 4188
[See More: These are the best things to do with kids in Macao]
Ryze Ultimate Trampoline Park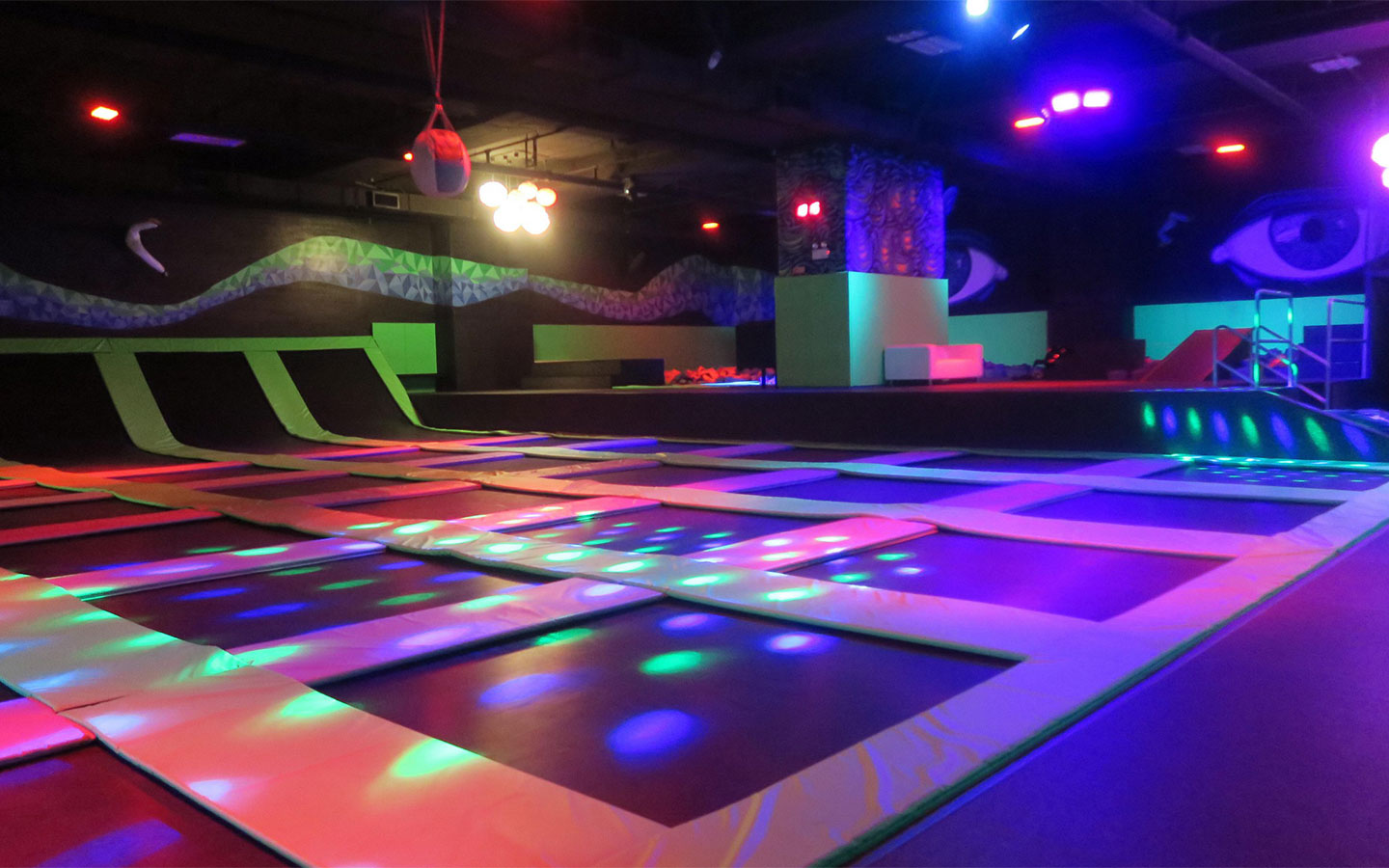 A favourite with local kids, Ryze offers 40 connected trampolines, including angled wall trampolines, covering an area of more than 650 square metres. The park also has other features, such as slacklines over foam cube pits as well as a trapeze.
Address: Ryze, 3/F, Kodak House 1, 321 Java Road, Quarry Bay
Contact: (852) 2337 8191
Planet J
Located in Times Square, this children's entertainment centre is perfect for parents who want to do some shopping in Causeway Bay while incorporating something fun for the children. It features a game arcade and an indoor playground, complete with some slides and a ball pit.
Address: Planet J, 9/F, Times Square, 1 Matheson Street, Causeway Bay
Contact: (852) 2385 6518
Children-friendly eateries
Take your children to lunch or dinner at one of these children-friendly places – each with its own indoor playground. Meokbang BBQ Kidzone serves Korean cuisine while Origami Kids Café and Mr. Tree have more international food options. 
– Meokbang BBQ Kidzone, 2/F, 90 Hung To Road, Kwun Tong | (852) 2326 2220
– Origami Kids Café, Shop N305, 3/F, Zone N, Kai Tak Cruise Terminal, 33 Shing Fung Road, Kowloon Bay
– Mr. Tree (Lai Chi Kok), Shop 103-107 & 120-121, 1/F, D2 Place Two, 15 Cheung Shun Street, Lai Chi Kok, Kowloon | (852) 3184 0033
– Mr. Tree (Causeway Bay), Shop 1501-1505, 15/F, Windsor House, Causeway Bay | (852) 3619 0633
Outdoor
Snoopy World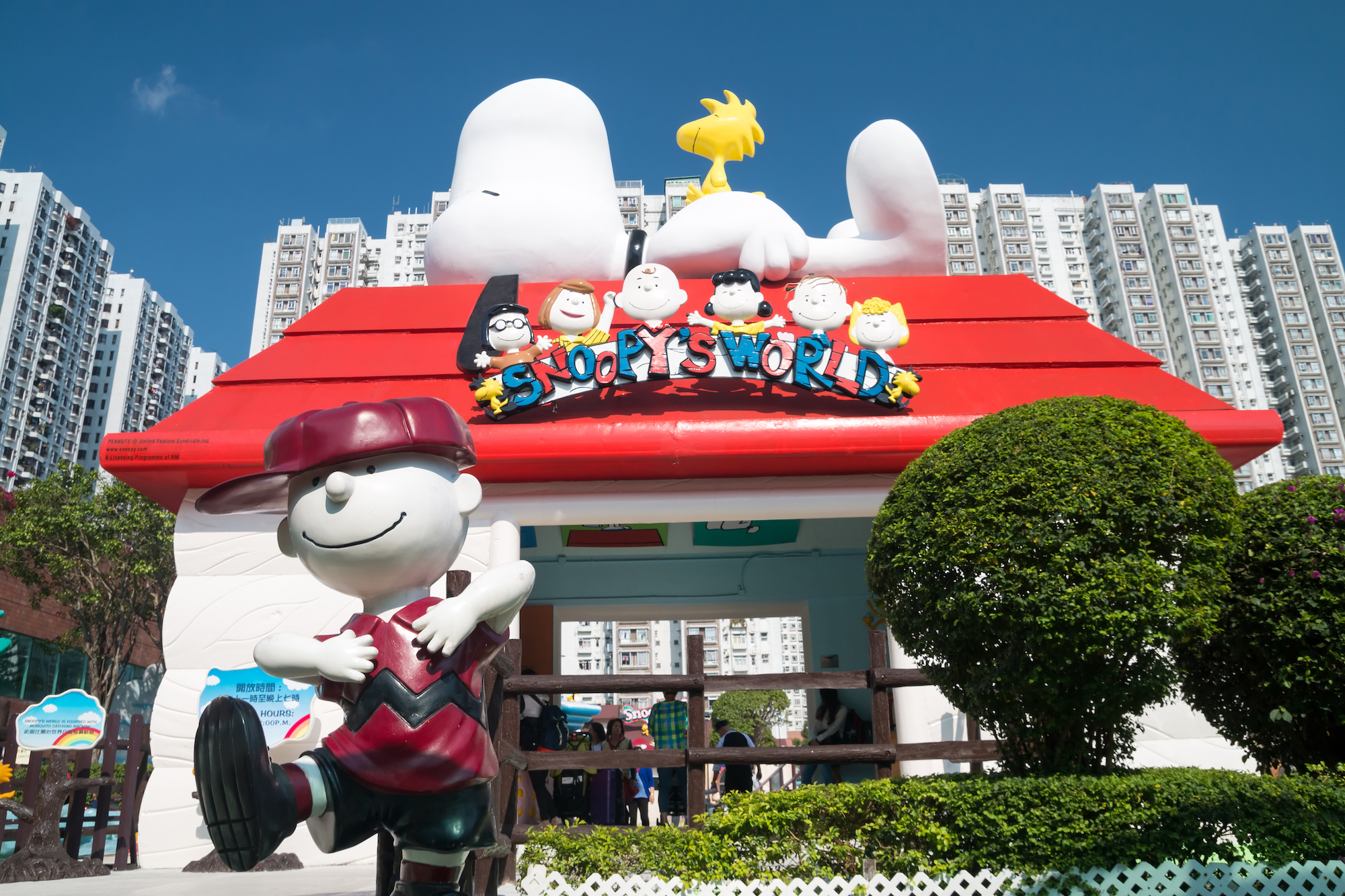 Snoopy World's main feature is the 4.5-metre-tall Snoopy House at the entrance to the playground, which serves as a museum of the American comic Peanuts, featuring everyone's favourite beagle and the rest of the gang.
Address: 3/F, New Town Plaza, Phase 1, Outdoor Platform, Shatin Centre Street, Shatin, New Territories 
Contact: (852) 2697 9898
Noah's Ark
Located on Ma Wan island, this replica of Noah's Ark is an educational Christian museum and also features an outdoor play area, animal sculptures, a zipline, and cycling track. There's a hotel on site, offering affordable family rooms and glamping packages, and lots more to explore on Ma Wan besides. Check out the beach with its family friendly restaurants or indulge yourself in the Angsana Spa. If you want a slice of local life, wander through Tin Liu Village, check out the two Tin Hau temples on the island, or make the short, 69-metre climb up to Ma Wan's highest point, Tai Leng Tau, which offers stunning views of the Tsing Ma Bridge and surrounding channels.
Address: 33 Pak Yan Road, Ma Wan, New Territories
Contact: (852) 3411 8888
[See more: Urban gardening: an answer Macao's been looking for?]
Wetland Park
Covering 600,000 square metres of wetland reserve in Tin Shui Wai, the Hong Kong Wetland Park is perfect for nature-loving families. This award-winning ecotourism facility includes a 10,000-square-metre visitor centre that has biodiversity- and conservation-themed exhibition galleries, a theatre, souvenir shop and indoor children's play area. You can encounter various wetland creatures around the reserve and enjoy a scenic mangrove boardwalk.
Address: Wetland Park Road, Tin Shui Wai, New Territories
Contact: (852) 3152 2666
Beaches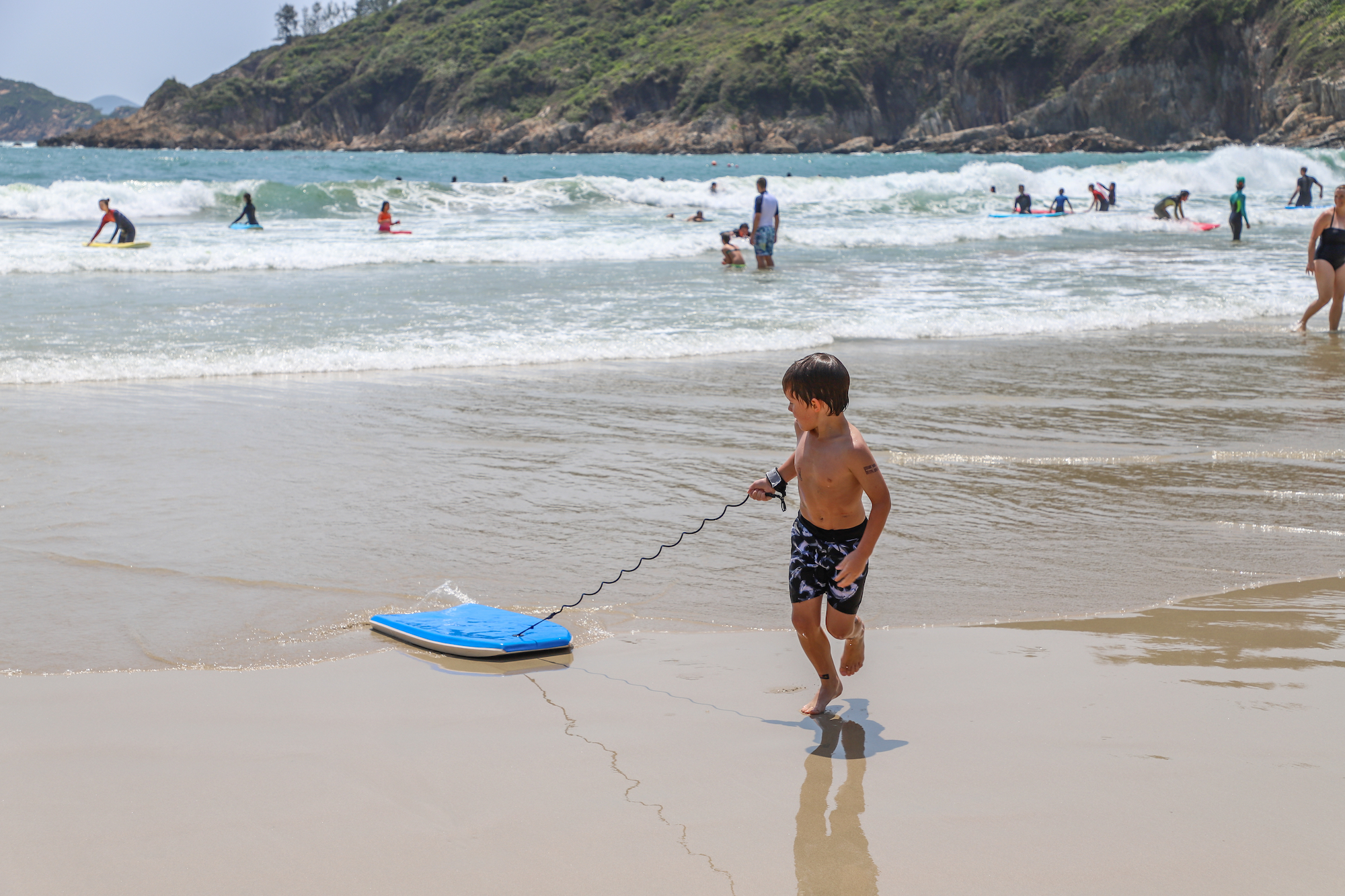 Macao only has Cheoc Van and Hac Sa, but Hong Kong offers about 100 beaches – of varying quality admittedly, but you're spoiled for choice. Discovery Bay's 400-metre-long Tai Pak Beach is very popular with families as it has a zipline and large playground built above the soft sand, so you don't need to worry if the little ones take a tumble. The waters are calm and shallow, which suits little children, and afterward there's a great choice of dining and fast food in the adjacent plaza. If you're after something more secluded, Pui O Beach, also on Lantau Island, offers surfing and kayaking at the Treasure Island Beach Club.
On Hong Kong Island, South Bay attracts a trendy young weekend crowd, but families like it too, because it is wide, flat and shallow – and quieter than the touristy Repulse Bay Beach nearby. Dining options at South Bay are limited to a so-so cafeteria, so bring a picnic if you're planning to be there for a while. 
Somewhat further afield lie Shek O and Big Wave Bay beaches. Despite their remote locations (or perhaps because of), they tend to see a lot of weekend traffic so they're best saved for midweek. Fear not, the eponymous waves of Big Wave Bay aren't actually big by global standards, but this is the closest Hong Kong comes to surf, so head here if you and the kids want to get on a board. The more family-friendly Shek O is easier to get to and has a couple of great outdoor restaurants, including a perennially popular Thai eatery.
Pools
If you prefer your water chlorinated, Hong Kong has some rather impressive public pools. In Macao, water slides and other aquatic rides are usually found only in commercial water parks, but in Hong Kong they're available at several public facilities, where students pay just HK$9 on weekends and toddlers (under 3) are always admitted free. Ma On Shan, Tseung Kwan O and Tsing Yi Swimming Pools are some of Hong Kong's best. Kowloon Park Public Pool doesn't have slides but it does have a toddler pool, is more centrally located than the others and, before or after your swim, offers playgrounds, a sculpture garden, and an aviary. It's located in the heart of Tsim Sha Tsui, so you have a plethora of choices for that post-swim bite.
If budget is not an issue, then head to Water World at Ocean Park, which boasts wave and river attractions and nine state-of-the-art water slides. 
– Ma On Shan Swimming Pool, 33 On Chun Street, Ma On Shan, Shatin | (852) 2641 0776
– Tseung Kwan O Swimming Pool, 9 Wan Lung Road, Tseung Kwan O, New Territories | (852) 2706 7646, 2706 6767
– Tsing Yi Swimming Pool, 51 Tsing King Road, Tsing Yi | (852) 2435 6407
– Kowloon Park, 22 Austin Road, Tsim Sha Tsui, Kowloon, 2724 3577
– Water World, Ocean Park, Ocean Drive, Aberdeen | (852) 3923 2323
Island adventures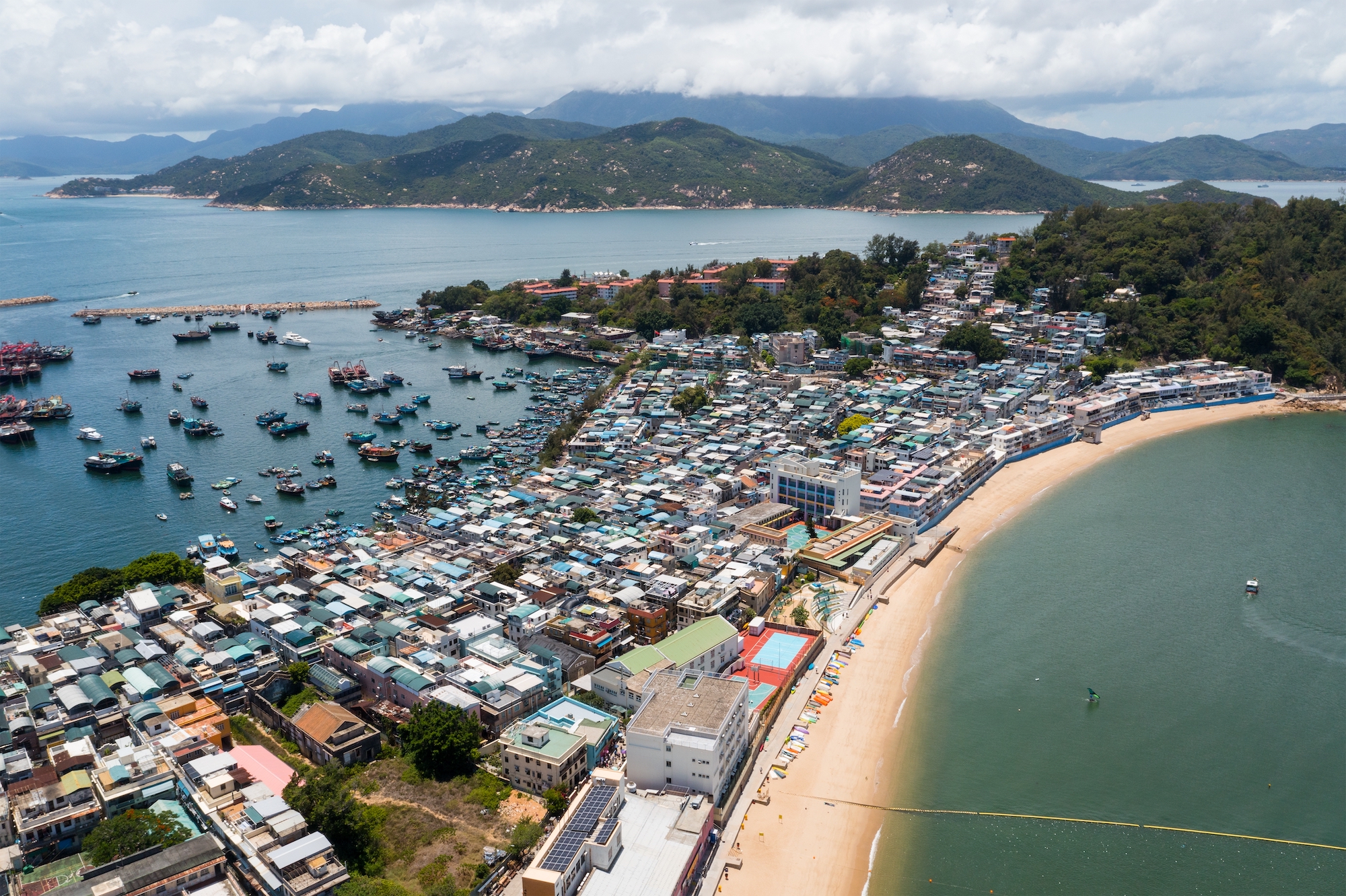 Hong Kong is an archipelago of more than 250 islands. The great majority are uninhabited, accessible only by private boat, but scheduled ferry services to some of the Outlying Islands, as they're known, make them a popular choice with commuters, and families, looking for that tranquil getaway. 
It may be just three square kilometres in size, but Cheung Chau packs a lot in. Enjoy outdoor restaurants, historic temples, and a bustling town and market. If you want to spend the night, avoid renting one of the ubiquitous holiday flats in the main town (unless you want your sleep disturbed by noisy mahjong parties and giddy groups of twenty-somethings with their music cranked up). Make instead for the Warwick Hotel, which isn't fancy but is at least at the quiet end of the beach.
The kids might also enjoy a visit to tiny Peng Chau, just a square kilometre in size. Do the brief climb up Finger Hill, (all 96 metres of it) then have lunch at one of the traditional restaurants in the village. In the afternoon, you can hire bikes and meander up and down the seafront. Don't miss the sprawling, instagrammable installation a local artist has created from junk in the centre of the village – and look out for the sticks of bright red candied hawthorn sold at a little shop near the pier. The kids (and you!) will love them.
[See more: Here are Macao's must-see parks and gardens]
Parks and more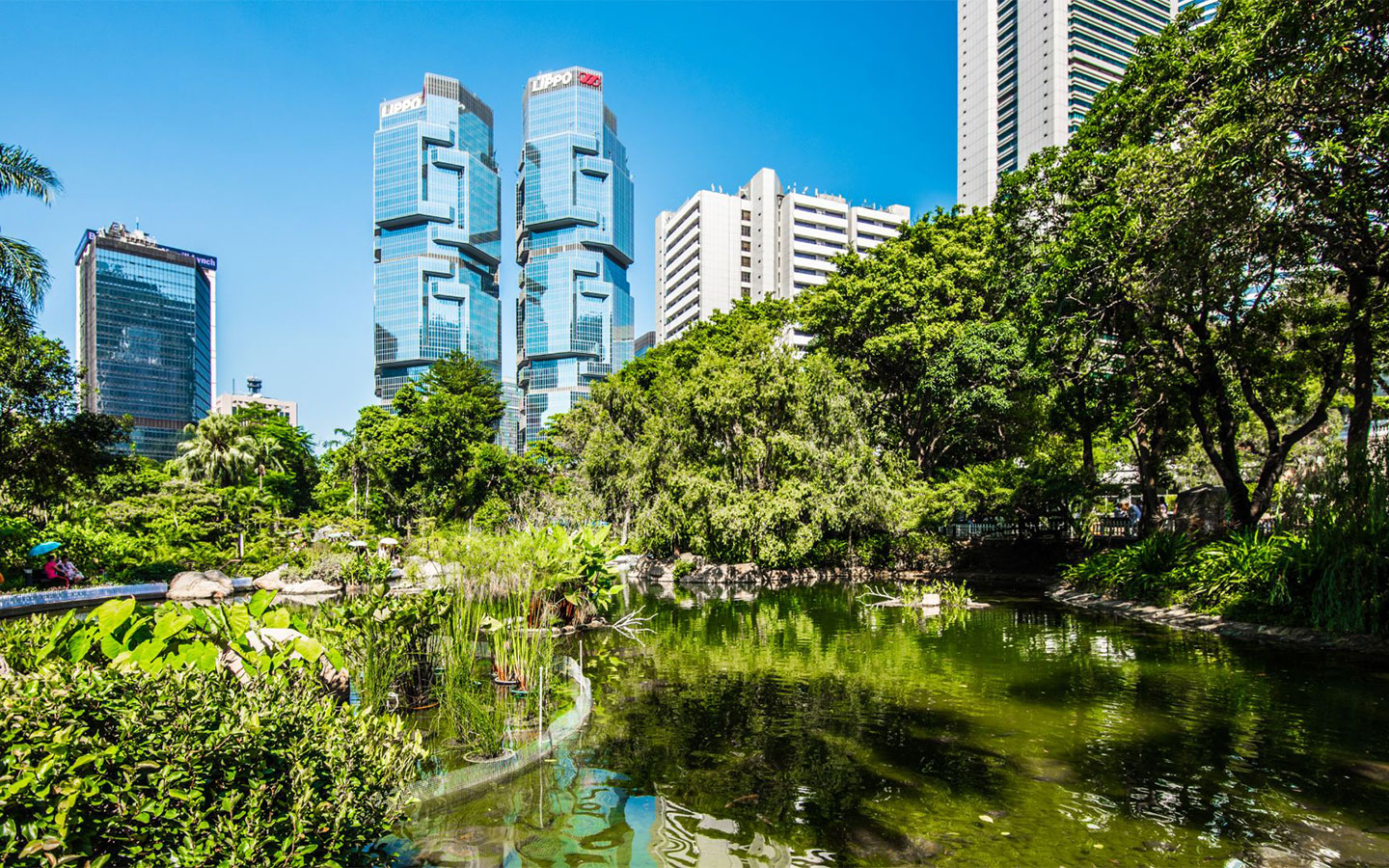 Some of Hong Kong's nicest amenities won't cost you a cent. In the centre of town, you'll find Hong Kong Park. Although its famous 3,000-square-metre Edward Youde Aviary is closed for renovation until 31 December, the park features many other things, including gardens, a playground, conservation corner, teaware museum and ponds. Afterward, you can find a wide choice of eateries at the adjacent Pacific Place mall.
Victoria Peak Garden at the Peak is something of a best-kept secret. Created on the former grounds of a summer lodge once inhabited by colonial governors, the gardens are perfect for a picnic, with lots of green space for the children to expend some energy afterward.
Tai Kwun, an arts centre built into the former Central Police Station, offers various family-friendly activities like music, magic shows, clown performances and the like. The nearby SoHo area is quite picturesque, with lots of art galleries and cafés, but be warned: the streets are hilly and many of the pavements are narrow and stepped, meaning this is not a place for pushchairs.
If you've got the buggy with you, take a walk down the Avenue of Stars and then along the Kowloon waterfront from Tsim Sha Tsui to the Hung Hom promenade. It's flat and barrier-free all the way. You can also stroll the similarly accessible Hong Kong waterfront from Central to Wan Chai, passing Tamar Park. Both walks offer fabulous harbour and city views and some dining and snacking options en route.
– Hong Kong Park, 19 Cotton Tree Drive, Central | (852) 2521 5041
– Victoria Peak Garden, Mount Austin Road, The Peak | (852) 2853 2566
– Tai Kwun, 10 Hollywood Road, Central | (853) 3559 2600