10 questions for Guinness World Record holder, Cheang Wai Hun
10 questions for Guinness World Record holder, Cheang Wai Hun

Link copied
Macao's Cheang Wai Hun can do 21 one-armed pull-ups in a minute. What's your excuse?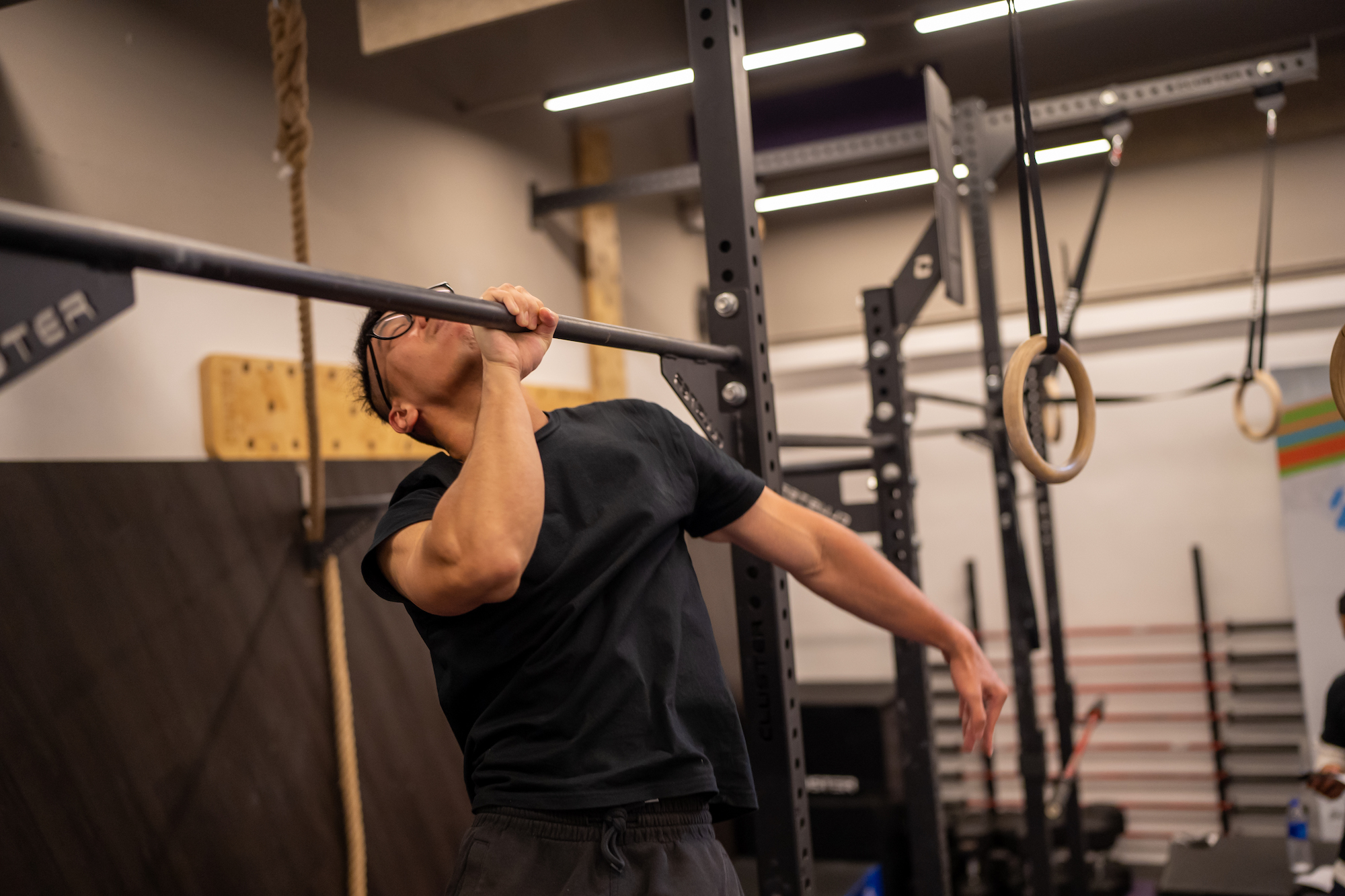 A fourth-year student at Macao Polytechnic University, and a part-time personal trainer at Mtpro Fitness, Cheang Wai Hun, also known as Mark, stunned the fitness world in September last year, when he smashed the Guinness World Record for the most one-armed pull-ups in a minute. The 24-year-old set a record of 21, beating the previous record of 18 set in 2020. 
Cheang Wai Hun started practising callisthenics (exercises that use body weight) when he was 16 after he came across a video on social media that caught his attention. Macao News spoke to him about training, diet and mental toughness.
How do you feel about achieving this world record? 
I'm really happy. It's a great achievement and something I can definitely feel proud of. 
Two-arm pull-ups are the norm. What made you decide to start doing one-arm pull-ups?
Once I could do regular pull-ups of 20 reps, I tried to perform a one-arm pull-up to challenge myself. I started one-arm pull-ups in 2018 and I've been training to break the record since.
You need to stay strong mentally too. How did you break that mental barrier?
Training can be tough and painful, but it's just temporary. I can see myself improving and getting better every day. I ask myself why I started and that's what keeps me going.
Well, why did you start?
At first, it was because of my appearance. I wanted to get stronger and feel more confident. I was underweight. I used to be 50 kilograms at 16 years old and now I am 65 to 67 kilograms. I can see my strength improving each time, motivating me to continue.
Are there any callisthenics athletes you follow?
Sein Evgen, Eryc Otiz and Chris Heria. 
What's next after breaking this record? 
I will try to hit the 25 mark next time. I'm already practising for it. I actually did 23 reps for the world record, but they said that there were two reps where my chin was not over the bar in the video, so they deducted two reps.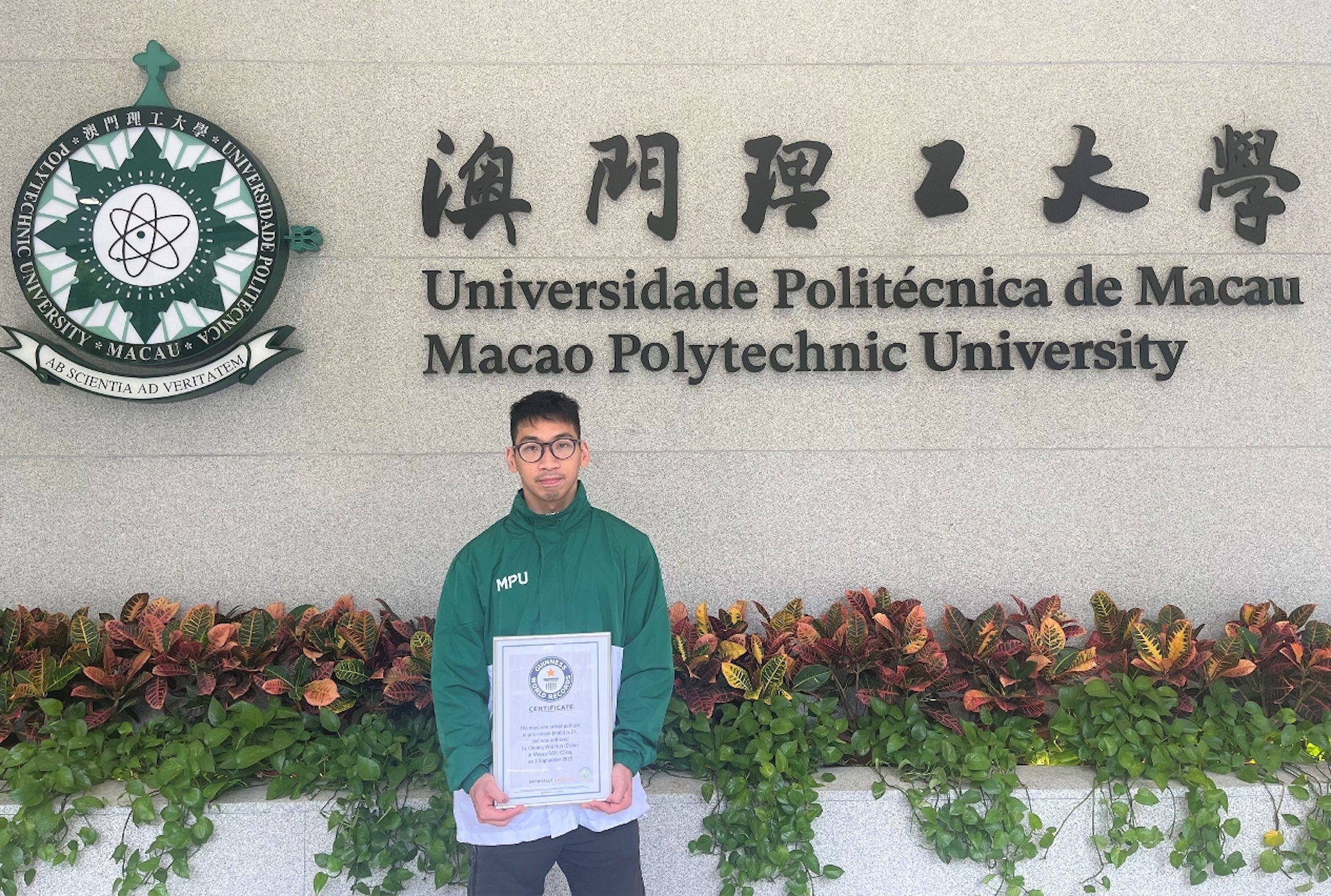 Do you follow a strict diet? 
I eat potatoes and meat often. On other days it's just regular home-cooked food. Some days I eat some junk food too, like cheese and meat pizza. 
[See more: 10 Questions for Lawrence Chan, Macao's fastest man] 
What's your weekly training routine like? 
I train four times a week, for about an hour and a half each time. 
What's that one song you have to listen to at the gym? 
"Square" by Yerin Baek. 
What do you like to do when you're not working out? 
Play video games and read and learn about strength training and nutrition.
You're currently majoring in health sciences and physical education. What are your future goals?
I hope to be a good fitness trainer and inspire more people to start training for better health benefits.
—Reporting by Erico Dias