Toasted oats with nuts and seeds recipe by Mariana de Oliveira Dias
Toasted oats with nuts and seeds recipe by Mariana de Oliveira Dias

Link copied
This nutty, chewy breakfast is the perfect start to your day. Pair these oats with plant-based yoghurt or milk, with a side of fresh fruits.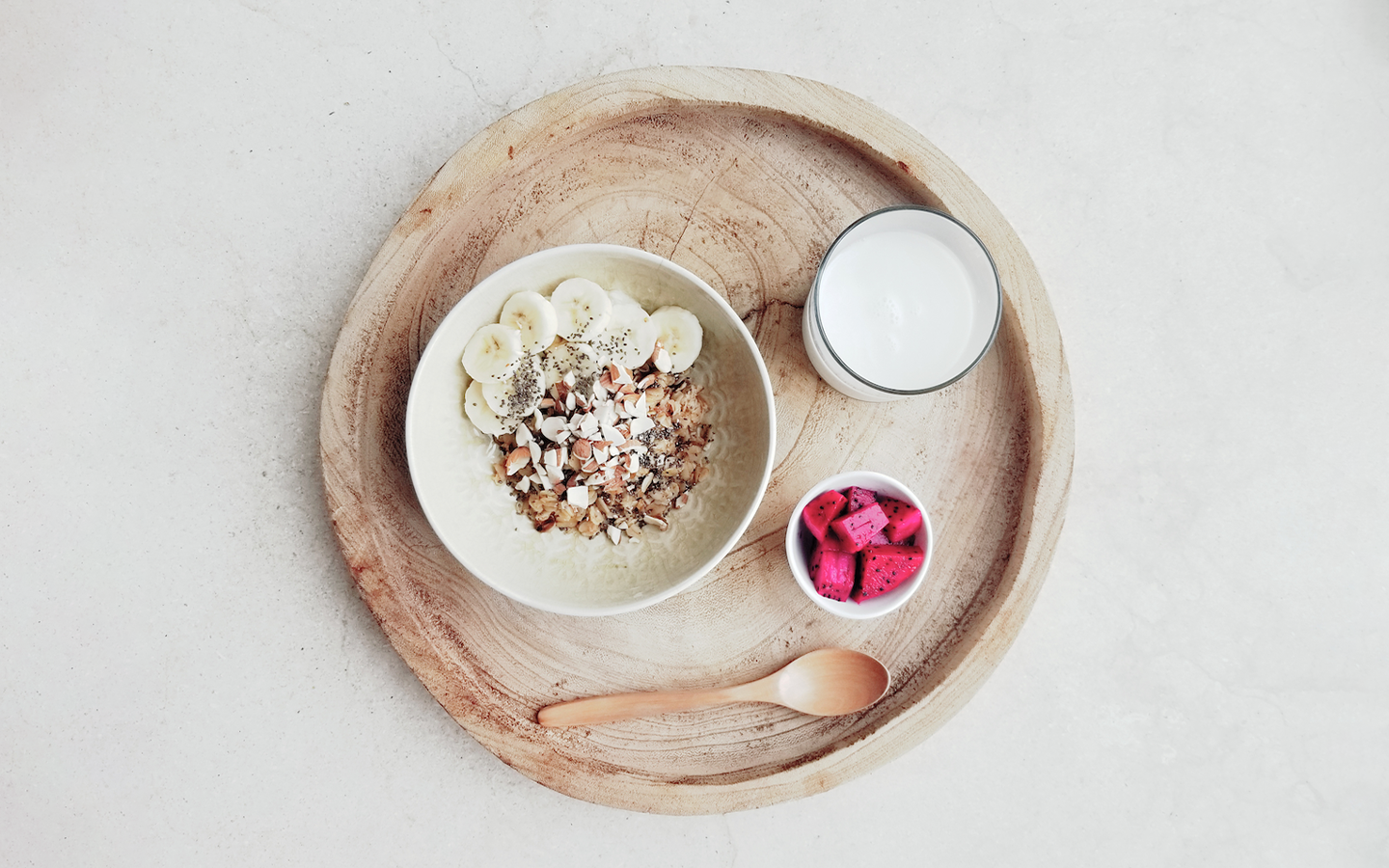 Serves

Prep time

Cook time
Ingredients:
1 tbsp coconut oil
1 cup gluten-free rolled oats
Toasted nuts, such as almonds, pecans and walnuts, plus more to serve
Toasted seeds, such as pumpkin seeds and sunflower seeds, plus more to serve
¼ cup plant-based milk, plus more to serve
1 pinch pink Himalayan sea salt
1 pinch ground cinnamon
¾ cup water
1 tbsp orange juice
Maple syrup - optional
Mariana de Oliveira Dias is a certified wellness consultant and nutrition coach, certified yoga instructor and raw vegan chef. In 2014 she opened Macao's first cold-pressed juicery, Sattva Juicery and Kitchen, and more recently her consultancy, MOD – Integrated Wellness and Consulting services Limited, which aims to provide wellness services to Macao's community through events, workshops and nutrition.
There's something special about waking up to fragrant coconut oil, oats and nuts toasting away in the skillet. 
In this recipe, Mariana introduces this nutty, chewy breakfast, which is the perfect start to your day, packing a nutritional punch that will keep you feeling satisfied for hours thanks to fibre, healthy fats and plant-based proteins.
Pair these oats with plant-based yoghurt or milk, fresh fruits, or add to your chia pudding for some added protein, crunch and flavour.
Tip: Double or triple the recipe for a good portion of leftovers. Make sure you use a large pot with a wide bottom, so the oats cook evenly.
DIRECTIONS:
1. In a large skillet or pan, heat the oil over low to medium heat. Once the coconut oil becomes fragrant, add the oats and toasted nuts and/or seeds, and stir occasionally until the oats start to appear toasted.
2. In a separate pot, add the milk, spices, water, and orange juice, plus maple syrup if you'd like a sweeter taste. Bring to a low boil.
3. Add the toasted oats to the pot and stir gently to combine, cover it and turn off the heat. Allow to sit for a few minutes.
4. Transfer the oats to a serving bowl and add extra nuts or seeds, plus additional milk if desired.
5. Leftovers can be kept refrigerated in a sealed container for up to 3 days.
Gluten-Free | Vegan | Dairy-Free | Naturally Sweetened