How Edinburgh chef Kei de Freitas found his calling with Macanese cuisine
How Edinburgh chef Kei de Freitas found his calling with Macanese cuisine

Link copied
Nearly two decades ago, the Mozambique-born Portuguese chef began tracing his roots across the former Portuguese colonies. Three years ago, he opened his award-winning Macau Kitchen, where he serves authentic Macanese cuisine to diners in the UK.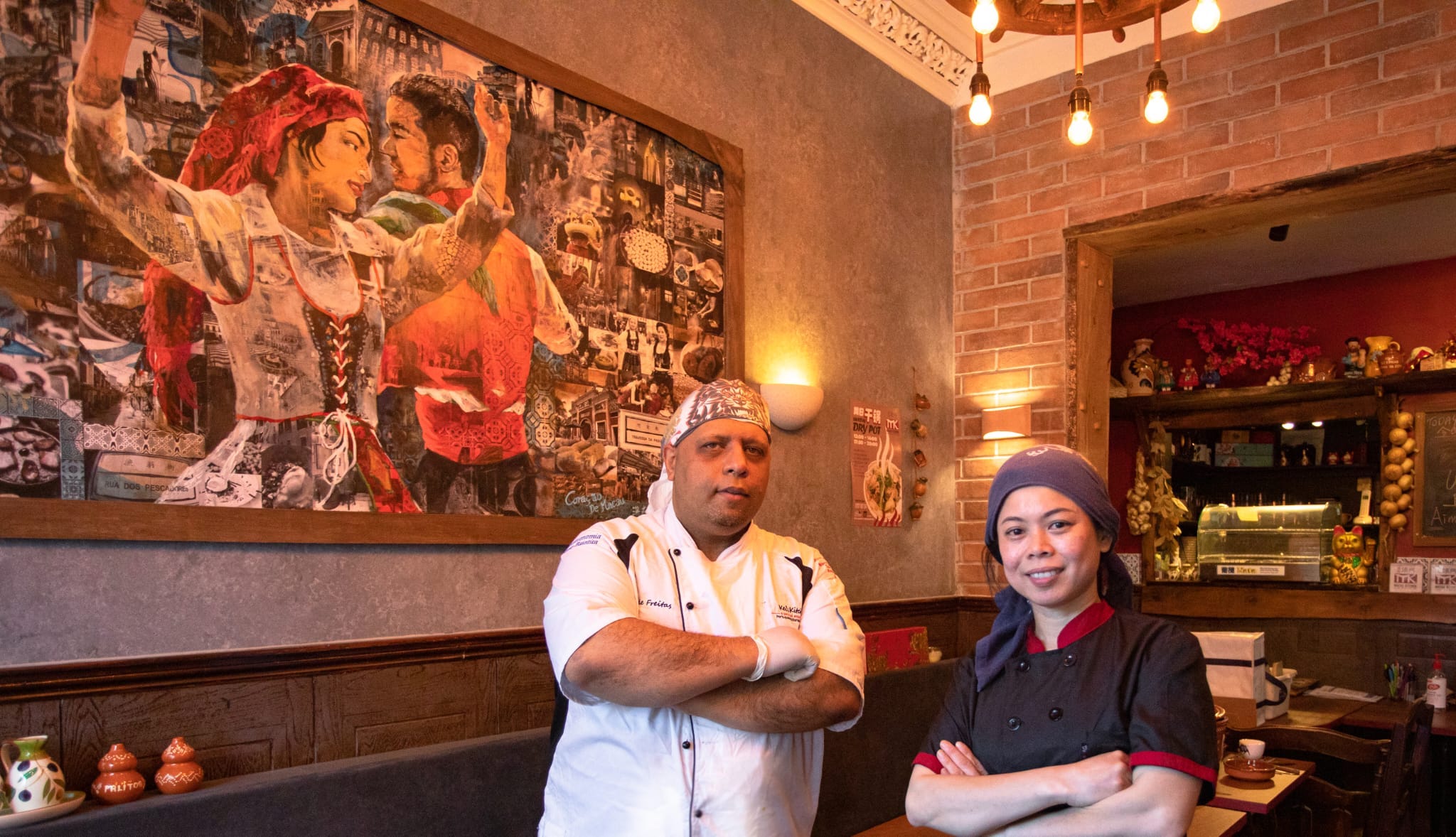 Kei de Freitas first dabbled in Macanese cuisine merely because he wanted to know more about his Portuguese creole heritage. Today, the 49-year-old chef-slash-restaurateur is doing more than dabbling in a part of his past. 
Freitas is spreading the gospel of Macanese food – what UNESCO has recognised as the world's oldest fusion cuisine – at his restaurant, Macau Kitchen, in Edinburgh, Scotland.
Since the restaurant opened in 2019, it has added exciting new elements to Edinburgh's food and beverage scene. In fact, the Edinburgh Evening News named it the 2022 Best World Food Restaurant in June. Since then, the restaurant has welcomed a rush of guests, from once-hesitant Scots who had never tried such cuisine to food journalists and bloggers, who have helped put Macanese food on the map in the UK.
"We feel this award is like a recognition for our hard work and an encouragement for us to keep on [promoting Macanese cuisine]," says Freitas, the restaurant's founder and head chef. "We are proud of course because Macau Kitchen was the only mixed Asian restaurant nominated in the [best world food] category this year."
"In the beginning, many people were scared to try [this cuisine] because they never heard about Macanese cuisine and suddenly it became a thing in Edinburgh," he says.
To reach this point in his career required a journey of self-exploration that Freitas could not have expected would lead to Macao.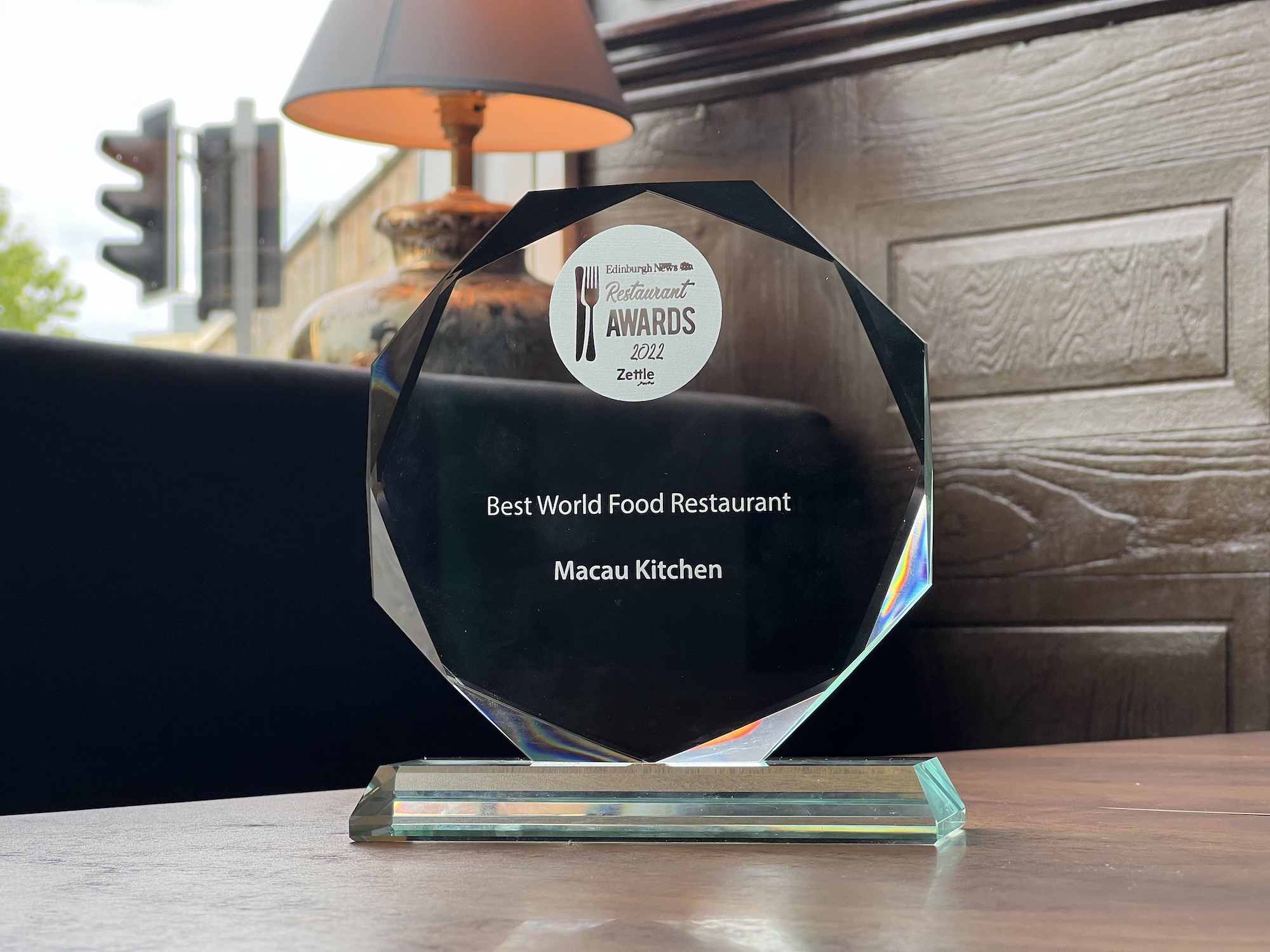 Early days with creole cuisines
Like the cuisine he serves, Freitas is himself a fusion of different cultures. He was born in Mozambique in 1973 to a Portuguese father and a Mozambique-born, Portuguese-creole mother of Goan (in India) and Kristang (from the Malaysian state of Malacca) heritage, and he grew up in Porto and Lisbon. 
"I have a big, mixed Eurasian family, so I grew up with many flavours," says Freitas.
"I have always loved eating," he says, but his interest in cooking only grew after he got a job in a kitchen. When he was 18, he worked at a Portuguese restaurant in Lisbon. That work experience lasted only one hour, though. 
"The head chef looked at me and said, 'Who is this fat guy in the kitchen? His cutting [skill] is very bad. Get him out of my kitchen!" Freitas recalls.
After that flop, Freitas moved to London and bounced around, working at a who's who of fast food chains, including a West London Pizza Hut branch. Before he would find his footing, eventually landing a job at Olde Goa (now defunct) under the direction of renowned Goan chef Savio Azeredo, he even attended and dropped out of culinary school. 
"[Culinary school] was about international cuisines, while I was looking for something else at that time, something related to my heritage, the cuisines that came from the Portuguese spice trade," he says.
A journey of self-discovery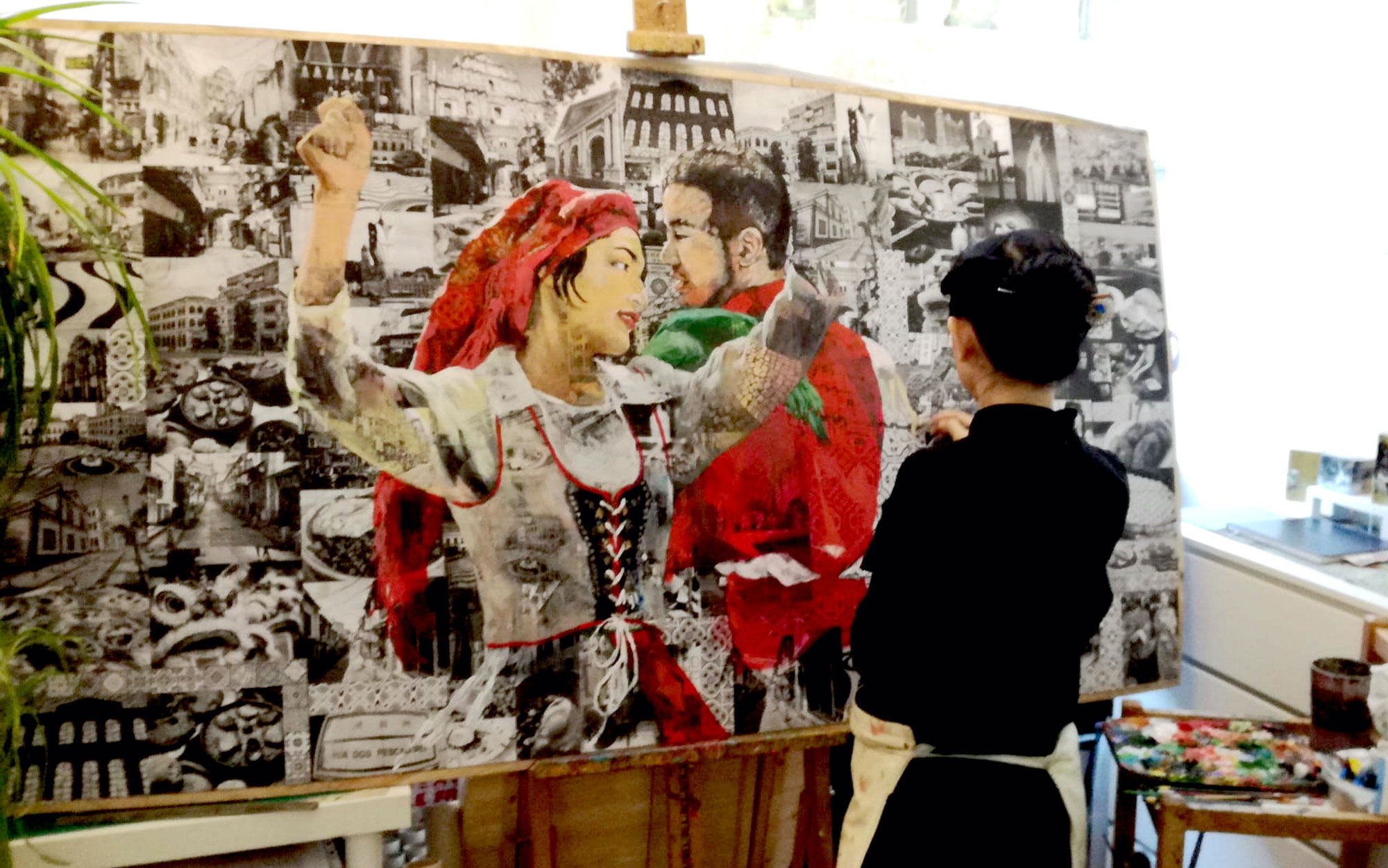 While working in London, Freitas met his wife, Hoeyyn Ngu, an award-winning artist whose family hails from Malaysia.
In 2005, the couple visited Ngu's family in Malaysia and travelled to Malacca, a UNESCO World Heritage Site influenced by Chinese, Portuguese, Dutch and Indian traders. 
In this historic town, Freitas found "exactly what [I was] looking for … [Kristang] cuisine from the Portuguese spice trade," he says. It was an epiphany.
In 2008, Freitas and his wife moved from London to Edinburgh and started hosting private and pop-up dinners that promoted the Portuguese spice trade cuisines, including the Kristang cuisine he had recently discovered, as well as Goan and later Macanese.
The couple would return to Malaysia once a year for a month or two, always visiting Malacca, a place that became "like my second home," Freitas says. "I learned about the Kristang cuisine from some chefs there, including the award-winning celebrity Kristang chef Melba Nunis."
There's more than minchi in Macanese cuisine
Freitas credits Malacca for awakening him to a journey of self-discovery, but it wasn't his last destination. "I thought I needed to go to Macao to finalise this journey," he says. 
In 2016, Freitas and his wife finally visited Macao. They returned the following year, trekking to different Macanese restaurants around the city and spending time with experts like the late 'Godmother of Macanese Cuisine', Aida de Jesus. 
[Read more: Try our top 5 recommended restaurants in Macao for Macanese food]
Freitas began to see the way many cuisines came together to form one. "Some people think it's simply a mixture of Portuguese and Chinese. It's not. It's the product of the entire Portuguese spice trade," he says. 
As Freitas unravelled the thread that ran from his own background to Macao, he woke up to a new purpose in his life's work. 
"Being a Eurasian married to a Chinese [woman] who grew up in Malaysia, we just felt Macao was like home. I finally chose to focus [my work] on Macao because I feel connected, me being a product of the entire Portuguese spice trade, too." 
Freitas and Ngu opened the 28-seat Macau Kitchen in 2019. Now, especially after its recognition by the Edinburgh Evening News, it serves about 100 guests each day, offering more than just great food.
The restaurant promises a "gastronomic experience" that transports diners to Macao's bygone days, when "Macanese grandmothers used to cook for their big families" and skipping family dinners was frowned upon.
Each day, Freitas holds court over the restaurant, shuffling in and out of the kitchen to introduce the cuisine, its spice trade origins and more.  
"It's important for people to understand what Macanese gastronomy is and not just come to eat minchi," he says. "There's a heritage and connection with Portugal and the rest of the Portuguese spice trade."
To enhance the Macanese ambience, Ngu has taken charge of the restaurant's design.
She created a distinctive mixed-media painting that hangs on a wall in the centre of the dining area. Titled "Coração de Macau" (meaning "The Heart of Macao" in Portuguese), her eye-catching work features a collage of photos the couple took in Macao alongside images she found online, all painted over with an image of a couple doing Macao's distinct Portuguese folk dance – a combination of a number of dances from different Portuguese regions.
Of course, the food remains the star attraction. Macau Kitchen has two menus, one highlighting classic Macanese dishes, such as their popular Macanese oxtail stew, minchi (fried minced beef or pork and potato cubes topped with a sunny side up fried egg), porco balichão (tamarind-braised pork with balichão) and po kok gai – Cantonese for Portuguese chicken served with mild yellow curry.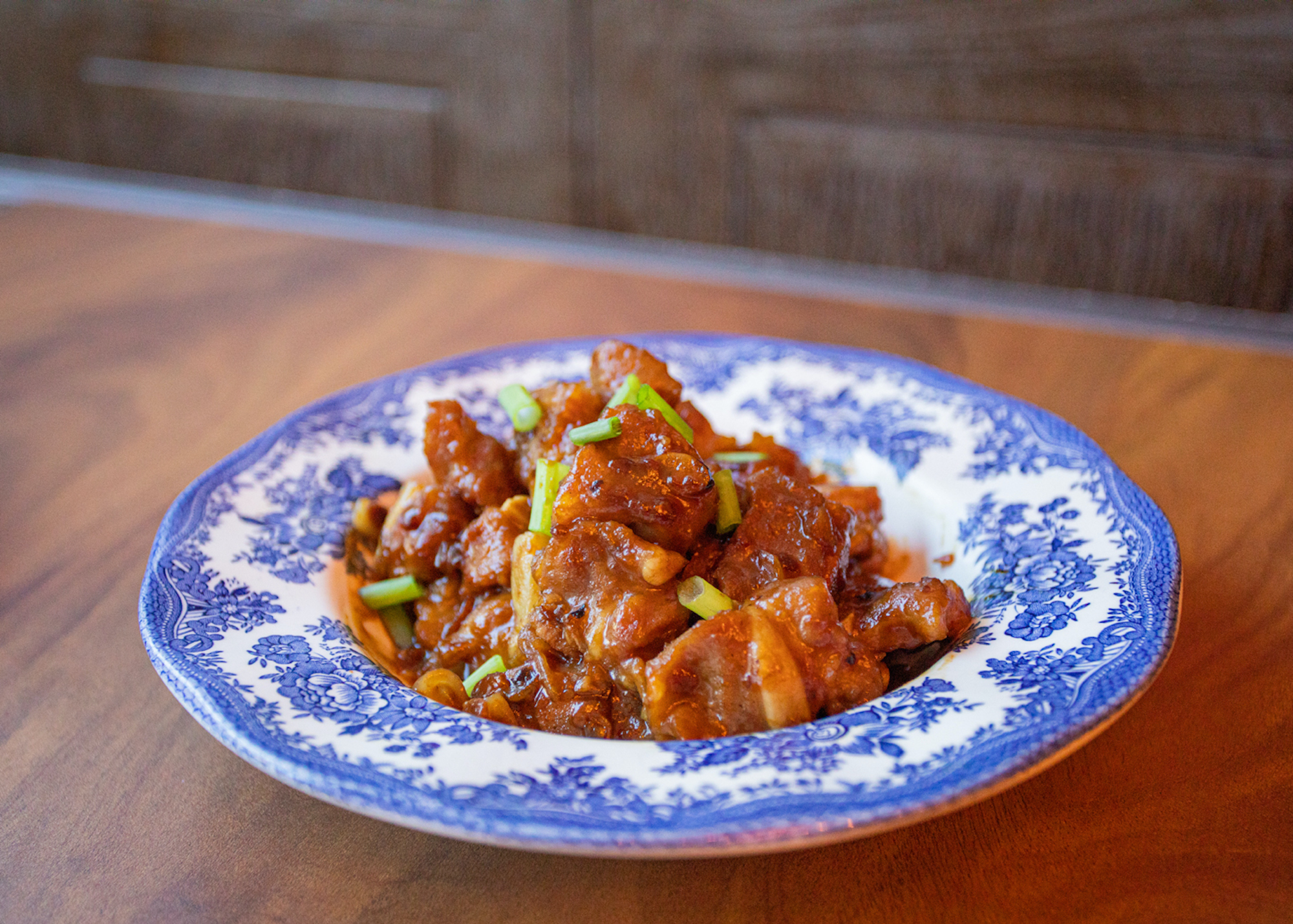 There's also a special menu featuring dishes from the Portuguese spice trade in Asia, "especially dishes from Malacca's Portuguese settlement that are connected to some of the dishes in Macao," says Freitas.
Finding dishes for this latter menu isn't a problem for Freitas. One of his hobbies is "collecting ancient recipes from families in Malacca, Macao or other Eurasian families".
– He estimates he has collected more than 1,000 old recipes – several hundred of them Macanese.
Sometimes Freitas adds new elements into his dishes, such as numbing Sichuan peppercorn or the popular signature crispy duck in aromatic coconut sauce cooked with kaffir lime leaves, which Freitas calls "one of my self-expression dishes". 
It's a nod to the fusion that defines Macanese cuisine today. In fact, Freitas believes the cuisine is still evolving. That's why he plans on taking many more trips to Macao, where he hopes to study Macanese cuisine's development in the modern era.
He also wants to bring back what he has learned to better serve Macau Kitchen's clientele. And not only with great Macanese food, but also an unforgettable culinary experience that transcends awards and honours members of the media might bestow upon the restaurant. 
"Some people say 'I want to visit Macao when the pandemic is over' after they visit our restaurant. A client's satisfaction like this is the real award for us," he says.