Macanese food celebrity Aida de Jesus dies at age 105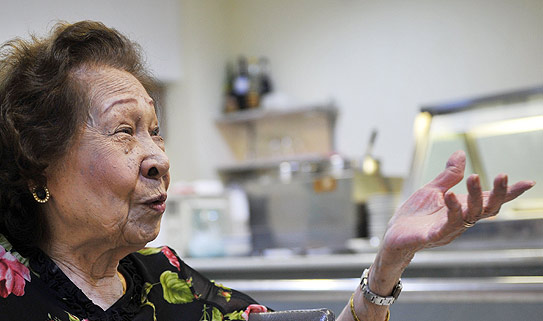 Last updated on 18 March 2021 at 8:35 am 
Aida de Jesus, one of the strongest influences on the city's gastronomy over the past half century died on Wednesday at the age of 105.
Often hailed as the 'Godmother of Macanese Cuisine', Aida de Jesus, who was also one of the last custodians of the Macanese patuá dialect, founded Riquexó – known in English as Rickshaw – in the 1980s and it soon became recognised as a bastion of all that was traditional about Macanese cuisine.
Dona Aida died of a weak heart and lungs at the Conde de São Januário Hospital Centre. She is survived by her daughters Sónia and Carolina and her son Manuel António as well as her grandchildren, all of whom loved and cared for her in her declining years. She was the family's beloved matriarch.
Much of Dona Aida's life was bound up with the culinary world, and she started her career working in the kitchens of Hotel Lisboa and the Sintra Hotel.
Lawyer and Macanese cultural representative Miguel Senna Fernandes said Aida de Jesus was "a modest and simple lady, with a permanent smile and a keen sense of humour. She had an iron personality when needed. She was a housewife who influenced Macanese cuisine, to the point of it becoming her symbol." 
Fernandes recalled that she lived for more than a century and saw all the changes in Macao, its people, customs and ways of life. "I have a feeling she departed from this life satisfied, because she left a handful of talented people with the tough task of continuing [the tradition of] Macanese gastronomy," he said.