Green pea risotto with bacalhau by Chef Hans Rasmussen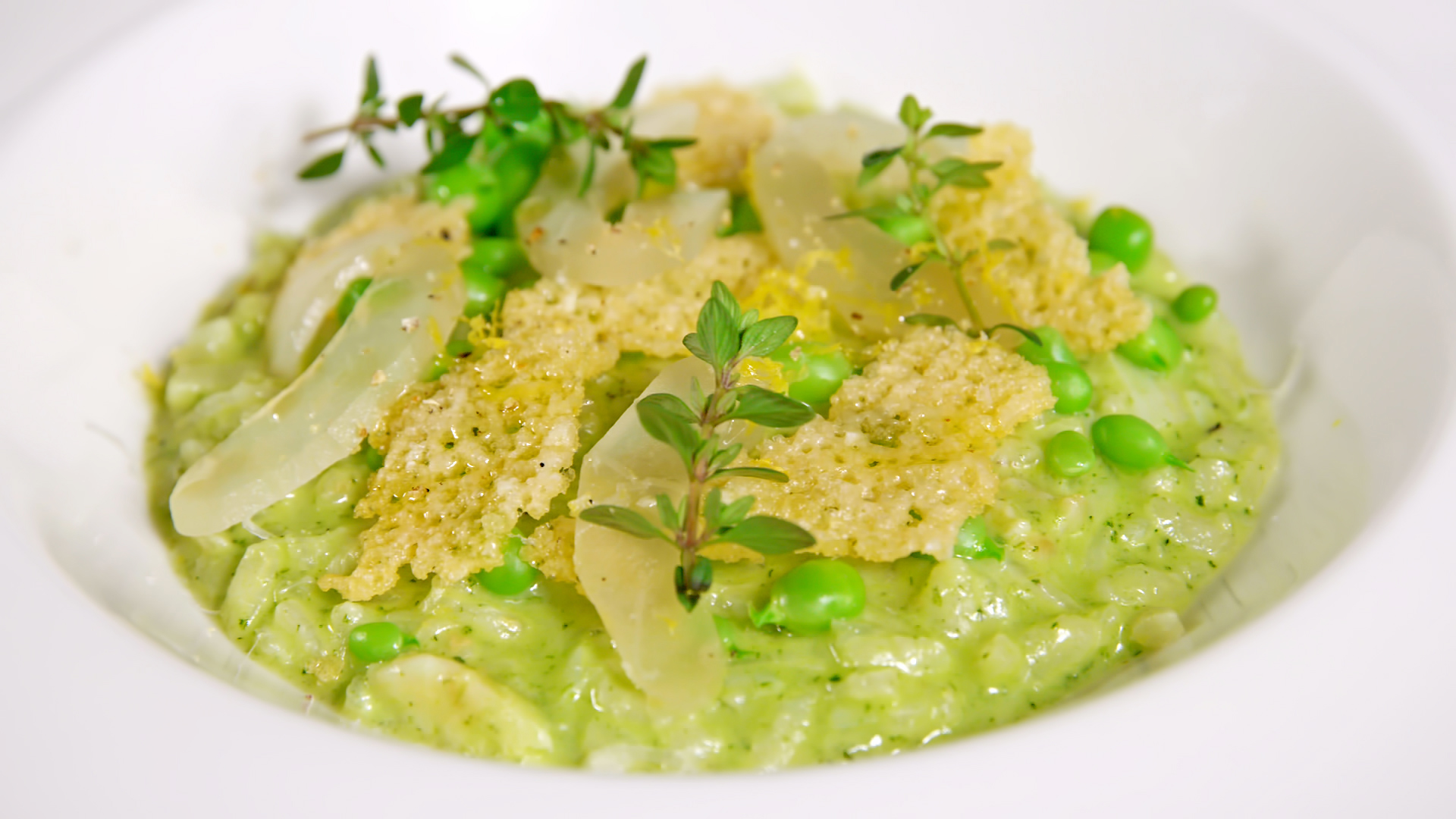 Servings

Prep Time

Cook Time
Ingredients:
Puree:
Fresh green peas (de-podded)
100 g spinach (fresh or frozen)
Handful of parsley
Onion and garlic trimmings (see Risotto base)
150 g green peas (frozen)
200 ml vegetable stock
Crispy cheese:
Grated parmesan
Risotto base:
60 g Arborio rice
1/4 tbsp of chopped garlic
1/2 tbsp of chopped shallot onion
1 tbsp of olive oil
50 ml dry white wine
600-800 ml vegetable or chicken stock
1-2 tbsp crème fraîche or sour cream
30 g parmesan (grated)
100-150 g salted codfish (bacalhau cut into 1x1 cm squares)
100 g unsalted butter (diced into small squares)
50-100 ml cream (optional)
A dash of salt and white pepper (to taste)
Plating:
Pickles with a "bite", preferably cucumber or green papaya
Crème fraîche (or sour cream)
Freshly grated lemon skin or another citrus fruit
Fresh thyme (optional)
Green pea risotto with bacalhau is the perfect appetiser on a sunny day, especially when green peas are in season (usually May to September). Hans Rasmussen, Chef de Cuisine at the IFTM Educational restaurant, says his dish borrows inspiration from two European classics: Italian risotto and a green pea soup called crème ninon, that's popular in French cuisine. 
"This dish is a fusion of two recipes, kitchen styles and techniques. You might even say the best of both worlds," says Rasmussen, whose restaurant became the first local restaurant to receive a Michelin Green Star (a new category that recognises a commitment to sustainable gastronomy) in January 2021.
In a traditional crème ninon, the main ingredients include green peas, stock, whipped cream, lemon, and Champagne so it made sense to merge it with risotto, he adds, which requires similar elements "except for the cheese and pickles," explains the chef, who grew up in Denmark. 
"It would, of course, be easier to add whole green peas when making the pea puree, but then you miss out on the green colour and full flavours. And, yes, you can absolutely use Champagne instead of white wine in your risotto."
Instructions: Puree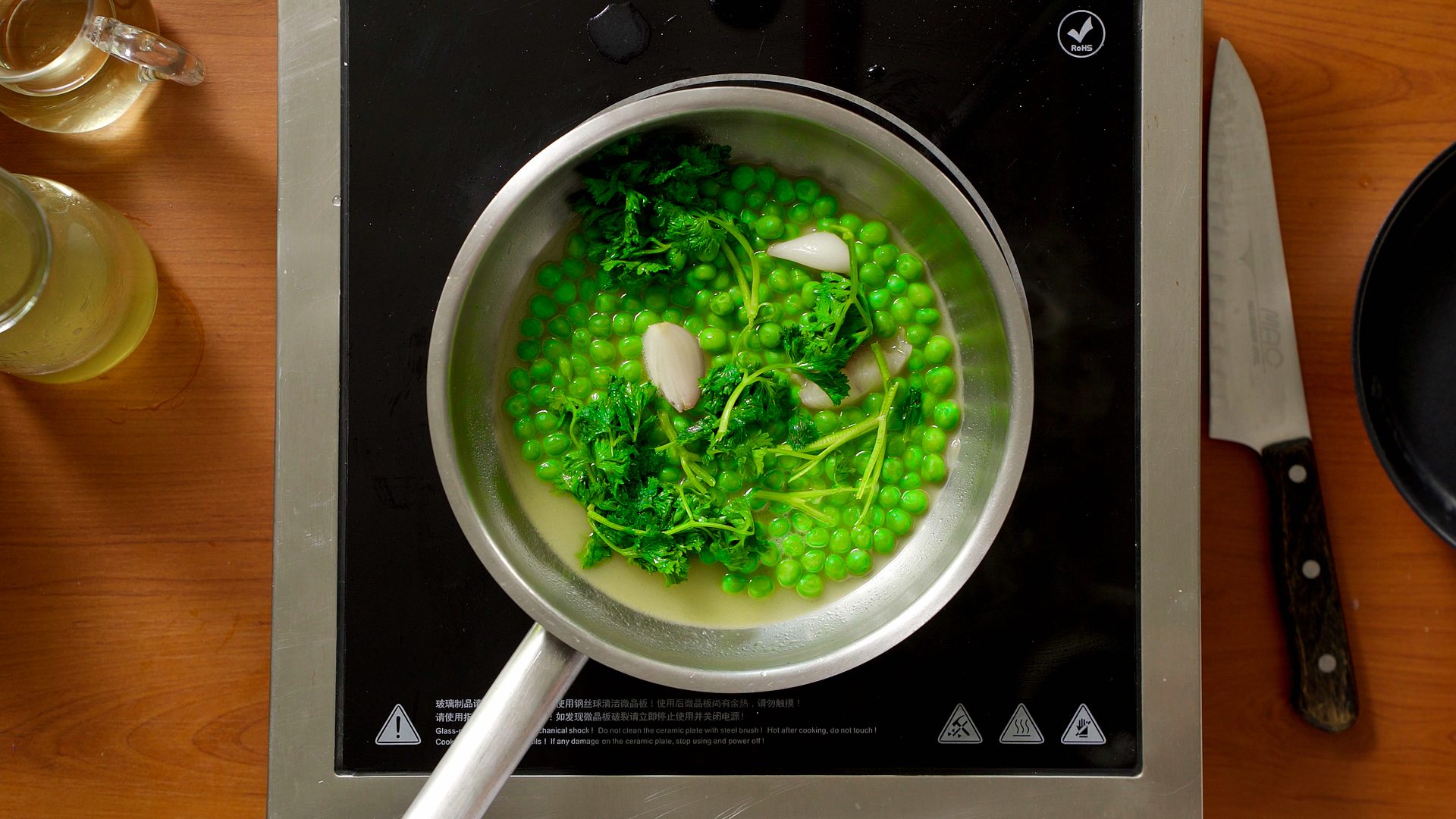 1) Blanch fresh peas for 10 seconds in salted boiling water then drain.
2) Blanch spinach, then parsley.
3) Chop onion and garlic for risotto base and set aside.
4) Sauté onions and garlic trimmings in butter and stir through.
5) Add the frozen peas, vegetable stock and spinach and parsley. Cook for 2-3 minutes or until heated through, add salt and pepper.
6) Put the mixture into a blender or food processor and blend with spinach until smooth and soft like thick cream (add some vegetable stock if the mixture appears too thick).
7) Strain the puree and set aside. Be careful it is not too runny as it will affect the consistency of the risotto. Tip: If it's too runny, add small cubes of toasted bread or breadcrumbs; the flour in the bread can help to absorb and adjust the consistency.
Instructions: Crispy cheese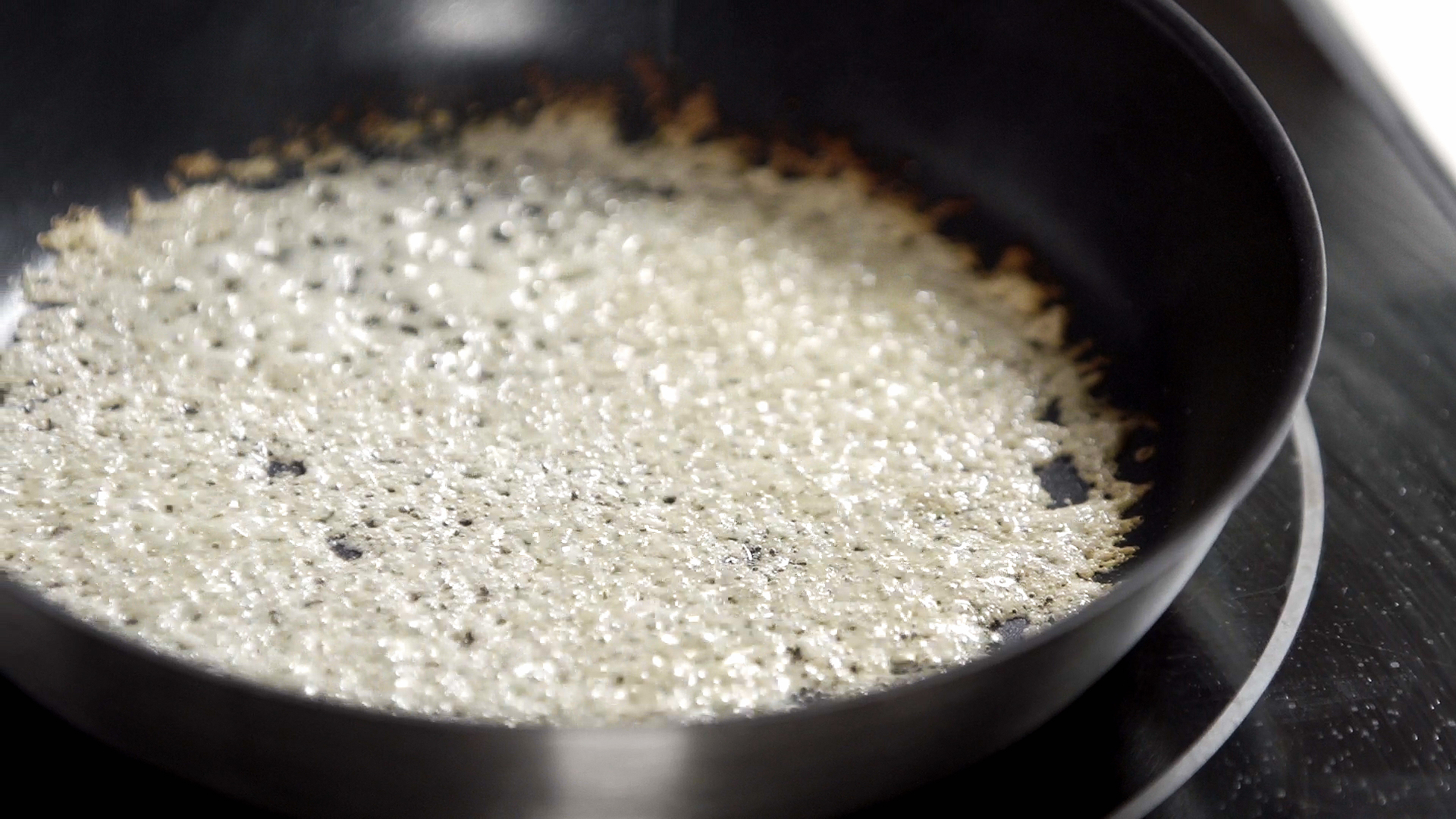 1) Heat pan on low heat.
2) Evenly spread a thin layer of grated parmesan cheese onto pan; fry until golden.
3) Once ready, remove from pan and place on a plate with a piece of tissue paper.
4) Let cheese cool for at least 5 minutes.  
Instructions: Risotto base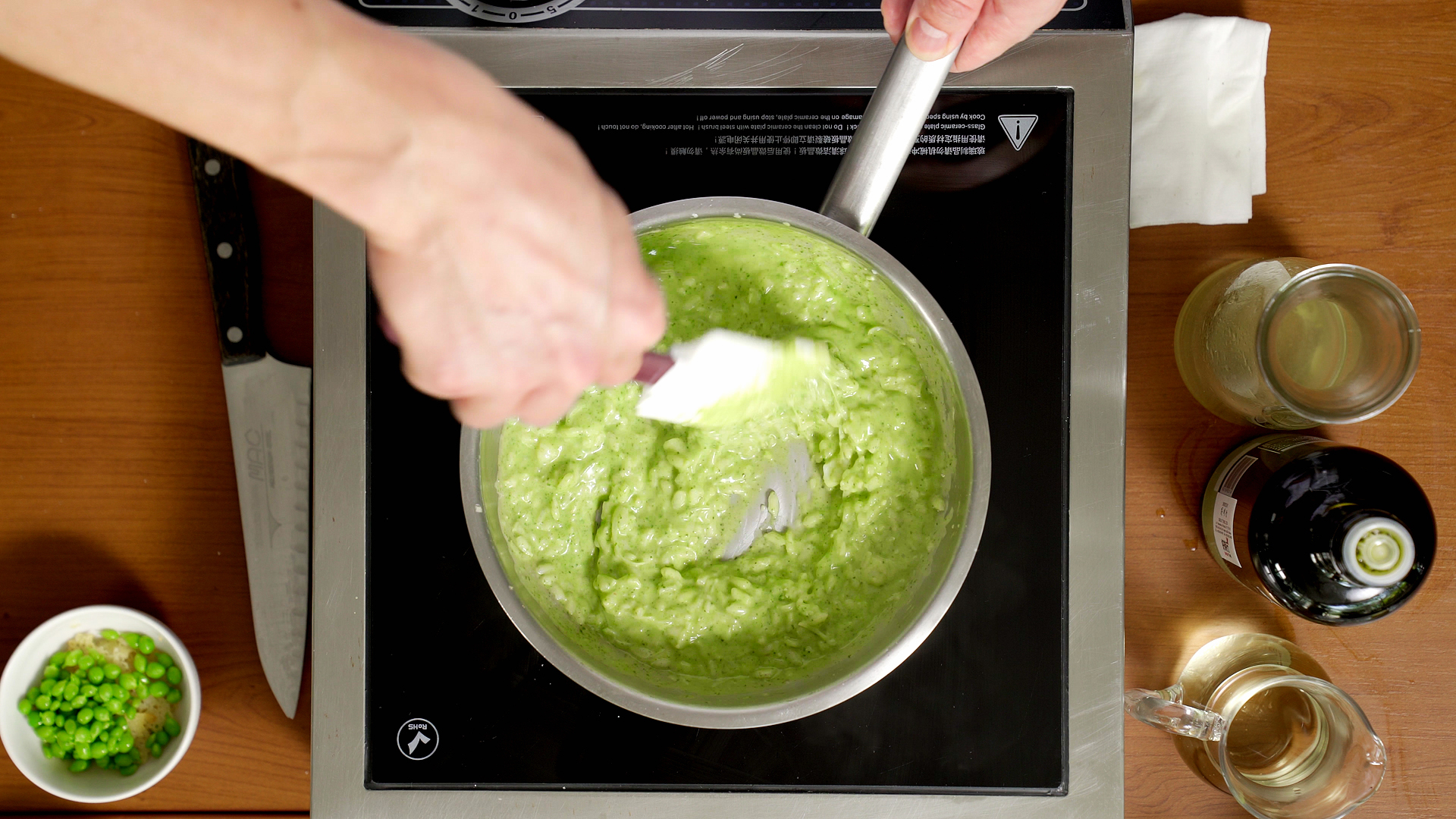 1) Dry roast the rice in a pan on low heat, only until warm, then put aside.
Note: Next steps should be done on low to medium heat:
2) Sauté garlic and onions in olive oil for 20-30 seconds, then add roasted rice.
3) Add white wine, stir, and reduce heat until the wine has almost evaporated.
4) Add stock while stirring thoroughly, then continue to cook for 10-14 minutes. Note: Cooking time depends on how much bite you like in your risotto, so only one way to know… taste several times!
Important: Next step must be done quickly while constantly stirring. Have a spatula and all your ingredients ready. You've only got 2 minutes…
5) Add in sour cream, grated parmesan cheese and codfish, and stir gently but quickly.
6) Add 100-150 grams of the green pea puree to the risotto and keep stirring.
7) Give it a quick taste – you might need a bit more cheese or seasoning. Don't be shy!
8) Add small butter cubes, cream and heat and stir for 20 seconds. By now, the risotto should be semi-runny, creamy but still have a firm consistency.
9) Plate the risotto immediately, top with parmesan crisp, fresh green peas, pickles (optional), a splash of olive oil, fresh thyme, freshly grated lemon skin and serve.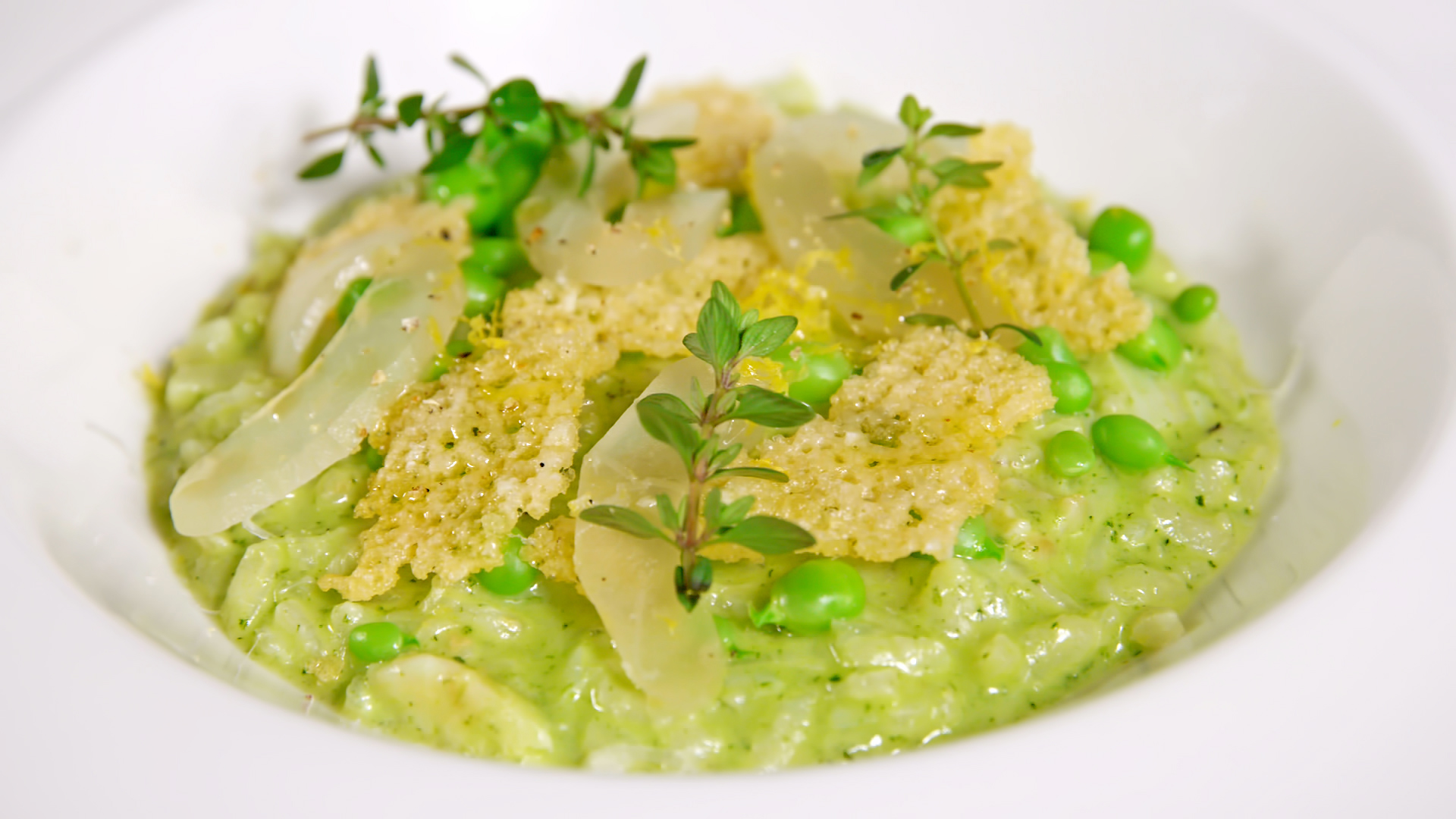 Alcohol-free alternative

Replace the white wine with a quick and easy lemon peel infusion. 
What you'll need:
– 1 lemon
– 1 grater

Directions: 
– Use grater to zest roughly half of the lemon.
– Cut lemon in half, squeeze juice from both halves over the grated lemon zest.
– Mix together.
– Use 2 tablespoons of this mixture to replace the white wine (see Risotto base, step 3).
– Squeeze more fresh lemon juice over risotto before serving, as needed.