From Denmark to Macao, chef Hans Lee Rasmussen brings his farm to table principles to the dynamic melting pot that is Macao cuisine.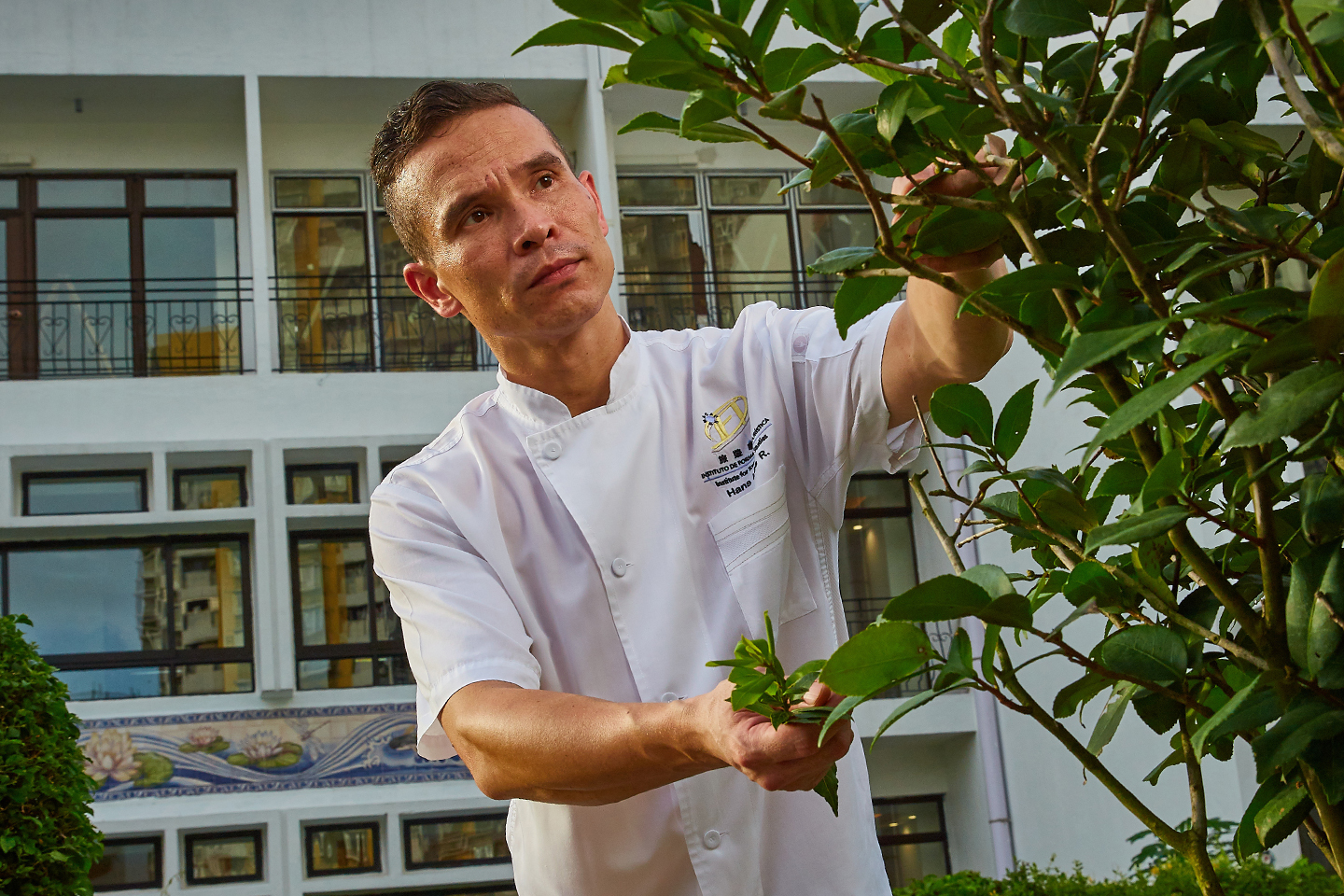 Hans Lee Rasmussen is not your typical Macao chef. As the chef de cuisine at the Macao Institute for Tourism Studies' (IFTM) Educational Restaurant since 2014, Rasmussen has brought a unique Scandinavian point of view to the menu, while innovating and reducing waste at every opportunity. 
Born in Macao in 1978 to a Danish father and Macao-born mother, Rasmussen and his family moved to Funen Island, Denmark, a small community with around 4,000 people, "where everybody knew each other," he remembers.
Growing up, Rasmussen spent most of his free time outdoors, bouncing between the ocean and the forests. "My father used to take me fishing and riding on his motorbike… I remember running and cycling around the island," he recalls. "And we used to grow our produce in the garden – carrots, strawberries, apples, pears. That made me appreciate high-quality produce and the whole cultivation process." 
But it would be years until he would realise that all paths led to cooking. When he was 12, Rasmussen landed his first job as a paper delivery boy and at 15, he left home after his parent's divorce. In his final years of secondary school, he spent five weeks working at an automobile parts factory and took a job at a deli, earning just enough money to pay for the rental deposit on an apartment in Copenhagen where he moved at the age of 18. 
"I realised early that nothing comes for free. So if you want something, you need to work for it," he says. 
Soon after, he started working at Sticks'n'Sushi, a Japanese restaurant chain while finishing high school. Rasmussen didn't exactly pass with flying colours. "But I did pass," he adds. At the Japanese restaurant, he began as a dishwasher, then gradually moved up the ranks and became a kitchen assistant, before moving on to take a job at a French restaurant.
Two years later, in 1999, Rasmussen started a four-year vocational course at Denmark's Copenhagen Hospitality College. He recalls working gruelling, 15-hour days, long mise en place (kitchen preparation) lists, making consommé sauces, studying  French techniques with a cast of "funny characters", and staying out late to party, only to wake up early and do it all over again. 
"The disciplined environment suited me. I liked the control that came with that. As you know, I moved away from home when I was 15, living alone and things felt all over the place. But when I joined this hospitality environment, it felt like things all made sense, they were consistent, and nothing bad would happen if you stuck within the parameters," Rasmussen recalls. "It wasn't so romantic in that sense. I had a flair for cooking, sure, but the passion and obsession followed later." 
After graduating in 2003, he started work in an Italian restaurant owned by a friend. Then, one day, Danish TV host and cookbook author Bo Jacobsen called to offer him a job at Restaurationen, a famous restaurant known for serving a new menu every week.
"This was the go-to place in Copenhagen at the time. So I was nervous: Should I take this job? And Bo just asked me: Do you want to go all-in and develop your career, or do you want to be somewhere that's easy, be complacent with no demands?"
Ever ambitious, Rasmussen took the job, starting at the very bottom. "They had me cracking 10 kilogrammes of hazelnuts on the very first day. It made my fingers bleed, but it was like an initial test", he says. And he passed with flying colours. 
Jacobsen took Rasmussen under his wing, becoming something of a mentor to the young chef.  
"He said it didn't matter if I could cook or not; if I was willing to learn, he could teach me," he says. "So he took everything I learned and deleted it. Then he rebuilt it and made me a better chef. But the most important thing was my attitude, my motivation."   
It was also at Restaurationen, which has since closed, that Rasmussen developed a passion for seasonal farm-to-table dining, supporting local producers and using every last ingredient to reduce waste. "From the neck to the intestines, liver, heart and so forth, we used everything," he says. "And we always worked with the seasons: asparagus in May, strawberries in August, shrimps in June, rhubarb in September…"
After six years at Restaurationen, Rasmusen took a short break before accepting a job on a mining camp in a remote area of Greenland, where he "lost a little bit of his soul" due to the isolation and utilitarian meals. He then returned to Copenhagen and was offered the position as head chef of Restaurant Paustian –  another venture by  Jacobsen –  where he worked from 2010 to 2014.  
Cooking his way to Macao
Growing disenchanted and bored in Copenhagen, Rasmussen turned his attention to Macao. Having visited aunts, uncles, cousins and grandparents in the city over the years, he was already deeply familiar with the culture and environment.
"I've lived half of my life in Denmark, so I might as well spend the other half here. It has to be yin and yang; it has to be balanced." He also looked forward to the change of pace in Macao, the weather and the people.  
"When I was a child, we used to visit once or twice a year, usually during the school holidays. I have always loved the small-town feel of Macao, how the same shops are open for decades," he says. "We used to always go to a sweet shop, where I'd order mango and fresh coconut ice cream. The little old lady always remembered me, calling me "fei zai", which means 'fat boy', and never made me pay. It's that warmth that I love – they treated us like family." 
Rasmussen, who already had permanent residency in Macao through his mother, began setting up interviews with hotels and restaurants big and small, looking for a suitable transition. 
"I did a few trial dinners at hotel restaurants, but it was different from the small restaurants I had worked in before," he says. "Then I learned about the chef de cuisine job at the IFTM and thought it would be a good way to get my bearings since it is only 40-50 seats. It's easier to execute, and I could focus on quality over quantity." 
That same year, he started his new role, in charge of everything from restructuring the staff to updating the cooking line, streamlining communications between the kitchen and service teams, establishing consistent standards, and introducing new menus. He also works with the school's Bachelor's, Master's and Diploma students, who often have an opportunity to gain practical experience in the restaurant during their internships.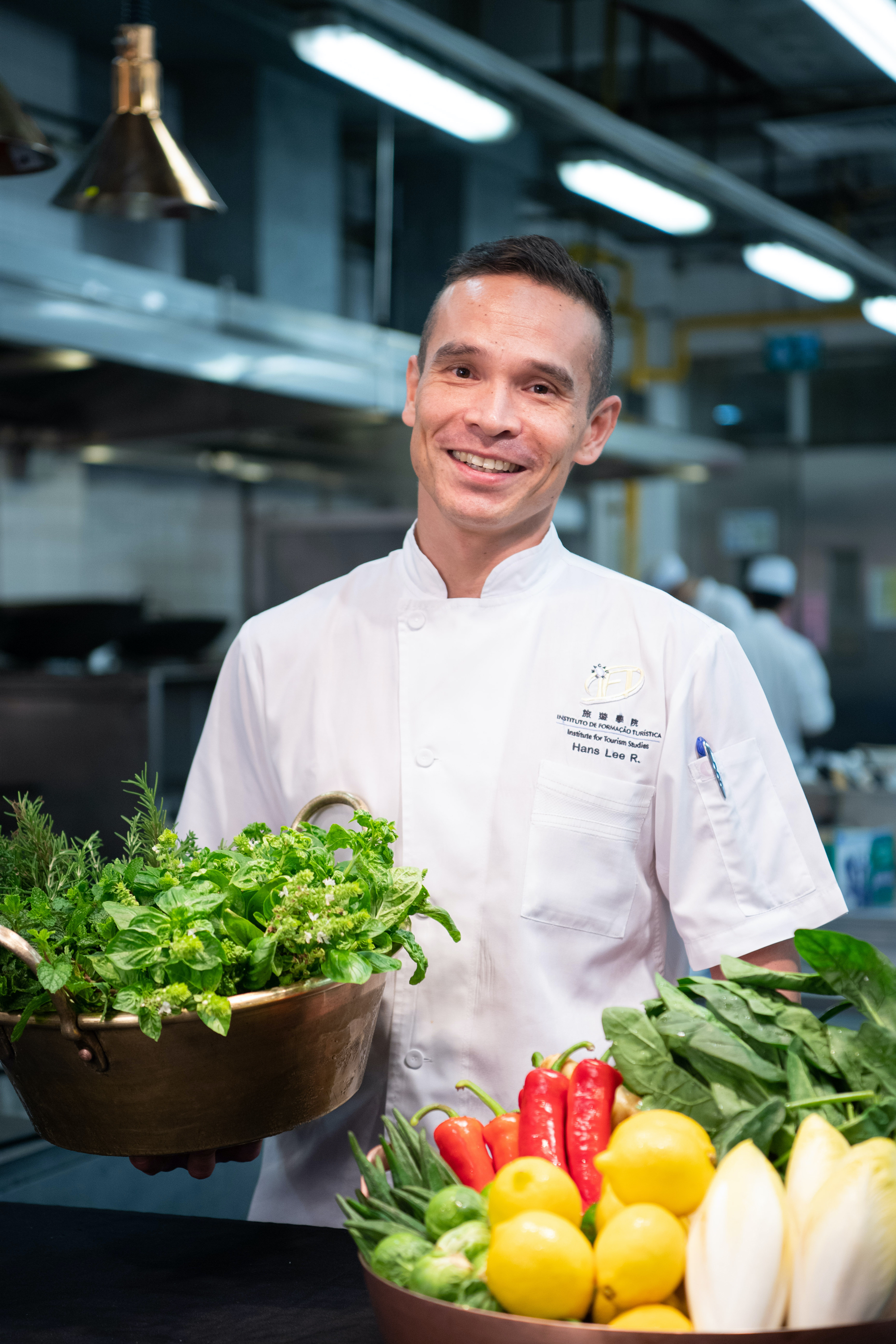 "It's all about discipline, working rationally: How do you get from Point A to Point F in the best possible way, in the shortest time, creating the least amount of waste possible without sacrificing quality?" he says of his leadership role. "And then there is menu composition, which ingredients work together? Which don't? There is a lot of implicit knowledge that you gain through experience or that other chefs passed down to you." 
Trained in French and Scandinavian cooking styles, Rasmussen started incorporating more regional ingredients, but using only local produce is "difficult, since there are no farms in Macao," as well as a few techniques he'd brought from home, like smoking and fermentation.
"Fermentation is very typical in Scandinavian cooking," he says. "In Denmark, we use leftover strawberries, rhubarb, white asparagus and ferment them before Christmas. So I did something similar here with Asian ingredients, like papaya and bitter melon, using the same techniques." 
He also added more handmade, time-intensive techniques onto the restaurant's menu, such as house-cured bacon. It's a lengthy, five-month process: Rasmussen must cure the bacon for 72 hours, dry it 72 hours, smoke it twice for 12 hours each time, then hang it for three to four months. 
"Sometimes, people don't realise how long it takes to make a nice piece of bacon. They think you bought it at the supermarket, cut the bag open with scissors and fried it up. So why do I go through the effort? It's the satisfaction of looking at your product and knowing you have strived for the highest possible quality," he says.
"Trust me, it is easier to buy outside. But it makes me really happy to create something excellent. This discipline is what drives me, what keeps me going."
Rasmussen also features several classic Macanese dishes on the menu, but he doesn't touch these too much. "As a government institution, we have to be loyal to Macanese heritage," he explains. "We can play and tweak them every once in a while, within limits. Usually, I will adjust the ingredients or the plating, but keep the recipe traditional." 
The IFTM Educational Restaurant has gone from strength to strength under Rasmussen's watch, maintaining a Bib Gourmand status from the Michelin Guide Macau every year since 2013. But crafting noteworthy cuisine is only half the picture. Rasmussen has also been integral in reducing the restaurant's food waste and increasing awareness in the broader culinary community –  principles he's developed throughout his career. 
"When we standardised and streamlined the kitchen's processes, this immediately cut down on waste – so that was an important first step. Then we installed a food decomposer, which turns food waste into soil, but I think we need to reduce more waste in the first place," he says. 
"Now we are looking at: how do we install a water filtration system? How do we use AI food waste management systems to analyse our waste? How can we adjust portion sizes? We are always exploring new ways, but it takes time." 
Being a good leader for the next generation of chefs is equally vital to Rasmussen. That's why Rasmussen, now 42, is pursuing an MBA to enhance his "basic knowledge of management, business and leadership" –  skills he hopes will elevate management abilities. To Rasmussen, it's essential to continue learning and improving throughout his life and career. 
"When I first started, we didn't learn about leadership or psychology or how to manage people. Chefs yell and shout until they get their way, but that's not how to get what you need or make long-term improvements," he explains.  
"It is about delegating and creating structures. You need to be a leader, but you need to delegate, so the chefs have ownership. When I make a new menu now, I gather everyone and try to have a dialogue and include the team."
One of the most important things he has done at the restaurant, he says, is to put younger chefs in charge. "Even if you have only been at IFTM for five years, you can be a leader if you are hungry and you have a vision and aspirations, and you want to make changes," he says. 
"We always have to be more innovative, more creative – it is a challenging environment." 
He continues to innovate year after year, with plans to introduce a new website and digital menu in early 2021. Essentially, when diners sit down, they can use a QR code to review the menu on their phone, then place an order. A server will then come by to confirm the order and send it to the kitchen. 
"We are hoping this will reduce waiting time for guests, while still maintaining that personal service level," he adds. "We need to adapt. We need to follow the trends and think about the future." 
And when he's not in the kitchen? Rasmussen enjoys the simple things in life. "When I am off, I like to go running outside, laugh, be silly, drink my beer or my wine," he says. "I am not a big spender, so I don't have a car or a fancy apartment or a gold watch. I am just a regular gentleman."