Macao's integrated resorts reduce plastic waste with innovative Swedish water-filtration system Nordaq
Macao's integrated resorts reduce plastic waste with innovative Swedish water-filtration system Nordaq

Link copied
Jack Ung, CEO of southern China's exclusive distributor of Swedish water purification system reveals why he is bullish about plastic waste reduction in Macao.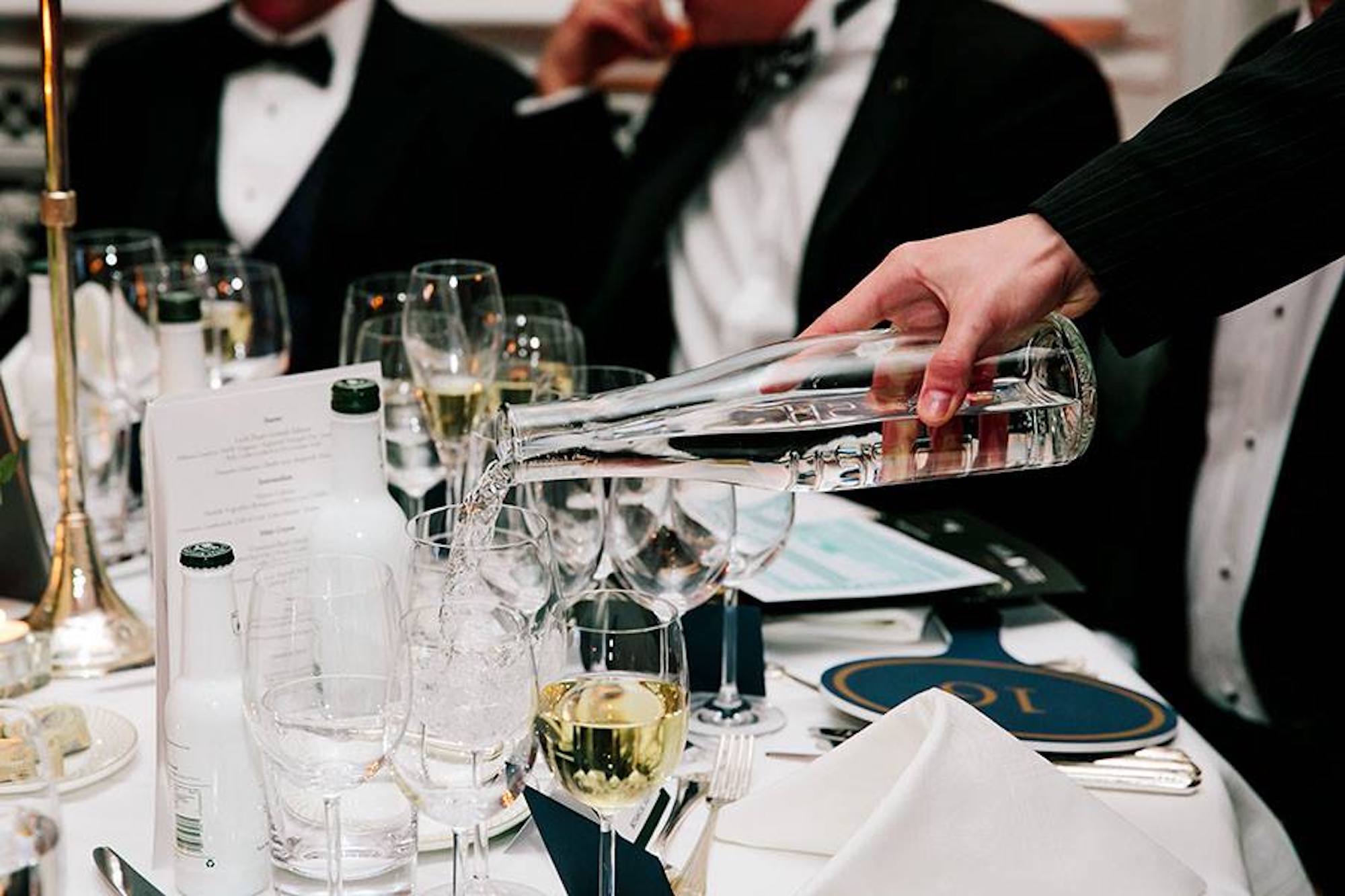 Macao entrepreneur Jack Ung has long supplied coffee beans, honey and more to local hotels and restaurants via his food and beverage company Tan Heong San (THS) Enterprise. Collaborating with Macao's integrated resorts over the years gave him a closer look at a problem within the industry: an immense volume of plastic waste.
While there is no official data, Ung, who has been the CEO of THS Enterprise since 1988, learned that "the casino resorts in Macao together consume 120 million plastic water bottles per year" by speaking with industry insiders.
When Nordaq, a Swedish company known for its eponymous water filtration system, approached him in 2021, Ung saw a chance to help turn the tide. 
Operating in 52 countries, Nordaq enables users to filter, bottle and cap water on-site with refillable glass or reusable plastic bottles and, as a result, greatly reduce their single-use plastic waste. Since its launch in 2005, the company estimates that the system has eliminated more than 5.7 billion single-use plastic bottles around the world.
In 2021, Ung established Java Company Limited, which became the sole distributor of Nordaq in Macao and Southern China. "Through our collaboration, we can offer a perfect solution for tackling the city's plastic waste problem."
A mounting plastic problem
According to a Reuters report, people purchased around 481.6 billion bottles made of polyethylene terephthalate (PET) – a type of single-use plastic commonly used for soft drinks and mineral water — worldwide in 2018 alone. For every six plastic water bottles used, only one makes it to the recycling bin.  
Specific data on how many plastic bottles Macao residents consume a year does not exist; however, the "Report on the State of the Environment of Macao", released by the Macao Environmental Bureau in June, paints a worrying picture. According to the report, local residents and businesses created 453,152 tonnes of solid waste – 18.9 per cent of which was plastic waste – in 2021. Making matters worse, the city recycles less than 1 per cent of the plastic waste it generates. The rest eventually ends up in landfills, incinerators or waterways.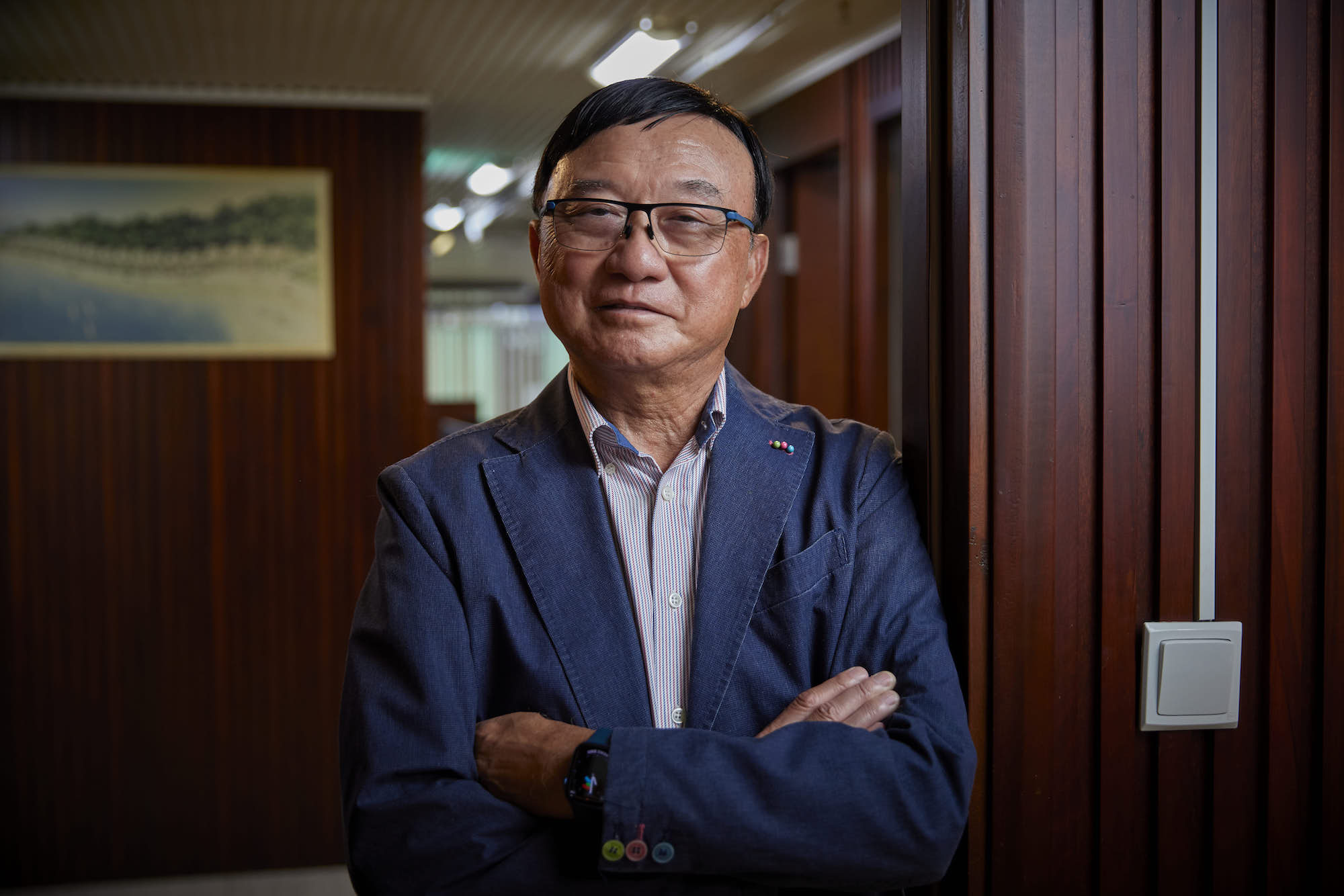 To tackle the problem, Macao has prohibited the import of styrofoam food containers in 2021. This year, city leaders also banned non-biodegradable disposable plastic straws and stirring rods. However, the government has yet to announce plans to ban other single-use plastic items, like water bottles, lunch boxes and tableware. 
Even without further plastic bans, Ung believes Nordaq can help at the commercial level thanks to its semi-automated and automated systems. The patented filtering mechanism purifies tap water by removing unwanted flavours, smells and impurities while retaining the water's natural salts and minerals.  "It tastes sweet and refreshing – really different from the normal distilled or mineral water you buy [at stores]," Ung says. 
Nordaq users can enjoy filtered still or sparkling water at a range of temperatures – chilled, ambient or hot – as well as fill, cap, seal and date bottles on-site using the bottle-filling and labelling system. Such capabilities are ideal for large-scale commercial environments such as restaurants, hotels or even on cruise ships. 
Currently, Nordaq offers four types of water systems. The largest, an automated filtration and filling system, can fill 2,000 bottles per hour and requires about 100 square metres of space. Then there's a medium-sized system, which can fill 500 bottles per hour; a semi-automated system, which fills five or six bottles of still water at a time; and a small, manual system that can be installed in a boutique restaurant, office, home, spa or yacht. 
Nordaq's Bistro glass bottles, which work across all of the systems, come in three different sizes: 33cl, 50cl, and 75cl. After the initial investment of around MOP 20-30 per bottle, Ung says it  costs roughly 50 cents to produce a bottle of water. "We have run tests on these bottles and have found that they can be reused several hundred times," Ung adds. "This can surely save the users a lot of money for buying mineral or distilled water, especially for the five-star hotels which often opt for high-end brands."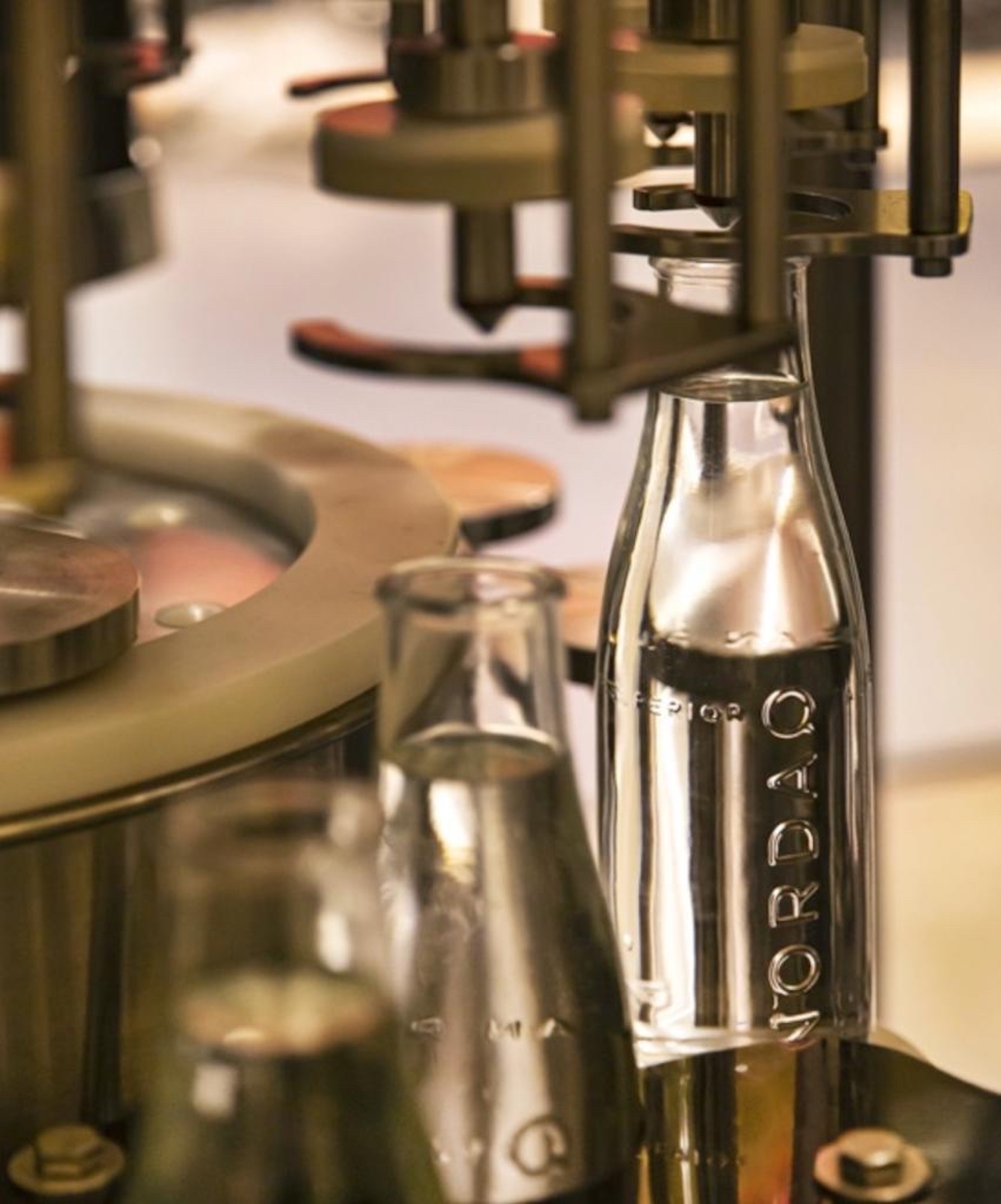 Several integrated resorts across the city – City of Dreams, Studio City, Wynn Palace, Wynn Macau, Mandarin Oriental and more – have adopted Nordaq so far.  
According to Ruby O, the director of Environmental, Social and Governance at Wynn Palace, the automated Nordaq water system installed at Wynn Palace supplies bottled water to dining outlets at Wynn Macau and Wynn Palace. The company expects the system to eliminate 8 million plastic bottles every year and is planning to install a second Nordaq at Wynn Macau to cover the rest of the hotel's operations. 
"The system [at Wynn Macau and Wynn Palace] successfully meets the significant demand for bottled water in large-scale integrated resorts and represents a major milestone for the industry in innovative environmental protection. The water-refilling system filters local drinking water to produce high-quality filtered and sparkling water," says O. 
Melco Resorts & Entertainment installed the Nordaq 2000 Refilling System at Morpheus in 2020. The company plans to gradually implement the system across the rest of its Macao properties encompassing City of Dreams, Studio City and Altira Macau. 
"Nordaq has enabled us to replace single-use plastic bottles with a refillable glass bottle, which will eliminate over 14 million plastic bottles annually during regular operations [across all of Melco's properties in Macao]," says Denise Chen, Senior Sustainability Advisor at Melco Resorts & Entertainment. 
Filtering for the future 
According to Ung, many other properties in Macao may embrace the technology soon but are "still studying the feasibility".
Ung also hopes to introduce Nordaq to smaller restaurants and boutique hotels across Macao and Southern China in the future. "For now, we deal with big clients like gaming operators. When the non-gaming hotels and businesses see that the system has worked well for these big companies, they will be motivated to install it."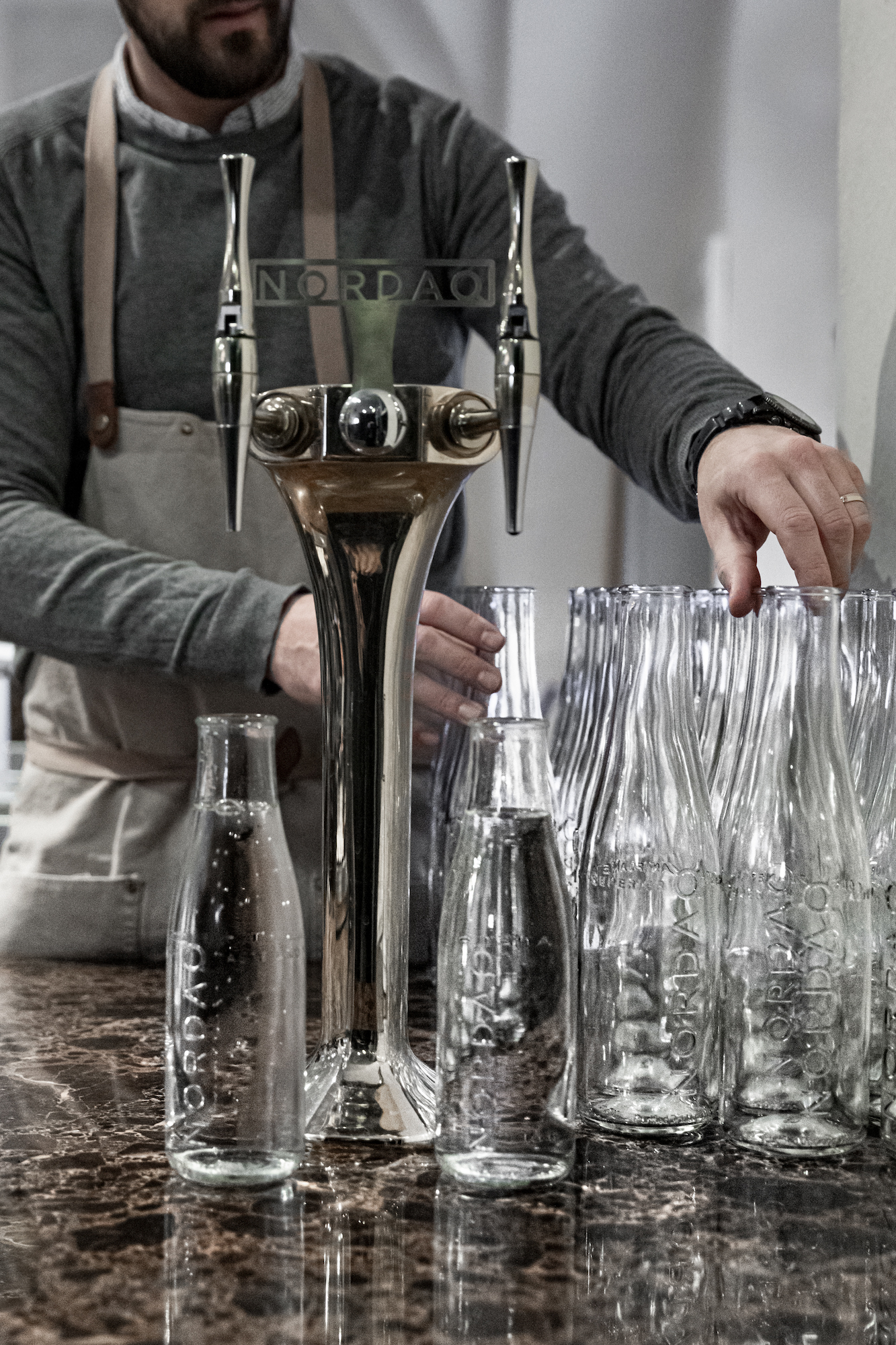 As the exclusive distributor of Nordaq in Southern China, Java Company naturally has eyes on the Greater Bay Area. "My target is the international hotel groups that have entered the area. We are currently approaching Mandarin Oriental Hotel Group to discuss collaboration," he says. Ung's vision to reduce plastic bottles aligns with the central government's environmental goals to tackle plastic pollution. 
In January 2020, the mainland Chinese government announced it would ban or restrict the production, sale and use of disposable plastic products in three stages over the next five years. A ban on disposable foam plastic tableware, straws and plastic cotton buds came into effect at the end of 2020. And now, mainland China aims to phase out non-biodegradable plastic bags in all cities and towns by the end of 2022. 
Looking ahead, the government plans to ban non-biodegradable plastic packaging and dispose of plastic products by 2025. According to statistics, the retail and catering sectors in areas covered by China's 2020 ban generated about 300,000 tonnes of plastic products annually before the ban – signalling potential for significant plastic reduction.
"On a personal level, everybody wants to live in a good environment without pollution. And for the Chinese and Macao governments, environmental protection is becoming more and more important. I think by promoting the Nordaq system, we can offer a win-win solution," says Ung. 
---
Plastic Recycling 101
To make sure your plastic waste gets recycled and not tossed, it's important to sort it properly. The plastic codes (No. 1-7), which are usually printed on the containers, can help you identify plastic materials and sort them accordingly.
Here are some of the most common types of recyclable plastics you will find in your household waste:
PET (plastic #1) – Polyethylene terephthalate is commonly used to make single-use water and soft-drinks bottles, skincare product containers, cups and food trays. 
HDPE (plastic #2) – High-density polyethylene, most often used in shower gel and shampoo bottles, laundry detergent, and bleaching agents. 
PVC (plastic #3) – Short for polyvinyl chloride, PVC is used for things like bubble wrap, teething rings, cooking oil bottles, rain boots, shower curtains and patio furniture since it is strong and elastic. Due to softening chemicals, PVC contains an abundance of toxins (including suspected carcinogens) that leach easily.  
LDPE (plastic #4) – Low-density polyethylene, used for plastic lids, package bags, zipper bags, and cling wrap. 
PP (plastic #5) – Polypropylene, commonly used to make take-out boxes, soy milk bottles, fruit trays, plastic cups, luggage, toys, car parts and contact lens containers.
PS (plastic #6) – Polystyrene, which is prevalent in toys, refrigerator trays, cosmetic bags, yoghurt cups, lids and Yakult bottles.
Some types of plastic cannot be recycled as easily as others. For instance: 
Other (plastic #7) – This catch-all category encompasses polycarbonate (PC), new forms of compostable bioplastics and most other types of plastic, including BPA, acrylic, fibreglass, nylon and more. Since it covers such a wide range, there is no standardised recycling protocol for No. 7 plastics.
After sorting your recyclables, bring them to the following recycling stations:
This monthly recycling station takes place at five different locations every second weekend of the month. It collects plastic codes 1, 2, 4, 5, and 6, as well as plastic materials without a code (such as fruit nets, cling wrap and peanut foam), and others for paper and metal.  
2) Government Recycling Stations
Currently, the Environmental Bureau runs seven permanent recycling stations (open Tuesday-Sunday) and 16 recyclable collection trucks (open one day a month at different times and different locations). These stations typically collect plastic codes 1, 2, 4, 5 and 6. As for plastic codes 3, the stations only collect items in the form of a container. Check out their schedule before paying a visit.