5,100 trade visitors expected on the 20th Macau International Trade and Investment Fair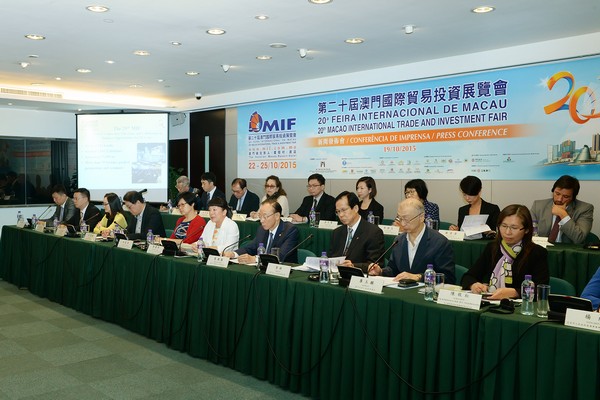 Over 5,100 trade visitors from Macau and more than 50 regions and countries are expected to attend the four-day 20th Macau International Trade and Investment Fair (MIF), which will kick off on Thursday, Irene Va Kuan Lau, co-ordinator of the annual event's organising committee, said on Tuesday.
Lau, an executive director of the Macau Trade Investment and Promotion Institute (IPIM), made the announcement during a press conference at the Macau Business Support Centre (MBSC) in Nape to reveal details of the event, which will be held at the Venetian in Cotai.
Addressing the press conference, Lau said that the number of participating enterprises and organisations had risen by 29 percent from last year to over 1,000 entities. "The exhibition, with an overall area of more than 37,000 square metres, accommodating over 1,900 booths, has more diverse contents than last year," Lau said, adding that the MIF budget this year would be around 36 million patacas, the same as last year.
According to Lau, the central government's Belt and Road Initiative will be featured in many MIF forums and seminars this time, including the "International Trade and Investment Forum 2015". Lau said a number of ministerial-level officials and business leaders had been invited to "speak about and analyse the opportunities and challenges brought about by the Belt and Road Initiative".
Lau also said a "Portuguese-speaking Countries Products and Services Exhibition" with 249 booths will be held for the first time as an "exhibition-within-an-exhibition" during the fair.
Also speaking at the press conference, Alan Ho Hoi Meng, deputy executive director of the 20th MIF Co-ordinators Organising Committee, said that around 76 per cent of materials used for the fair's booths are recyclable, adding the organisers have reduced the use of non-recyclable materials such as wood in the construction of the booths.
(macaunews/macaupost)