Made in Macao: Where to shop for locally produced facemasks during Covid-19
Made in Macao: Where to shop for locally produced facemasks during Covid-19

Link copied
Looking for locally made face coverings? These 'Made in Macao' brands are leading the city's fight against Covid-19 with functional and fashionable facemasks.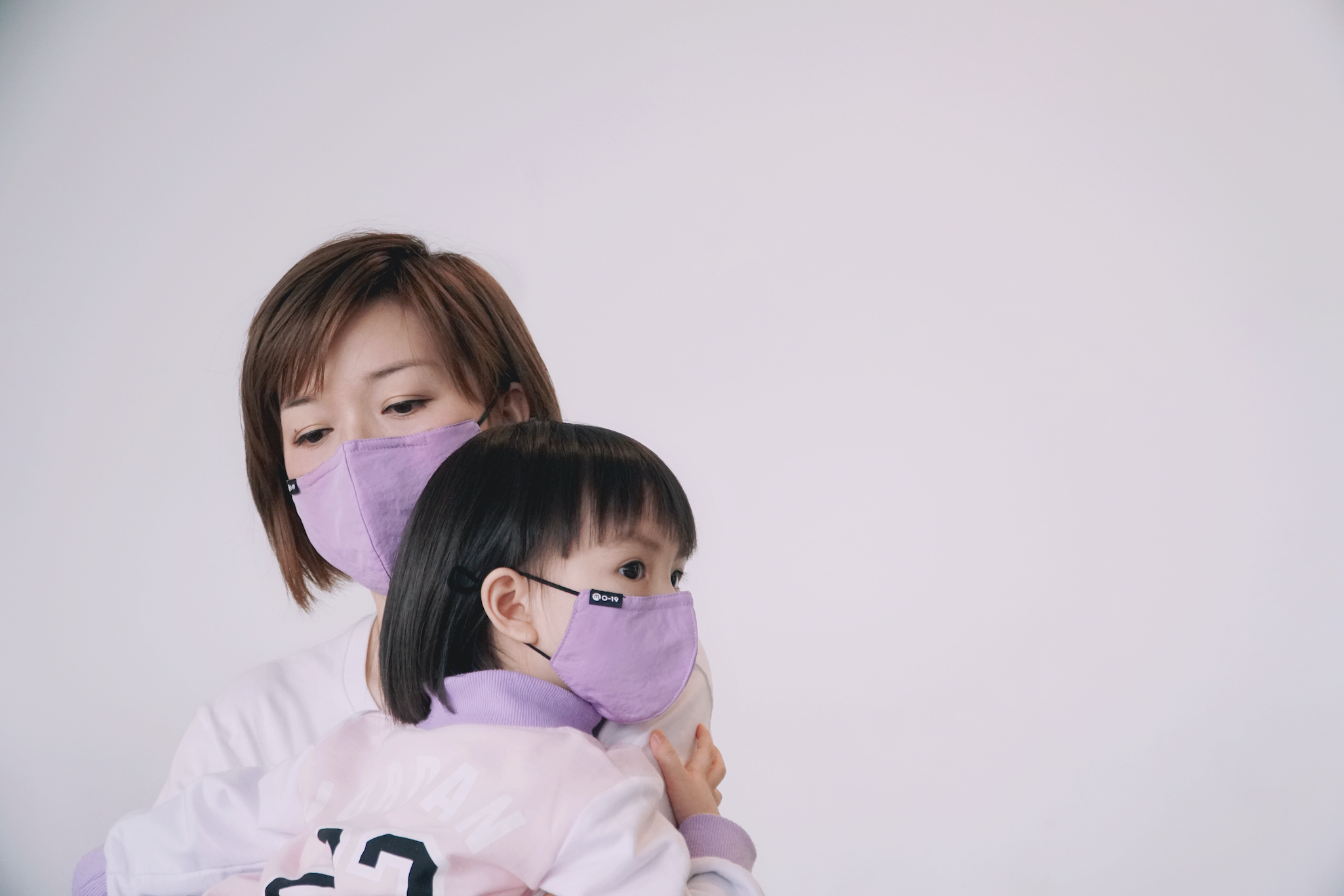 As Covid-19 spread around the world, the sudden and urgent demand for face coverings threw supply chains into upheaval. Global shortages for personal protective equipment (PPE), including masks, threatened to overwhelm healthcare services and derail public safety efforts to contain the pandemic. 
In Macao, the Novel Coronavirus Response and Coordination Centre officially confirmed the city's first case of Covid-19 on 22 January 2020. And by that afternoon, the government had pre-emptively ordered 20 million masks, available for purchase to the general public by the following evening.
Local entrepreneurs subsequently joined the effort to meet local demand with high-quality masks in a variety of styles. From rainbow-hued disposable options to reusable cloth-based designs, we have shortlisted a few Macao-made masks that balance form and function.
Mo-19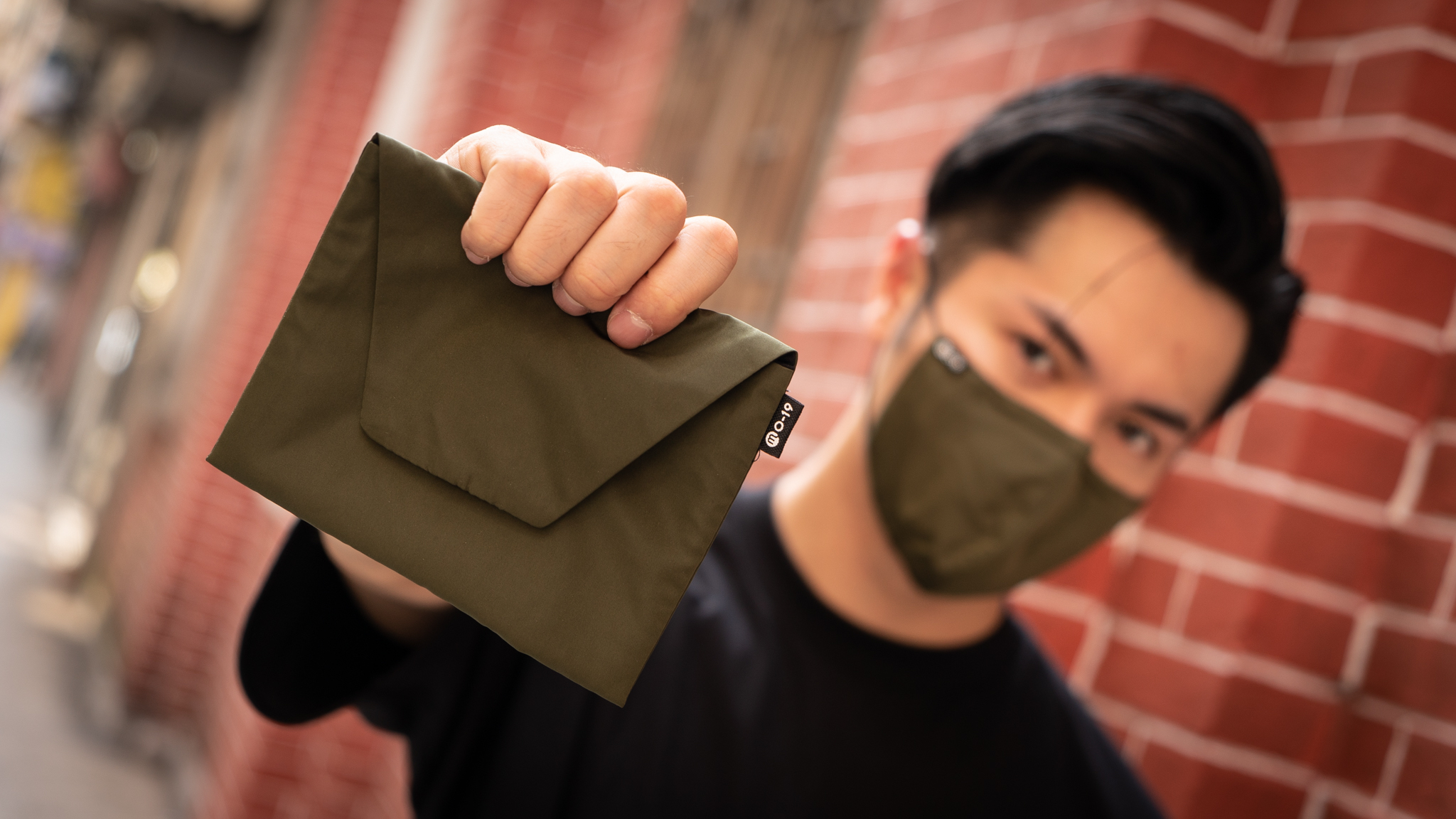 Launched in December 2019, Mo-19's previous work quickly transitioned into local facemask production. Prior to the pandemic, co-founder John Cheong, a Macao local, had been exploring antibacterial technology, using silver microparticles (SMP) as a means to sterilise surfaces.  
Partnering with HME (Honesty Medical Equipment), Cheong and HME General Manager Sum Chao successfully applied SMP technology to cotton yarn in December 2019 – a step that naturally paved the way toward mask manufacturing.
By June 2020, they brought reusable Macao-made facemasks to the local market and have since expanded to sell their products in Singapore as well. Mo-19 offers brightly hued "Urban Casual" collection as well as a "Pro Series" in monochromatic shades. Both offer two layers of protection: the antibacterial, cotton SMP fabric and an optional disposable filter.
Attached separately, the filter provides dust protection, as well as anti-smoke and anti-pollen functions. The mask itself can be worn for months at a time, but replace the filter every day for optimal protection, Cheong advises.
Since they are reusable, the masks can help reduce waste from PPE gear. "Environmental protection is invaluable," says Cheong. "We have to wear masks for protection, but we can choose a mask that is less harmful to the environment. Our Mo-19 provides people with this choice." 
Production capacity: Roughly 1,600 per week
Where to find them: Mo-19 facemasks can be bought via various online stores. 
Macau Artisan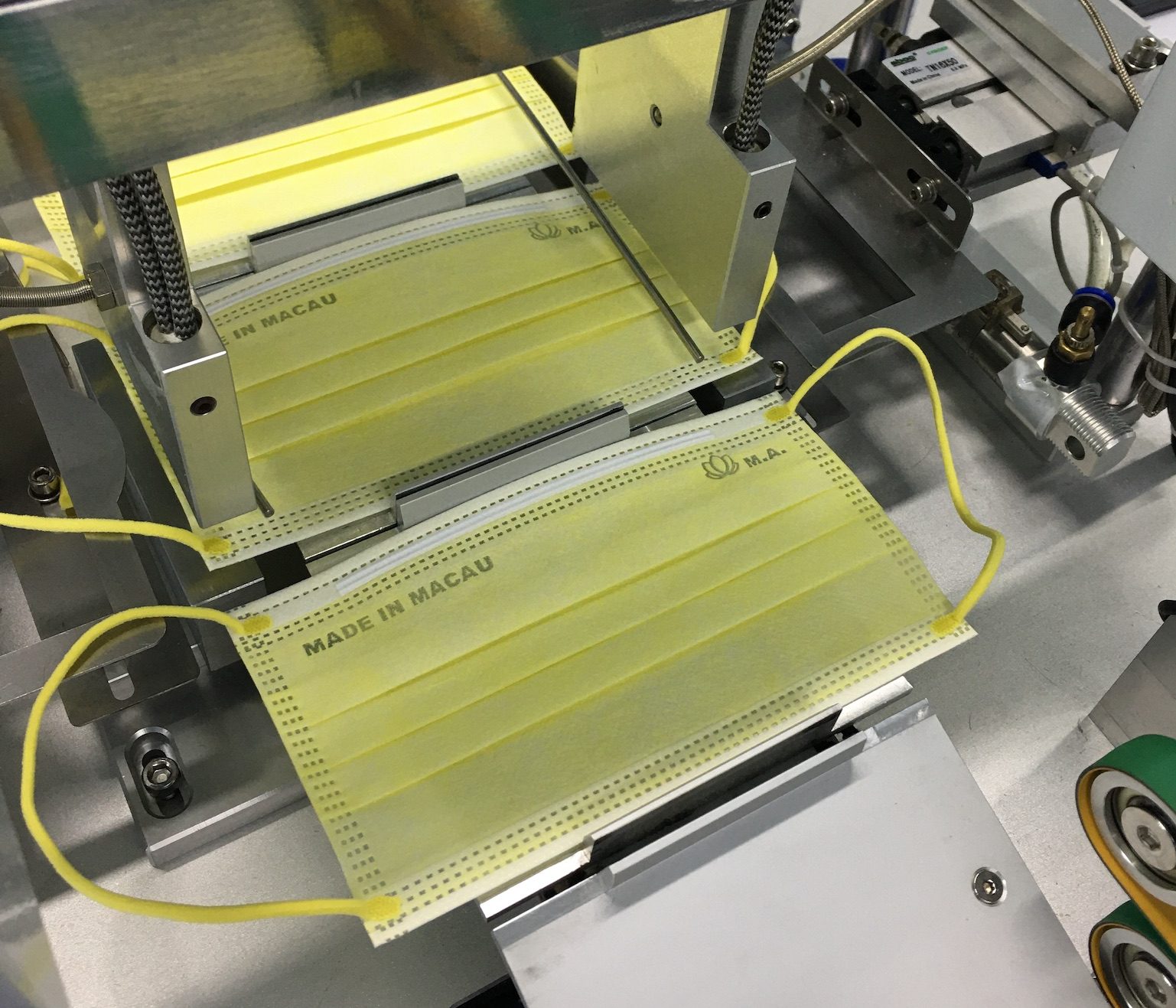 Despite having no prior PPE experience, Gary Chong, founder of Macau Artisan, started planning his own line of locally made masks in February 2020. It took a few months to ramp up, with production starting in June. 
"The epidemic came suddenly, and Macao lacked the mask supply and needed to buy from other places, such as mainland China," says Chong. Initially, they had a team of 30 people working from 9 am to 3 am every day. Later, they teamed up with Hong Kong and Taiwanese manufacturers to increase production. 
"Good quality and absolute safety have always been the most important considerations for our masks," asserts then marketing head Cindy Cheong. "Our masks are light, comfortable, breathable, waterproof and completely free of allergenic ingredients."
After obtaining quality certification from the Macao Economic Bureau, Macau Artisan got to work creating disposable ASTM Level 2 facemasks, which offer 98 per cent filtration, then later stepped it up to ASTM Level 3, the highest level of mask protection. They come in a wide range of colours and designs including flowers, graphic patterns, and Chinese New Year motifs. 
Production capacity: 100,000 masks per day
Where to find them: Macau Artisan facemasks can be bought in Chi Fu Stationery Shops, Kong Seng Ticketing and most pharmacies in Macao. 
853 FaceMask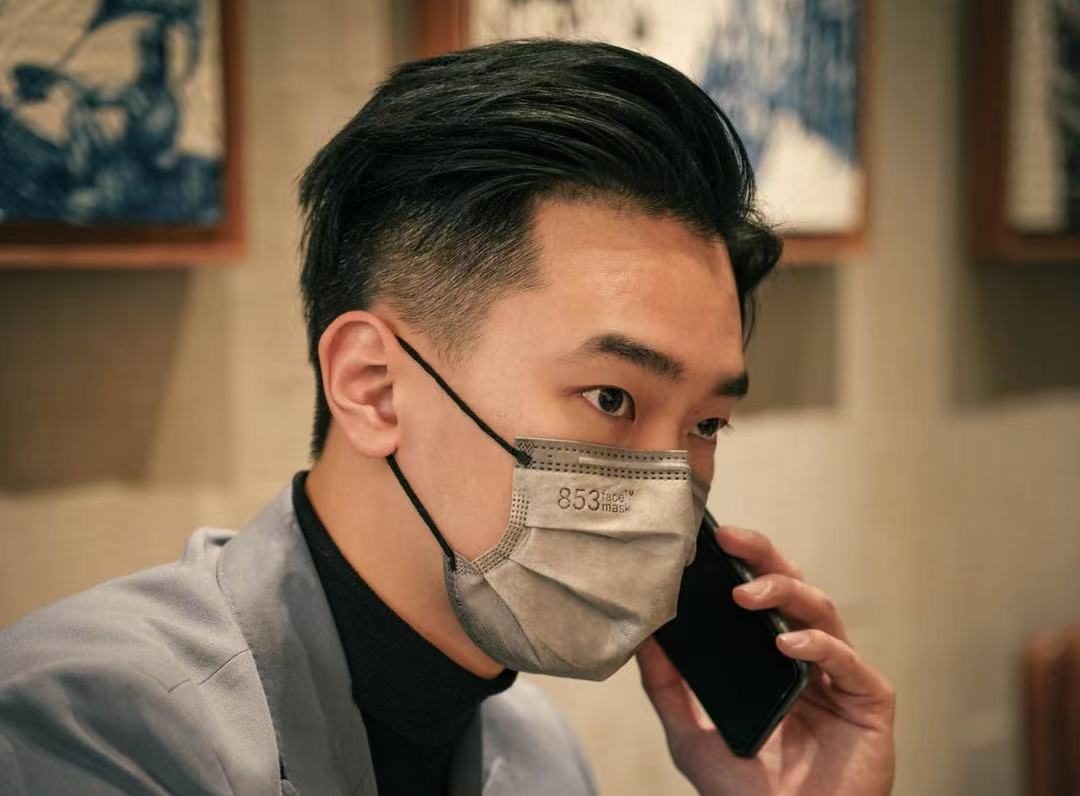 Chan Chi Meng and Chan Mei Wa, who have experience in the industry as co-founders and shareholders of Macaufacture Medical Supplies, established 853 FaceMask in March 2020. Inspired by businesses in Hong Kong, Meng and Wa took swift action and immediately set up face mask-manufacturing facilities as soon as the pandemic began to spread. 
"To the best of our ability, we are doing our social responsibility for Macao society," says Chan Chi Meng. Even the name of the company embodies this ethos – 853 being the city's calling code. 
Their disposable masks are made with a special, nonwoven fabric from Germany that looks and feels a bit like fleece, plus a filter that's manufactured with maximum breathability in mind. But function is not the only selling point: 853 collaborates with local design team LOKSOPHY Design for masks in a range of colours and prints.
Many of Macao's biggest companies – MGM, Macau Water Company and CTM Macau – source masks from 853. And with distribution expanding internationally to Portugal, Chief Marketing Officer Angel Lai highlights the significance of 853 beyond simply producing masks: "We are proud to promote 'Made in Macao' brands so that Macao citizens may take pride in the products that represent us internationally."
Production capacity: 200,000-250,000 masks per day
Where to find them: 853 FaceMasks can be bought online, via 853 FaceMasks vending machines (several locations, including China Plaza and the new Hengqin Port), or at pharmacies and OK convenience stores. 
AS-King Facemasks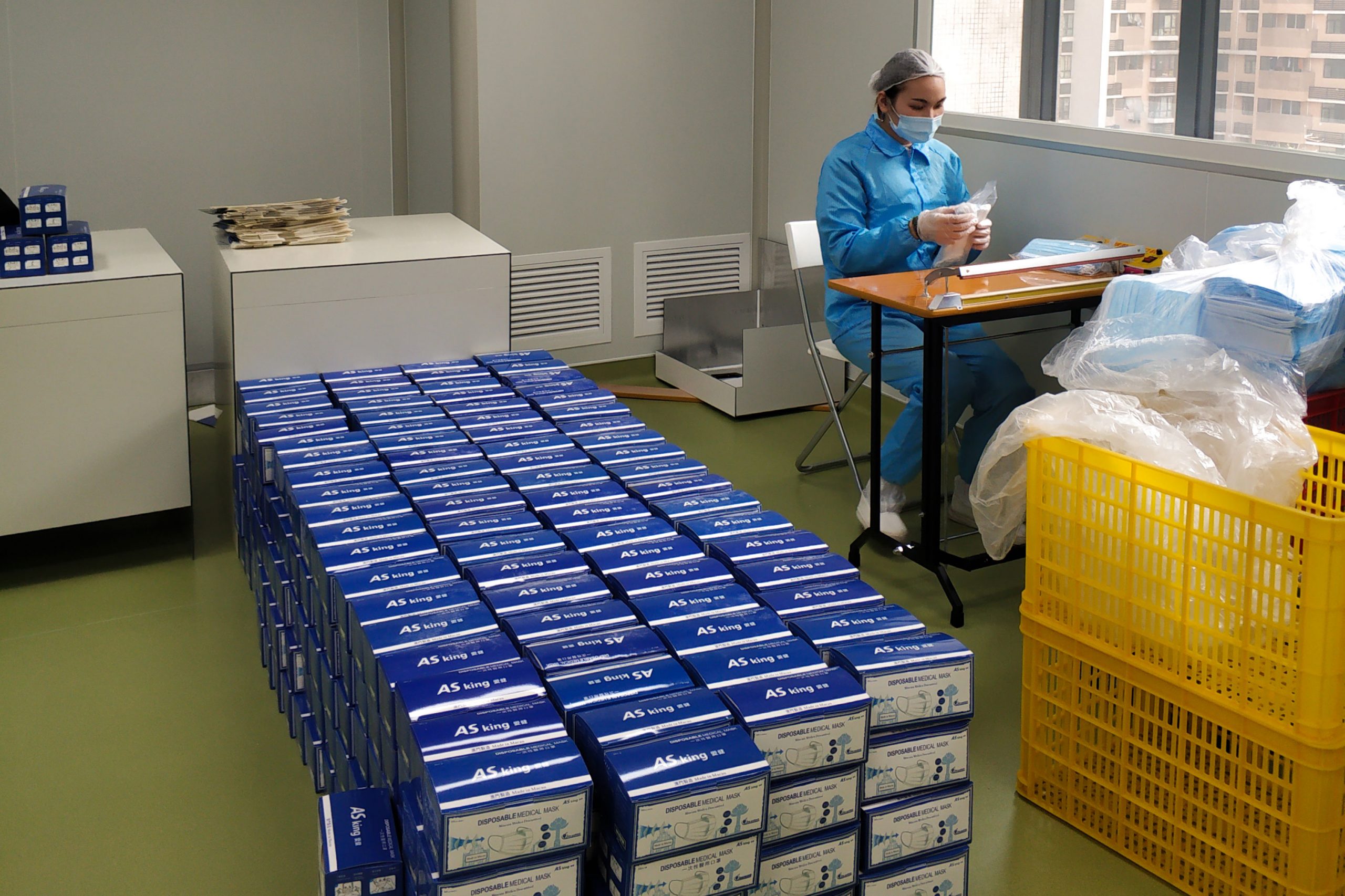 Macanese software engineer entrepreneur Jorge Neto Valente has long collaborated with leading medical technology and biotech companies in China and Portuguese-speaking countries. With Covid-19's arrival, these same companies contacted Valente expressing their eagerness to help.
Seizing the opportunity to build a new biotech programme base in Macao, Neto Valente set up AS-King Medical Products. "Naturally, facemasks became the first product to launch," Valente says, retelling the humorous story behind their name. "Everyone at the time was 'asking' for a mask, which led to 'AS-King.'"
Currently, the brand's disposable facemasks are relatively run-of-the-mill but Neto Valente has big plans to innovate. "In the future, we are looking to make nano-coated facemasks and partner with local Macao designers," he adds.
Still, the entrepreneur plans to focus on protection above all else. "Covid-19 isn't likely to go anytime soon, so we will still continue wearing facemasks a year or two from now," he says. "People are more picky, the more masks are considered part of their daily fashion choices. But a sudden [outbreak], if any, will tilt it over towards function over form."
Production capacity: 200,000 masks per week
Where to find them: Most pharmacies around the city carry AS-King Facemasks.