Macau A-Ma Temple blaze repair to take at least 1 year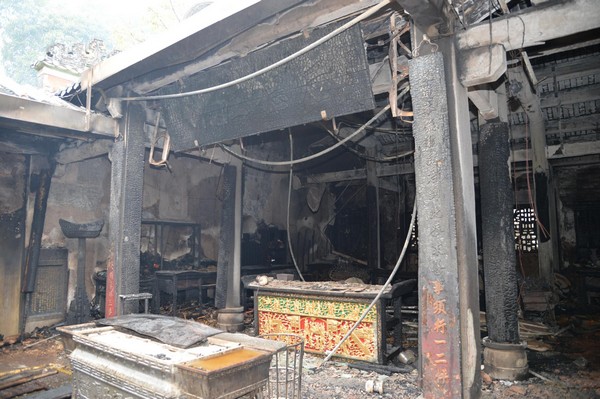 The Cultural Affairs Bureau (IC) is drafting a restoration plan for the Cheng Kok Sim Lam Pavilion at the UNESCO World Heritage-listed A-Ma Temple, where a fire broke out on Wednesday morning, the bureau's Cultural Heritage Department Chief Leong Wai Man said on Thursday, adding that it would take at least one year to repair the structure and interior of the pavilion.
The pavilion is now closed to the public.
The Fire Services Bureau (CB) said that a short circuit of the lights in the pavilion most probably caused the fire, which did not harm anyone.
Speaking to reporters after assessing the severity of the damage to the pavilion on Thursday, Leong said the building's structure "is still okay". She said some wooden plaques and furniture in the pavilion were burnt, adding that "the most important and most historic" statue of the tutelary deity Matsu inside the pavilion was not damaged in the fire.
Leong said in the fire nothing of particularly important historical value was damaged. She added that she was not able to say how much the restoration project would cost, adding that the work could be carried out by local artisans.
Meanwhile, asked by reporters on Thursday outside the pavilion on his ideas about the restoration project, Vicente O Man Seng, president of the Cheng Kok Sim Lam Charity and Piety Association, said he would "follow the government's decision".
The association looks after the temple.
Speaking to reporters outside the temple on Wednesday, Cultural Affairs Bureau President Guilherme Ung Vai Meng said the bureau would report the fire to the State Administration of Cultural Heritage in Beijing, which would notify UNESCO's World Heritage Committee. The bureau has visual records of the cultural relics inside the pavilion, Ung said.
Of the temple's four main pavilions, the Hall of Benevolence is believed to be the earliest structure, dating back to 1488, according to the IC website, while the Cheng Kok Sim Lam Pavilion was restored in 1828. The pavilion was gutted by fire on February 8, 1988, after which it was restored by the government.
The complex, also known as Ma Kok Temple, is part of the Historic Centre of Macau, which was inscribed on the UNESCO World Heritage List in 2005.
Legend has it that the name 'Macau' is derived from the name of A Ma Gao ("A Ma Bay") where the temple is located.
(macaunews/macaupost)