Giant inflatable lantern rabbit displayed in Macau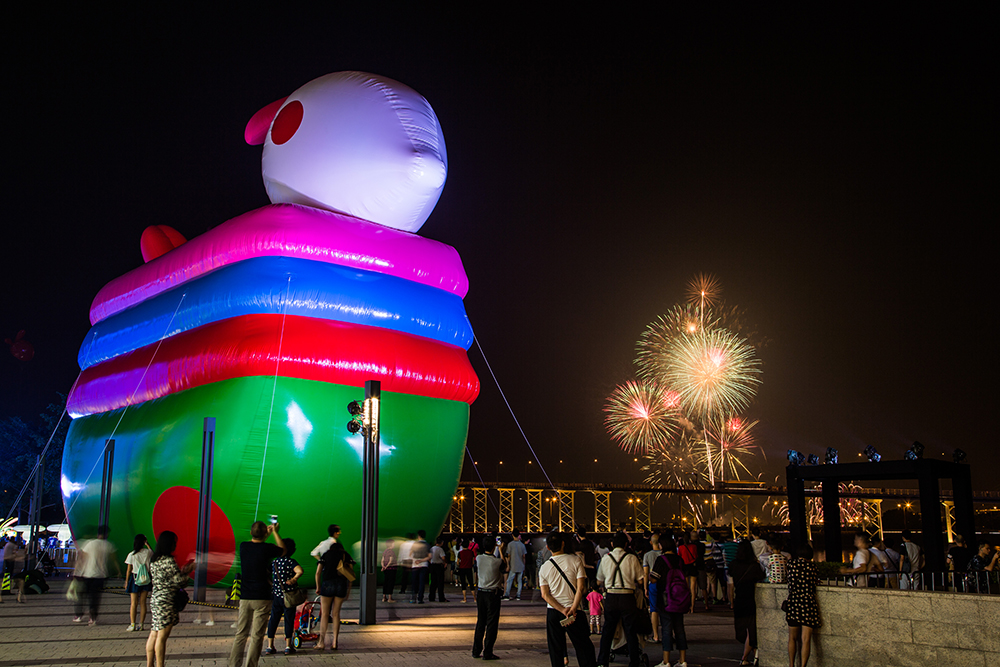 A 11-metre tall inflatable rabbit and 40 rabbit lanterns, designed by architect Carlos Marreiros and local and Beijing artists were displayed on Saturday in the waterfront of Nam Van Lake promenade of One Central Macau to coincide with the Mid-Autumn Festival and the annual "Macao International Fireworks Display Contest."
Measuring 18-metre in length and 11-metre in height, the centrepiece rabbit lantern was transformed into an art installation.
Inspired by Marreiros' notable Macau Pavilion design for the Shanghai World Expo 2010, and rooted in his fond childhood memories of his family's tradition of playing with these ancient lanterns, China's popular pastime has been reinterpreted to bring blessings of joy and reunion.
"The Macanese people identify fondly with the Macau Pavilion, that luminous "Little Rabbit Lantern" that endearingly welcomed visitors of the Shanghai World Expo 2010. The inaugural Macau Lantern Festival presented the perfect occasion to extend our vision, with our spirited sculptural lanterns contributing towards the joy of Mid-Autumn Festival celebrations. Together with my fellow artists, we are truly excited to share our works with residents and visitors alike, igniting their inner glow," said Marreiros.
Architect Marreiros has invited 20 artists from Macau and Beijing to decorate the lanterns, including Chan Hou Seng, James Chu, Kuan Kun Cheong, Lai Leng, Leong Tai Meng, Lio Man Cheong, Ng Fong Chao, Noah, Fortes Pakeong Sequeira, Tam Chek Wun, Tong Chong and Beijing-based Tang Hui.
The exhibition will be on display from the 3rd September to 10th October 2016.