Two more locked down zones takes total Red Code Zones to eight
Two more locked down zones takes total Red Code Zones to eight

Link copied
A total of six cases reported today so far while cabbie cluster increases to 23; Macao International Marathon to go ahead tomorrow.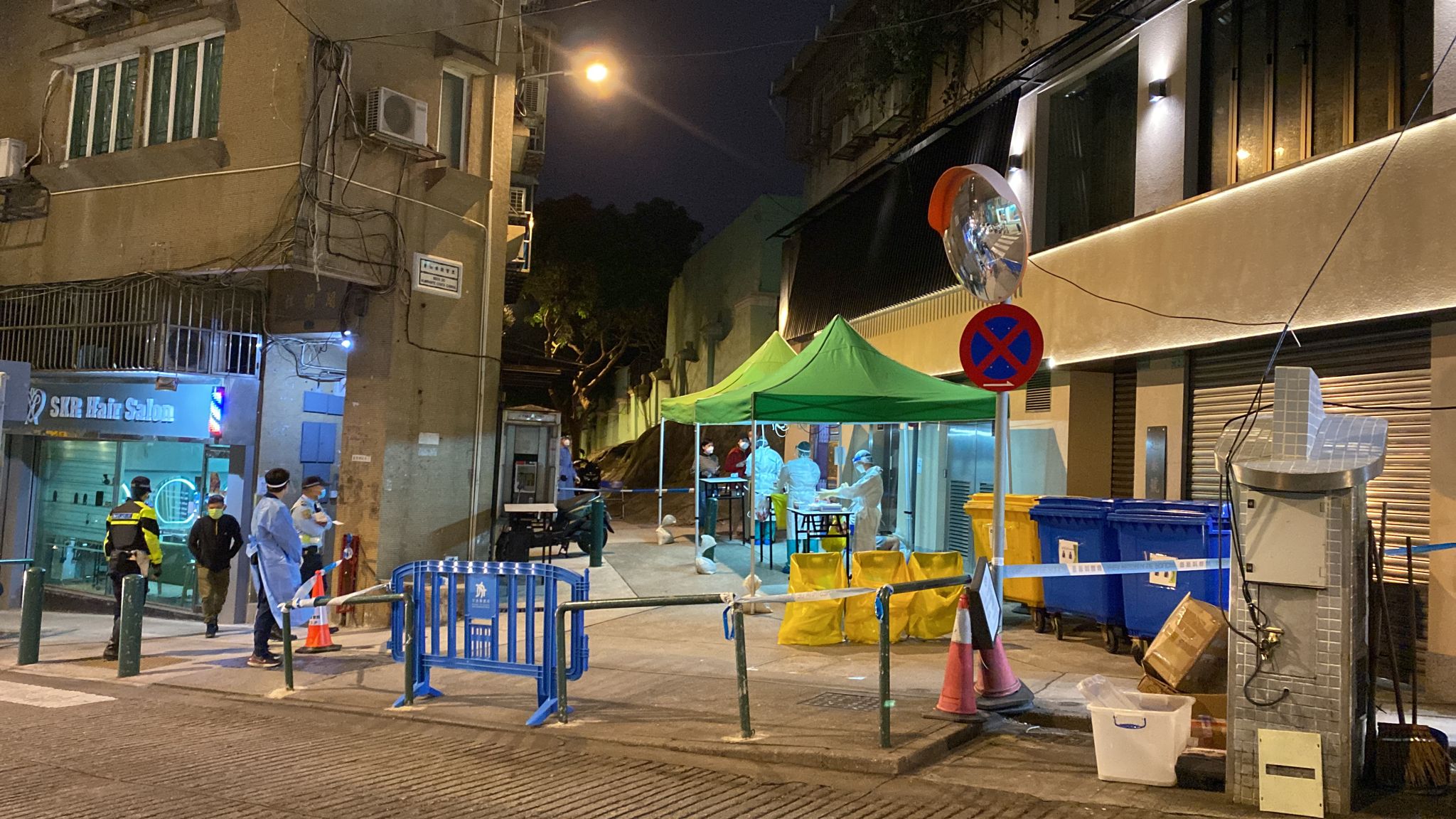 Two more residential buildings on the Macao peninsula – Edíficio Man Fok Kok near the Border Gate Checkpoint and Edíficio Kuan Wai near the Kiang Wu Hospital– have been locked down today bringing the total number of Red Code Zones to eight. The first building to be locked down was on Monday after a taxi driver tested positive for Covid-19. 
The first case is a 23-year-old local man who tested positive after taking a rapid antigen test result (RAT). He was immediately sent to Conde S. Januário Hospital to undertake a NAT and health officials have classified him as an "imported confirmed case". The man entered the city from Guangzhou on 29 November and had a cough and sore throat. Between 12 pm to 4 pm on 1 December, the man worked as a salesperson at the BE ONE (REEBOK) shoe store on Rua do Campo: the peninsula's popular 'Sneaker Street'.
The second case is a 3-year-old local boy who tested positive last night when undergoing a NAT at Kiang Wu. The boy studies at the Tong Nam Kindergarten near Kiang Wu Hospital and lives with his parents and elder brother opposite St Miguel Arcanjo Cemetery in Edíficio Wan Keng. 
Health authorities have found that the boy and a janitor – who tested positive on 30 November – shared an overlapping itinerary. At 12 pm on 1 December, the boy and his family also went to Alves Café near the hospital.
The third case is a 43-year-old local man who is another family member of the taxi driver who tested positive on 28 November and shared a meal with him the day prior to him testing positive. The fourth case, his wife, a 40-year-old local woman, is now the 23rd person to test positive in this 'cabbie cluster' and is currently asymptomatic. 
All four cases have been sent to medical isolation. This morning, two imported mainland Chinese men also tested positive for Covid-19 at The Venetian Macao.
The local health authorities appear to be taking a different approach to the pandemic as they did in the June 2022 outbreak with no daily Covid-19 press conferences being held and clamping down on Covid-19 cases by building and zone rather than ordering citywide mass testing. 
Over the past days, Guangzhou and Shanghai have signalled easing of Covid-19 restrictions with less mass testing and shorter lockdowns after protests against China's zero-Covid-19 policy and controls were seen both in China and abroad. 
Guangdong governor Wang Weizhong said lockdowns should be lifted in a timely manner, and he said he supported the home quarantine measure to minimise the impact of the outbreak on people's lives, according to the official provincial newspaper Nanfang Daily.