Second mass-testing starts this morning after Covid-19 cases climb to 71
Second mass-testing starts this morning after Covid-19 cases climb to 71

Link copied
Health director says situation 'very serious'; three clusters identified; 5,000 people locked down or affected by city's Red and Yellow Zones; non-tertiary students to end academic year early.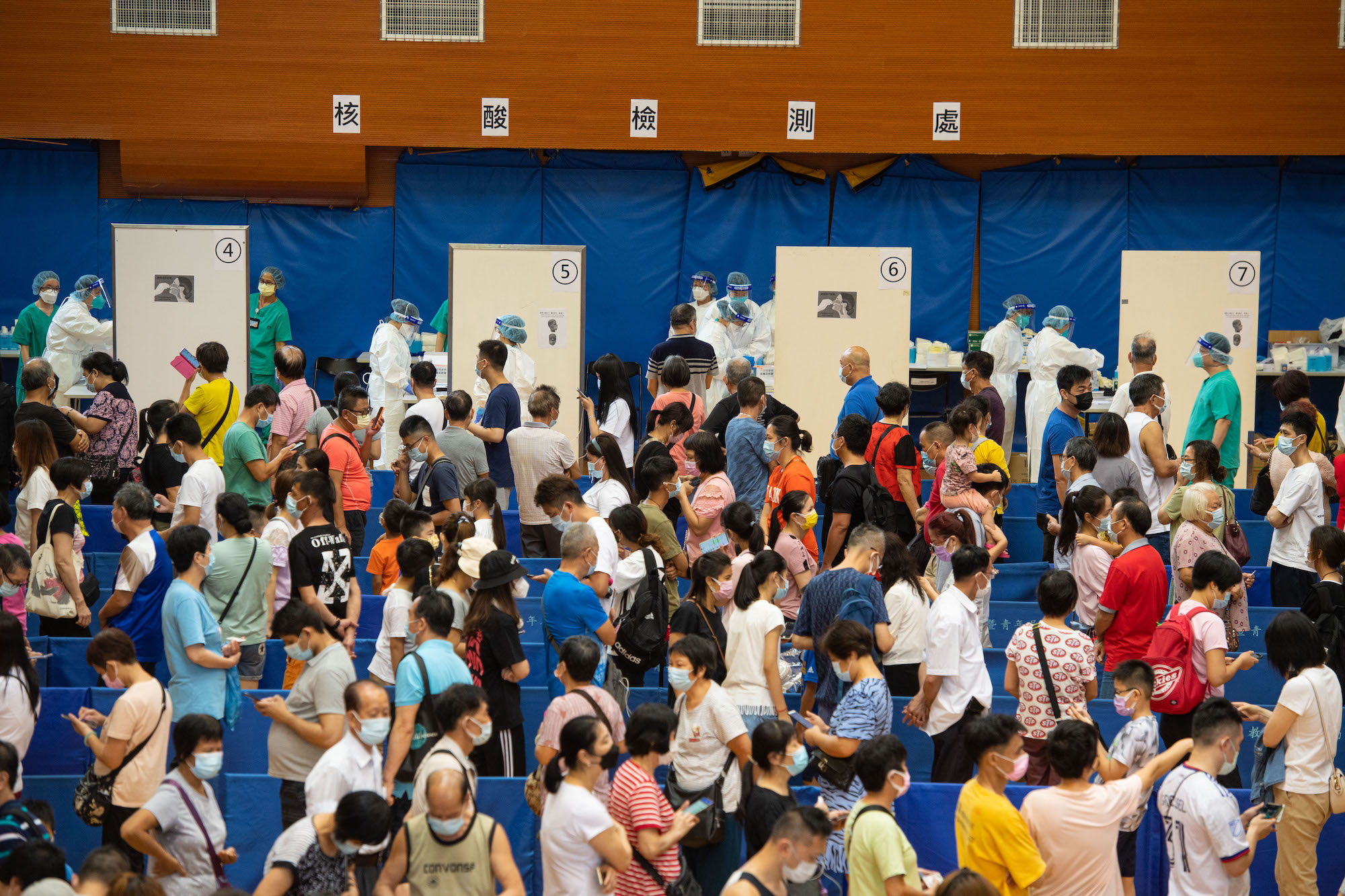 Macao will undergo its second round of mass-testing this week, starting at 9 am today, as the city's positive Covid-19 cases have soared to 71 in the latest outbreak which was first detected last weekend. Twenty-four of the cases are symptomatic, 47 asymptomatic.
Residents must complete a rapid antigen test (RAT) before undertaking a nucleic acid test (book on this link) in the second round of mass-testing.
Some of the 71 positive cases work in casinos, including one administrative staff, two dealers, a casino manager and casino cleaners. Authorities have also confirmed that four cases were found among guests at a wedding banquet which took place on 18 June at the Grand Lisboa Palace in Cotai.
The Novel Coronavirus Response and Coordination Centre is calling on all the guests to take the initiative to report their contact details. The SSM's Centre for Disease Control and Prevention will contact the relevant persons for quarantine and control measures as soon as possible.
Health workers have identified three clusters: the first consists of 36 people at the Yim Lai Building, the second contains 26 at the Tat Cheong Building – which are both Red Code zones – while there are two people in the third at a dry cleaner's located in Areia Preta.
Describing the situation as "very serious", Health Bureau (SSM) Director Alvis Lo has said he cannot speculate how many times Macao would have to mass-test as it would depend on results. 
Five thousand people are currently either locked down in the city's Red Zones or affected by Yellow Zone regulations.
The next round of mass-testing will be conducted at 53 stations over two days, ending at 11:59 pm on Friday. Fourteen testing stations will be self-paid and everyone must make an appointment, following the same procedures for the mass-testing earlier this week.
As of 4 pm yesterday, 373,000 rapid antigen tests (RAT) have been registered after all individuals were requested to self-test. Health officials say 11 of the tests proved positive.
A total of 2,246 people were under medical observation in hotels, 1,780 people in general medical observation hotels and 466 people in specialised medical observation hotels. The total includes 1,420 Macao residents, 309 foreign employees and 517 tourists.
On 21 June, about 2,900 people entered Macao and 1,000 departed. Of those entering Macao only 330 were tourists – 1,700 were mainland Chinese workers and 860 Macao residents. About 700 tourists left the city, leaving it almost empty of visitors. 
In related news, the Education Bureau has announced that non-tertiary students will end the 2021/2022 academic year early.