34 batches of pooled Covid-19 samples test positive from mass testing
34 batches of pooled Covid-19 samples test positive from mass testing

Link copied
Positive Covid-19 sampling locations and times from mass NATs now available; citizens with overlapping itineraries encouraged to take RATs.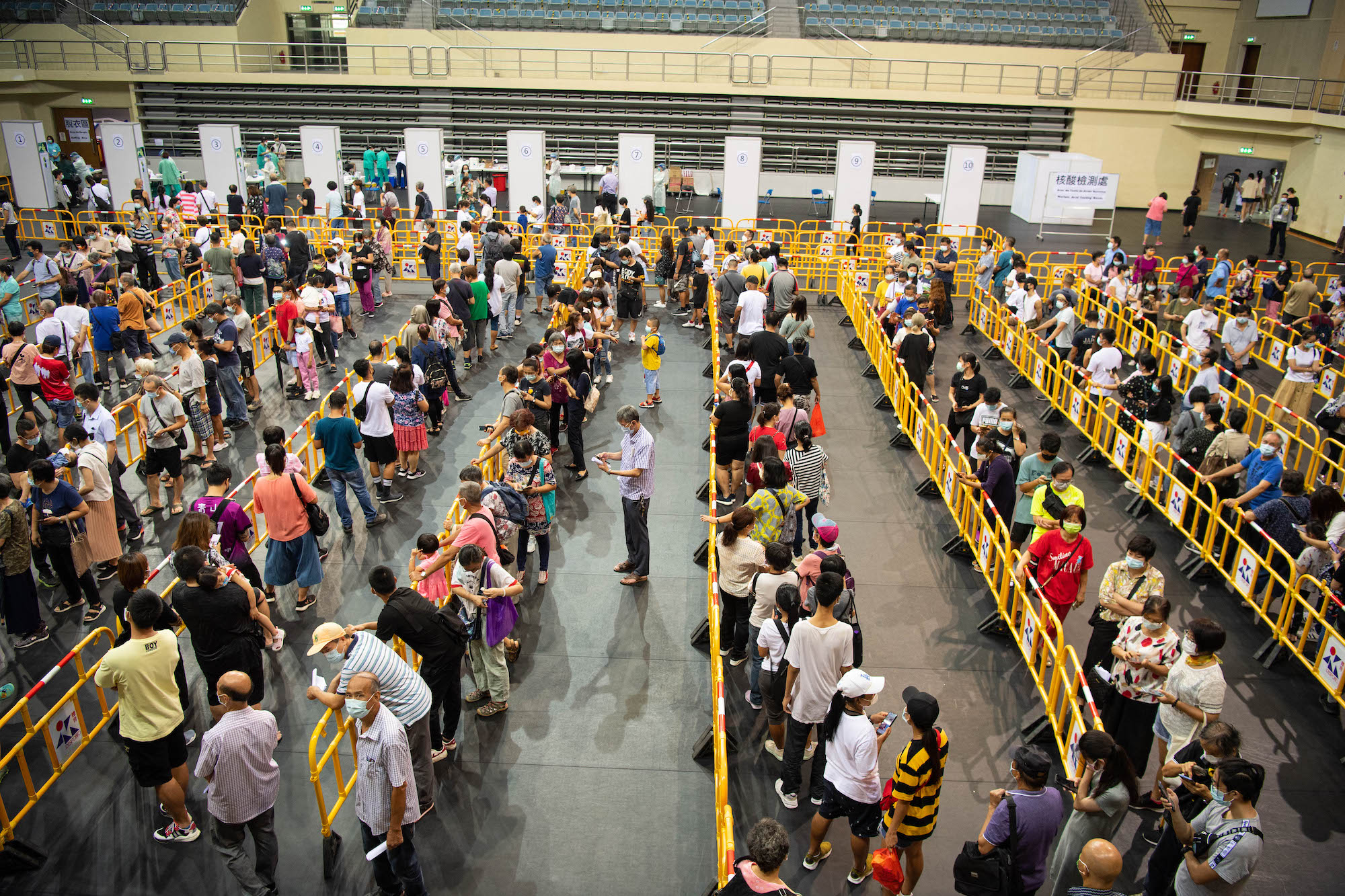 After three days of citywide nucleic acid testing, a total of 677,586 people have undergone NATs and so far 542,692 have confirmed negative for Covid-19. 
Macao recorded 49 Covid-19 cases as mass-testing ended. Fifteen people with symptoms are confirmed cases; 34 are temporarily asymptomatic and classified as asymptomatic patients.
Thirty-four batches of pooled samples from the mass NATs (10 samples per pooled sample) have tested positive for Covid-19. All samples have since been re-tested and have once again tested positive for Covid-19. At the moment, individual samples to confirm the results are being taken. Citizens who took their NATs at the same times and places as the 34 pooled samples may conduct a self-antigen test within two days after their original NAT and upload their results online.
Below is a rundown of 21 testing stations (complete list to be shared as soon as possible) where positive Covid-19 samplings were registered:
19 June
– The Venetian Macao at around 12:30 pm and 7 pm;
– Keang Peng School – Secondary Section at around 4:25 pm;
– Mong-Ha Sports Center at around 4:40 pm;
– Dom Bosco College (Yuet Wah) at around 6 pm;
– Academy of Public Security Forces at around 7:25 pm;
– Kiang Wu Hospital at around 8:57 pm
20 June
– Kwong Tai Middle School at around midnight and 2:30 pm;
– Lou Hau School Kindergarten at around 3 am and 7:30 pm;
– Indoor Sports Facilities at the Luso-Chinese Technical and Vocational Middle School at around 7:33 am;
– Women's General Association of Macau Multi-Service Building at around 10:45 am, 3:25 pm and 11:35 pm;
– Macau Polytechnic Institute's Lam Kan Exhibition Gallery at around 11:15 am;
– Macau University of Science and Technology Stadium at around 3:20 pm;
– Pui Ching Middle School at around 7:30 pm;
– Tap Seac Multisport (Pavilion A) at around 7:45 pm;
21 June
– Escola Catolica Estrela do Mar at around 2:05 am;
– Lou Hau School Kindergarten at around 3:14 am